During the era of environmental crisis where people die from viruses and settlements destroyed from floods, 'circularity' such as plastic recycling, renewable energy, green remodeling is gaining attention. On March 3rd, SNU Institute for Culture and Arts which opened in July 2022, hosted an international symposium on the 'circularity' topic at SNU Museum of Art (MoA). Ten speakers from Korea and around the globe have gathered together to discuss how art can speculate on circularity. The symposium was streamed live on YouTube in both Korean and English.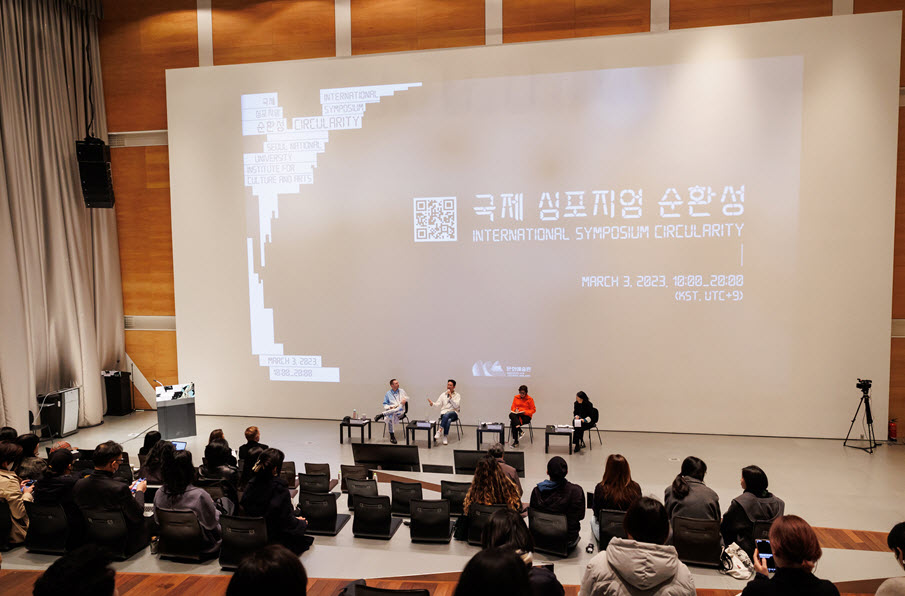 Institution Initiates the Circulation of Technology, Art, and People
Curator Jihoi Lee of National Museum of Modern and Contemporary Art, who planned this symposium announced its purpose, saying "Circularity—the recently rising answer to sustainable action and international environmental problems—should be studied as the new value of art." In the prior opening ceremony, Joong-Seek Lee, Director of SNU Institute for Culture and Arts emphasized that the role of newly launching cultural institutions lies in 'circularity' and stated that this event would be the time for its investigation.
During Part 1 of the symposium, diverse business models from around the world were introduced that generate mutual knowledge by gathering individual artists who connect art and future technology. Romanian-American producer Raul Zbengheci introduced New York New Museum's art program 'NEW INC' of which he is the deputy director. Established in 2014, NEW INC gathers artists from fields of art, design, and technology and support their creations by providing mentoring and space for work and exhibition. Zbengheci emphasized that the technologies which NEW INC is investigating through art and culture are not just future-oriented and destructive but are 'soft tech' that decentralizes the economic structure based on liberated imagination.
Creative Director of Hyundai Motors Kyu-seung Noh pointed out that in preparation for the future, companies are paying attention to the insight and creativity of tech-artists and introduced Hyundai Motor's ZERO1NE platform which gather innovative individuals from diverse areas such as individual creators and startups and their artworks. Director Ute Meta Bauer, Director of the Centre for Contemporary Art (CCA) at Nanyang Technological University in Singapore, introduced their 7-year projects on the climate, environment, and preservation of cultural heritage. Speakers from Part 1 also emphasized that institutions should lead the generation shift of artists with circularity of manpower in mind. Artists from NEW INC are recruited back into the institution as mentors and are cultivating new artists. As an institution belonging under a university, CCA not only promotes engagement between students but also making the effort to find talented individuals from diverse backgrounds in the white-dominated academia.
How Human and Technology Co-Exist
In the second part, the works of individual and group artists exploring circularity in detail were introduced. L. Sasha Gora, a cultural-historian and writer, discussed the circular relationships underlying in cooking. She showed how one dish is intricately intertwined with the migration of people and animals, the history of empires exploiting colonies, the climate crisis, and scientific technology such as genetic engineering. Soik Jung, Director of the Urban Mediation Project, who has worked in the fields of architecture, interior design, and social welfare, introduced the 2023 Venice Architecture Biennale Korean Pavilion exhibition "2086: How Are We?". In the exhibition, she aimed to reflect on the "choices" humanity have made that have affected the global environment. The exhibition is designed as a "game" engaging the audience directly in order to emphasize the importance "choices" that change our patterns of life and thoughts. The artist In-ah Shin shared her personal experience that made her become a feminist designer and the concerns she had throughout her work. The Feminist Designer Social Club (FDSC) to which she belongs was founded in 2018 to practice sustainability and to promote collaboration and communication among feminist designers.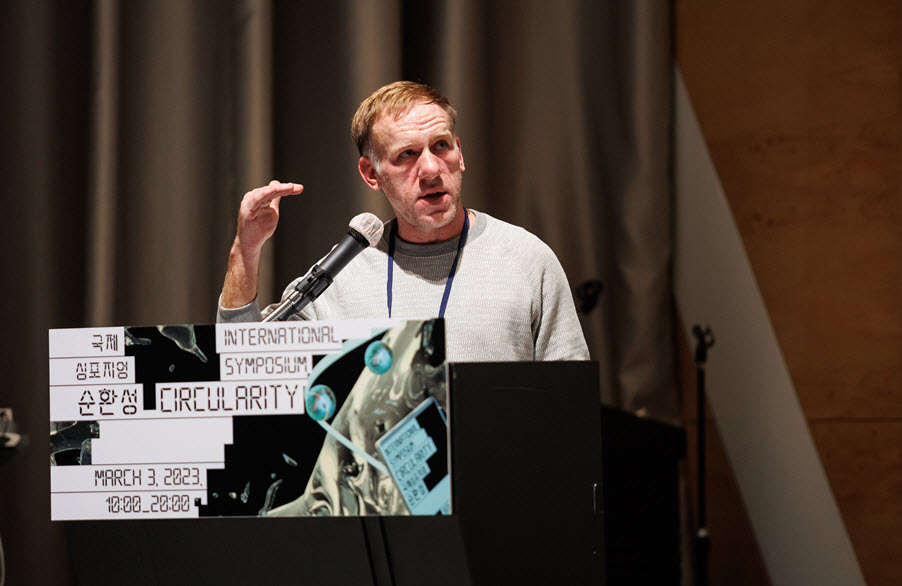 The final track Part 3 reflected on the relationship between technology and humanity, and had a philosophical discussion on the technological cycle of art. Taek-Gwang Lee, professor of Cultural Studies at the School of Global Communication at Kyung Hee University, proposed the concept of "weak technology" that could change the paradigm dominated by digital technology. While today's technology rely on scientific knowledge, ancient "primitive" technologies were simply ways of individual existence. Professor Lee stated that "if we apply this 'weak technology' model to today's society, we can break free from the hierarchical structures between human-to-human or human-to-machine generated by digital automation and seek equal technological relationship."
Discussion on the replacement of anthropocentricism which lost its power in the face of viruses or AI also stood out. Media artist Binna Choi introduced the "Sisyphus Dataset" (2020), a collection of broken stones, connecting the predictability of computer technology and the mediating role of nature that store memories. Director Soh Young Roh of Art Center Nabi saw the need for more discussion on "values" and "ethics" in today's situation where technology surpass human or have become inseparable from them Inspired by the "cattle human" carved in the El Castillo cave 40,000-70,000 years ago, anthropologist and visual artist Daniel R. Small, stated that "to foster creative thinking in times when humans find it increasingly difficult to think holistically, we may need to seek perspectives from plants or even extraterrestrial species."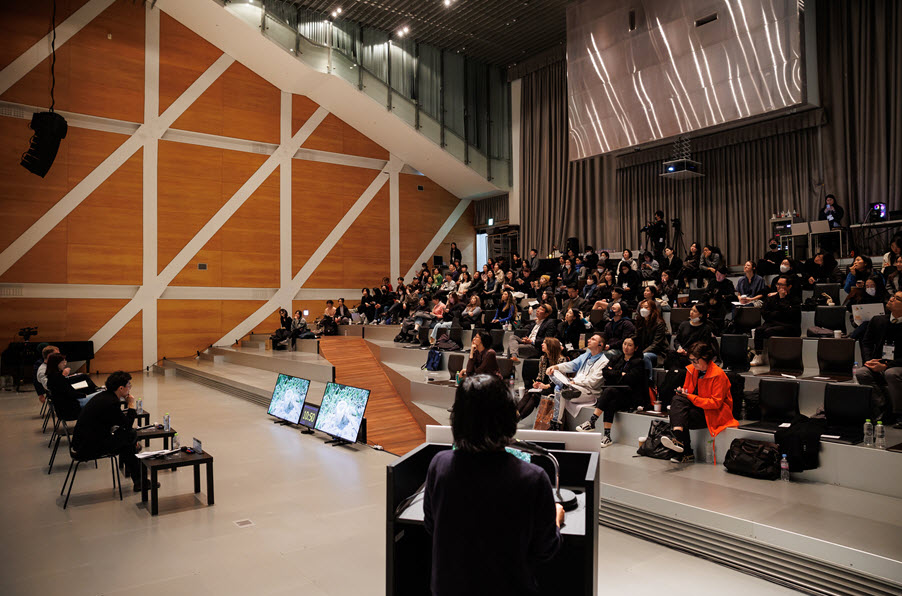 The event at the PowerPlant concluded with a networking party featuring DJing by the musician "Sorrow Club Seoul." This event was organized by SNU Institute for Culture and Arts as a pipeline to support networking and creative activities of individual creators such as students, emerging artists, and mentors. In the "Circularity" symposium, we could notice the awareness that humans, with increased responsibility and vulnerability during the era of technological development and environmental crisis, must rely on the imaginative power of art in order to use technology in a cyclical manner.
*Youtube Channel of SNU Institute for Culture and Arts: https://www.youtube.com/@newhousesnu
Senior Student Reporter
Kang Dohee (PhD student at the Dept. of Korean Literature)
nico7979@snu.ac.kr
Translated by
In Kyung Bae (Department of English Language and Literature)