SNU's colleges and institutions offer a wide array of extracurricular activities. Students who wish to expand their interests, take part in something meaningful, or just enjoy themselves can choose from an extensive list of activities such as clubs, special lectures, camps and so on. If you are one of those seeking to be part of making a social impact, the SNUSR Corps may aid you in fulfilling that goal.
The SNUSR Corps is a volunteer program hosted by SNU Social Responsibility (SNUSR). Established to further the social commitments of SNU and act as a hub for civic engagement, SNUSR offers unique programs and classes including Volunteer Social Service Courses, the Student Society for Social Responsibility, and the SNUSR Corps. The SNUSR Corps offers various volunteer activities directed toward people and communities in need, within both Korea and abroad. While global volunteer activities persisted through COVID-19 virtually, this year's winter program marked the resumption of in-person activities with volunteer programs in Nepal, Jordan, Uzbekistan, and Indonesia.
One integral aspect of the SNUSR Corps is that members are strongly encouraged to be involved in its planning. Through rigorous planning sessions among participating students, advisory members, and SNUSR, the volunteers gradually specify the tasks and objectives of each program. This process normally begins with members deciding on a name to represent their team. For the volunteer corps in Nepal, they have decided on "Nepalette," a portmanteau of "Nepal" and "palette." As the name suggests, the team emphasized its objective of adding color to the lives of the local community and students through art, sports, and music education.
During the planning sessions, which began in October, Nepalette focused on improving the educational situation of Lumbini, the volunteering site. Taking local conditions into consideration, the team devised art, music, and physical education programs for local students. To form bonds and enhance teamwork, Nepalette members learned about Nepalese culture and language in weekly team building sessions. The team also practiced dance performances and established buddy relationships with local students from partnering university Lumbini Buddhist University (LBU).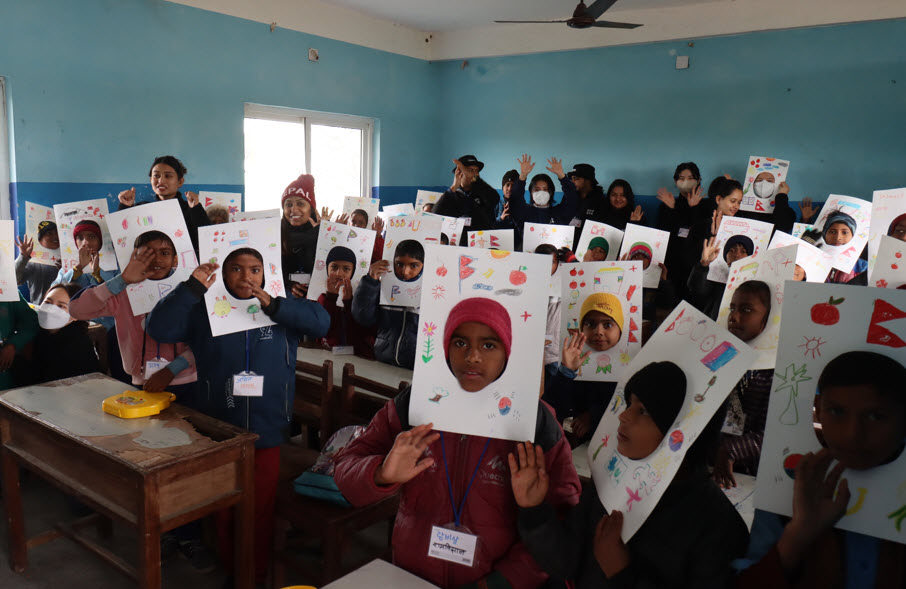 Accompanied by advising professors and SNUSR staff, Nepalette conducted its on-site program at the Um Hong Gil Human Foundation Lumbini Human School from January 6 to 17. One activity of the program targeted renovating the school's storage room into an art classroom. Another event implemented the art, music, and physical education programs the team had devised. Catering to students' age levels, the team introduced simple yet effective methods to teach each subject. Activities such as leaf stamping, self portrait drawing, and map making introduced local students to diverse art forms. In music classes, students especially enjoyed rhythm games such as cup percussion. Physical education started off with individual games of dodgeball and kickball, culminating in a school-wide field day.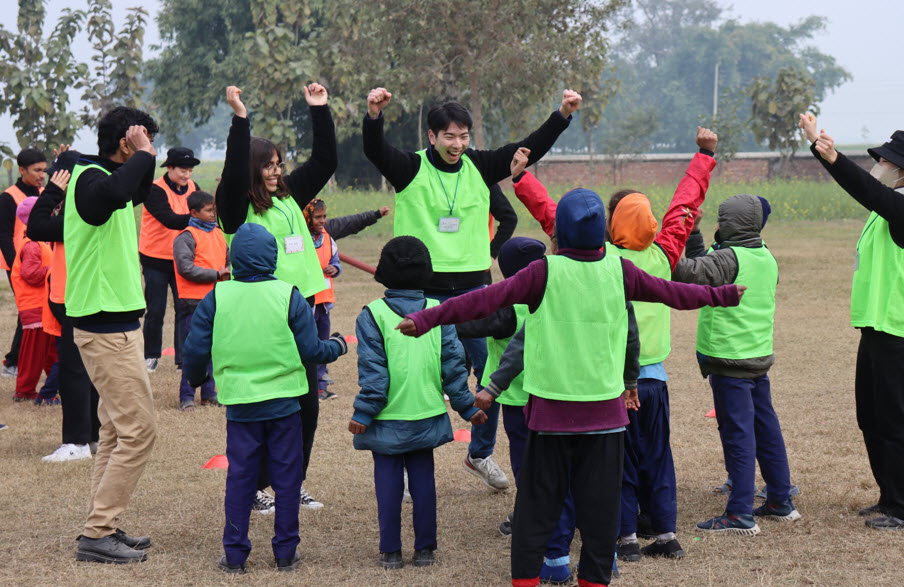 In line with previous efforts to cultivate rapport with LBU students, Nepalette participated in cultural programs. After introducing themselves for the first time in person, students from both universities engaged in cultural exchanges, participating in cultural ceremonies and enjoying each other's performances. Nepalette also hosted a joint seminar with LBU where both parties discussed methods of sustainable city development of the Lumbini area. Professors from LBU explained the status of the agriculture and tourism industry of Lumbini and SNU professors added their thoughts.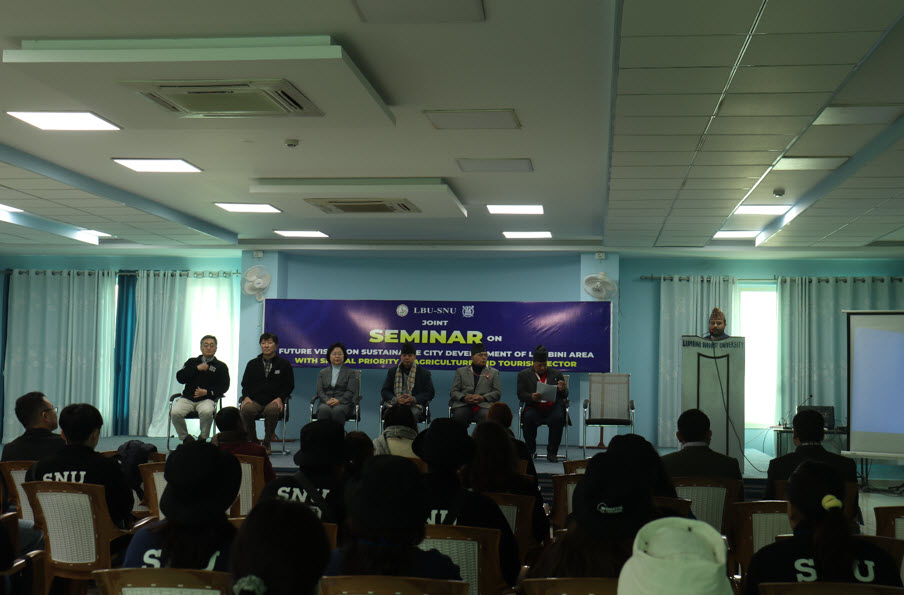 SNUSR Corps is known for providing immersive experiences, and participants come home from the program with lifelong memories. For a first-hand account of the experience, SEE reached out to Nepalette. The following is an edited transcript from an interview with SNUSR Center for Development and Cooperation Manager Kayoung Heo, Nepalette team leader Yujin Lee (Department of Food and Animal Biotechnology), and vice team leader Changyeon Kim (Department of Food and Animal Biotechnology).
Planning and executing the program must have been a strenuous process. Could you share how the team prepared for the program?
Lee: For the cultural exchange, we decided to perform Korean traditional dances and a K-pop dance. Although none of us had prior experience choreographing a dance, we tried to make the most of it and the whole thing turned out to be a wonderful experience. We became closer while preparing for the event and it was also meaningful to share our culture with the local people, who enjoyed it a lot.
Heo: One of the aspects that we take pride in is the careful consideration that goes into preparing the program. Our guiding principles for the program were that the activities needed to be viable, have a lasting impact, and benefit both the local community and the team members. We conducted a survey of students and their parents to identify specific needs. While previous programs focused on providing local students a hands-on experience of art, music, and physical education, this year's program extended its aim to promote these subjects to be systematically executed within the local curriculum.
What was your most memorable moment during the program?
Lee: My biggest realization was learning how to communicate with people through eye contact. In my normal surroundings where almost everyone speaks the same language it is occasionally embarrassing to look someone in the eye, whereas in Nepal trying to communicate eye-to-eye became essential. I still remember playing cup percussion in an eighth grade class where I felt the intriguing sense of checking students' progress by continuously making eye contact. It was a memorable experience where my lack of words no longer acted as a burden. At the end of the program the students that I befriended during recess came by to give me pictures with their names written on them. I couldn't help but admire their consideration.
Kim: Since everyone was comfortable with Zoom, we had a chance to introduce ourselves and discuss program details with our LBU students before arriving at Nepal. Our relationship evolved over the days. On our last night together we exchanged presents and were moved to tears.
Overall, how did this experience influence you?
Lee: This was my last semester, making this program my last extracurricular activity at SNU. People say that when you volunteer to help others, you end up receiving more than you've given. After coming back from Nepal, I felt motivated and invigorated by all the love and affection in my heart. I've also learned that I must cultivate my own expertise and knowledge to become someone who can contribute to the community. I think I will look back on this moment whenever I need motivation.
Kim: Personally, I consider myself a volunteer addict. This program was even more meaningful in that I was able to participate in-person after taking part in the online program last summer. The notion of being able to provide something to the students was delightful. Seeing that I had a lasting impact on the lives of students I interacted with has encouraged me to strengthen my commitment to social volunteering.
Heo: As a manager of the SNUSR Corps, I could see the students' growth throughout the program. The environment on-site differs considerably from the experiences of most SNU students, and they were sometimes exposed to extreme or uncomfortable situations. I believe that this is an opportunity for our students to reflect on themselves and learn to see from others' perspectives.
At the end of the interview, manager Heo expressed gratitude to the students for their resilience and flexibility throughout the program. She also commented that the program welcomes anyone with an open and sincere heart.
It was clear from the interview that this winter's SNUSR Corps program once again offered unforgettable memories for both SNU students and students from Lumbini. Next time, why don't you jump aboard and join SNU's ongoing quest of giving to the global community?
Written by Jaeyong Lee, SNU English Editor, moonn6pence@snu.ac.kr
Reviewed by Professor Travis Smith, Department of Asian Languages and Civilizations, tlsmith@snu.ac.kr