Academics / Services for Students
Careers & Work
Services for Students /
Careers & Work
Services for Students Careers & Work
The Seoul National University Career Development Center (CDC) operates a variety of career development programs and services to provide opportunities for career development including support for domestic and overseas employment, career counselling from experts and industry connection programs.
Career Related Courses
Career Planning and Understanding the Professional World
A general elective course (2 credits) offered to undergraduate students to help them set career goals and understand the characteristics of the professional world.
Global Internship 1
A general elective course (1 credit) for students wishing to participate in an internship at a domestic/international organization. The course aims to help students prepare for the application and internship process, by strengthening the practical skills required.
Global Internship 2
A post-internship course which not only gives students academic credit for their work experience but also encourages students to share their internship experiences at global companies, international organizations, public institutions etc. based in Korea and abroad with each other.
Career Development and Education
Individual Career Counseling
A one-on-one counseling program where students can talk through their career concerns with a qualified career counselor. Helps students determine their career path by encouraging them to explore their personality, values and professional interests, understand the professional world and consider the pros and cons of alternative options.
Individual Career Counselling and Career Test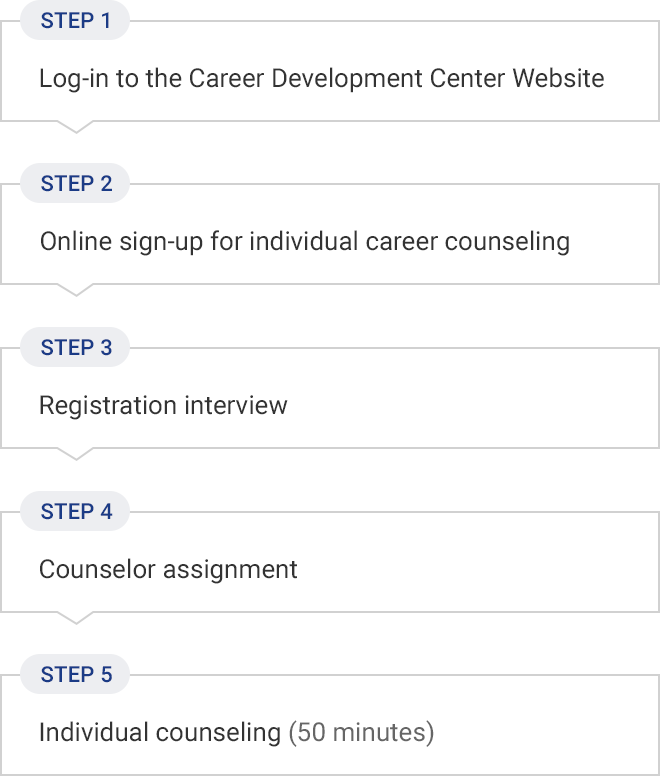 Individual Career Test
Standardized testing (e.g. MBTI personality type test, SII job interest test) helps students to objectively understand their personality and professional interests, which are the basic building blocks of career decisions and future plans.
Career Exploration Mentoring Program
A mentoring program that provides opportunities for students to meet alumni who work in their field of interest. Students with similar career aspirations and concerns are grouped together before being paired with a mentor, promoting information exchange among themselves.
SNU Career Reporters Group
A career exploration program where students interview alumni who work in various different fields, helping them to design their own career path and share the information through writing interview articles and publishing e-books.
SNU AI Career Camp
This program aims to foster AI literacy skills and enable participants to proactively explore and select a suitable profession that allows them to design their future lives. It also encourages exploration of ways to apply artificial intelligence to their chosen profession.
SNU Career Camp
This program offers an opportunity for participants to work on practical tasks of their interest alongside experienced mentors, create meaningful outcomes, and explore their potential in the field. Through this program, participants can develop their professional skills and abilities.
SNU Career Concert
This program offers an opportunity for participants to indirectly experience various career fields through open conversations and dialogue with speakers from different professions. Participants can learn from the speakers' tacit knowledge and wisdom acquired through their experiences in their respective fields.
Career Diary
This diary is distributed to new and current students to assist with self-awareness, respect, career exploration, and planning.
Employment Support
Seoul National University Recruitment Fair
Every March and September, the university holds a job fair to provide talented students at SNU with one-on-one job counseling opportunities between human resource managers, vocational psychology tests to find out their professional interests and aptitudes, resume workshops etc. Through this, the CDC provides a practical recruitment platform to help students who are thinking of getting a job after graduating from college.
1:1 Career Consulting
A 1:1 consulting program with professional consultants to help students prepare for internships and jobs more efficiently through a self analysis – goal setting – action plan – document coaching – interview coaching – post-management process.
1:1 Career Consulting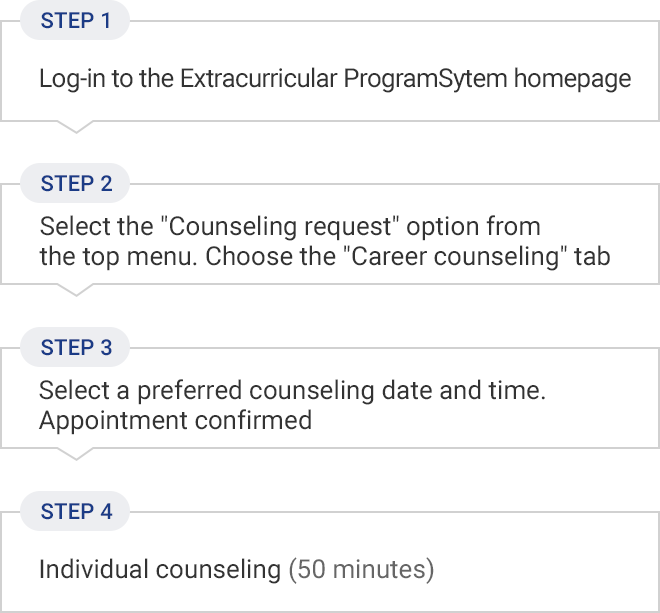 Career Stories from Alumni
Every semester, the CDC invites alumni from various fields and industries to help form a network between current students and graduates. At the workshop, alumni share their workplace experiences such as the application process, everyday tasks, company vision etc.
VR Interview Program
Using virtual reality interview machines, the CDC provides students with an opportunity to practice their interviews as if they were in a real company. By doing so, students can improve their interview skills by training to answer questions in an interview setting. There are 23 different scenarios (varied by industry/sector) and up to 3000 different questions students can practice with.
SNU人 'Getting a Job' Camp
This program provides a short-term, intensive experience for participants to prepare for employment, including mock interviews, from the initial stage of submitting job applications.
Online Career Solutions (EDUCE) Program
The CDC has introduced an online career solutions program which gives students free access to diverse online career development content. Through this online platform, students can set their job goals and employment strategies using company-specific recruitment information (including information related to corporations, public enterprises and NCS) and enhance their job competency by utilizing the job application forms, job aptitude tests and mock interviews by type available on the service.
Global Talent Program (GTP)
Established to enhance the international competitiveness of students at Seoul National University, the GTP curriculum offers individual coaching on English resumes and cover letters, English mock interview training, international business manners, English presentation skills and leadership. The program is operated every year during summer or winter break, and SNU undergraduate (juniors and older) and graduate students with a minimum GPA of 3.0 are eligible to apply.
Global Reinforcement Camp
The aim of the camp is to help students broaden their global scope through information sessions about job applications and opportunities abroad, and seminars and training to serve as reinforcements. The program is targeted to undergraduate freshman and sophomores and is offered in June and December for two days.
Application for Outstanding Global Internship
The purpose of the program is to financially encourage students interning in global companies and international organizations abroad. The application process is done annually and is targeted to all undergraduate and graduate students.
Online English Resume Clinic
The program's aim is to enhance the students' English resumes and cover letters through professional counseling.
Global Information Support and Global Internship Connection
Students can search for global job opportunities by joining NACE, Vault, and Interbridge. The program also supports students to find internships in international organizations such as ADB, IDB, OECD and MOU.
The students can join NACE, Vault, Interbridge where they can receive information of global job. Also, the program helps undergraduate and graduate students find internship in international organizations (ADB, IDB, OECD) and MOU.
Career Information
The career information division provides students with information related to career development, career planning, and preparation for employment decisions.
Website (Career Development Center)
The website provides an introduction for the Career Development Center, the programs that it offers along with the applications, announcements, important recruiting deadlines, etc.
Career Development Center Website
Webzine Publication
Provides information about the programs offered at the Career Development Center and important announcements.
Social Network Managing
Recruiting announcements and updates are made through social networking sites such as twitter and facebook.
Alumni Job Statistic Research
The Career Information Department annually researches the employment status of alumni to help effectively plan the career direction for our current students.
Location and Contact Information
Career Development Center