With the advent of the Fourth Industrial Revolution, an array of digital techniques such as the metaverse, VR (Virtual Reality), and AI (Artificial Intelligence) are being applied within various fields. What about education? For secondary education, the traditional face-to-face lecture is still the norm due to technical challenges and the slow spread of devices required for interactive learning. The deployment of digital devices in education, however, can have a big effect on increasing student interest and developing customized class material catering to students' varying levels of ability. Recognizing the importance of AI incorporated education, the College of Education strives to train teachers fluent in AI education.
A Handy Location For Learning AI
The current curriculum requires the teaching of software courses going by the names "Practical Courses'' for elementary schools and "Information" for middle schools. In the 2022 Revised Curriculum, set to be phased in starting 2024, the lesson time of these subjects are to be doubled with AI grafted to all other courses. Still, there have been continuous remarks pointing out the lack of teachers capable of AI education while the level of digital literacy required to students has risen.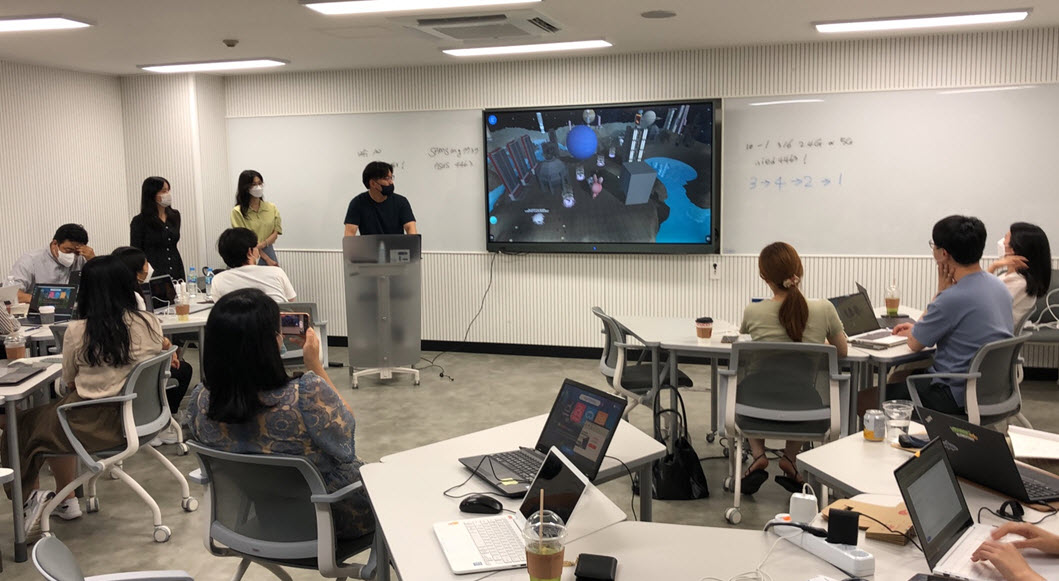 SNU College of Education was awarded funding to support the advancement of AI-based education in elementary and middle school teaching faculty in 2021. The college established the AI Education Strengthening Project Group in July 2021 to assist preliminary teachers' competency in planning and running classes using AI-based EduTech, a convergent educational method incorporating information technology. Led by Professor Joon-ho Kang, dean of the College of Education, the project aims to expose students to AI education by opening basic AI courses such as "Artificial Intelligence and Future Education" and adding AI-related topics in existing courses such as "Teaching Methods and Educational Technology." It has also established the VR Education Lab and the AI Education Lecture Hall in the College of Education, contributing to the efficient operation of extracurricular programs.
The Department of AI-Integrated Education and the Research Center for AI-Based Teaching ran "Summer School for AI-Integrated Education'' jointly with Modulabs, a startup managing AI innovation school AIFFEL. The summer school featured special lectures covering topics such as Python, big data, and AI research trends. For the Fall 2022 semester, the Department and the Center are assisting students and faculty in their study of AI-based education by hosting an AI-integrated teaching workshop and forums featuring AI teaching experts. Professor Yoo Yeon-joo, the manager of these projects, recommends that students majoring in humanities, social sciences, and arts join these programs and try out new possibilities, adding that the diverse range of academic backgrounds will help stimulate the generation of creative ideas for linking AI to teaching.
The VR Metaverse Education Content Development Program
In July, the project group conducted an extracurricular program developing VR metaverse education content. With five undergraduate students and 13 graduate students from the College of Education, the program, jointly operated by Globepoint, developer of VRWARE School, an educational VR content developing software, developed four different curricula for teaching the metaverse. The program started with an introduction covering the history of EduTech and its applications. Students learned how to construct their own space in the metaverse incorporating video clips and three-dimensional objects and moved on to create their own content. The VRWARE School software helped students create high quality content without much hassle.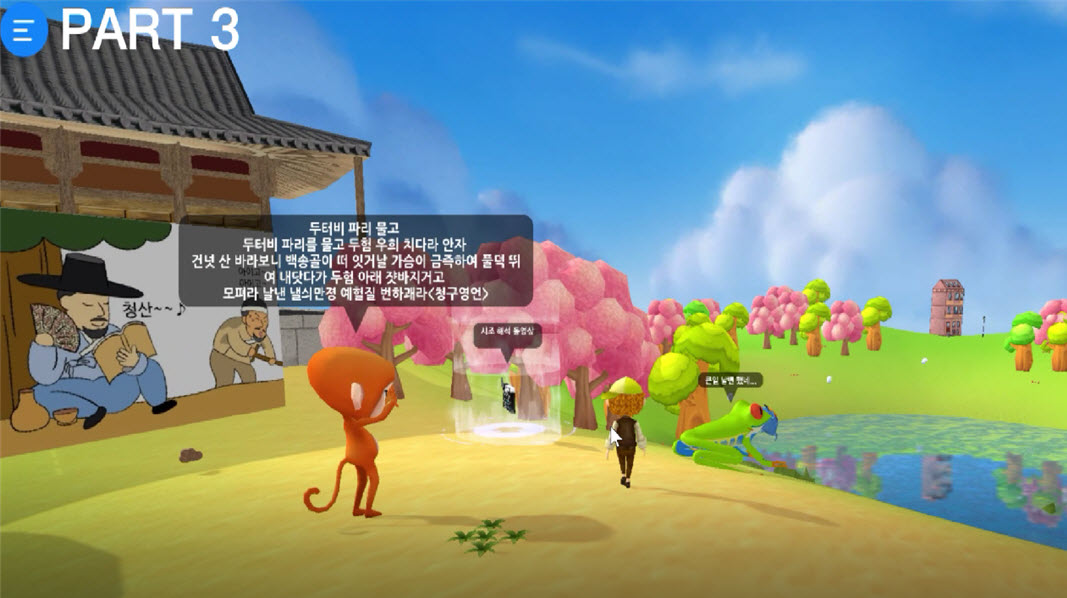 Lee Kyung-gun, a Ph.D. candidate of the Department of Science Education used 360-degree footage to create content for teaching the development of telescopes, commenting that they felt that metaverse platforms were highly applicable in various fields of education while discussing themes with students from other departments. Lee also developed an interest in pedagogy research utilizing cutting edge technology. Lee Jin-yeon, a Ph.D. candidate of the Department of Education combined Korean education, art, and information technology to create content. "Creating my own content was a valuable experience that enabled me to put myself in my students' shoes," Lee said. They also added that the program was an opportunity to witness the integration of AI-based tools and education. The final results of the program can be found at the AI integrated education community "Aiednet" (https://aiednet.kr).
Since teachers these days need to be able to understand and apply AI education tools to keep pace with the education of the future, the various programs of the College of Education will greatly help them to embrace the new era.
Source: https://www.snu.ac.kr/snunow/snu_story?md=v&bbsidx=137505
Written by Jaeyong Lee, SNU English Editor, moonn6pence@snu.ac.kr Reviewed by Professor Travis Smith, Department of Asian Languages and Civilizations, tlsmith@snu.ac.kr