Content to catch your eyes: the YouTube Series "SNU Catch"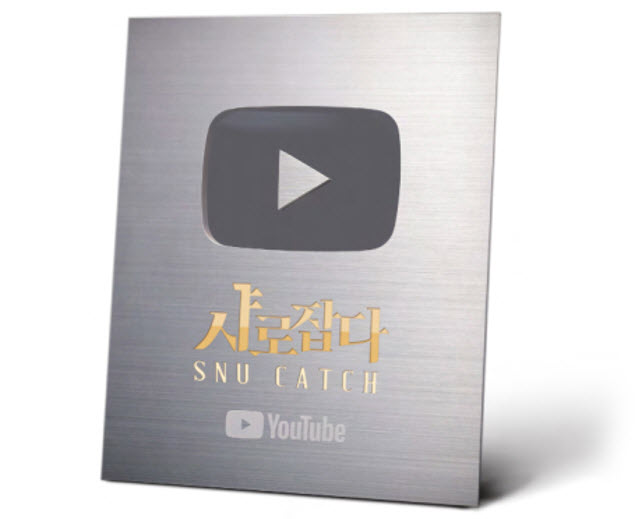 High-quality intellectual content brought to you by the people of SNU
Seoul National University's official YouTube channel covers official events, various information, views of beautiful campus scenery through all four seasons, and features interviews with professors, students and alumni. The channel currently has more than 10 million total views and has been rewarded with a Silver Button for its 130,000 subscribers, with a recent surge of interest due to the SNU Catch series. SNU Catch, featuring experts discussing current issues in their field of research, was first initiated in June 2021. The series has gained great popularity by offering, in an interesting yet simple way, detailed information and accurate insights into issues of public interest.
The channel has earned its reputation as a highly trustworthy source of information as it includes interviews with Seoul National University professors and other experts in their respective fields, in a time where many YouTube channels perpetuate fake news, inaccurate interpretations or information that has not been fact-checked. SNU Catch videos provide vivid intellectual content and information that is essential in this day and age, one video at a time.



"SNU Catch" series recommended videos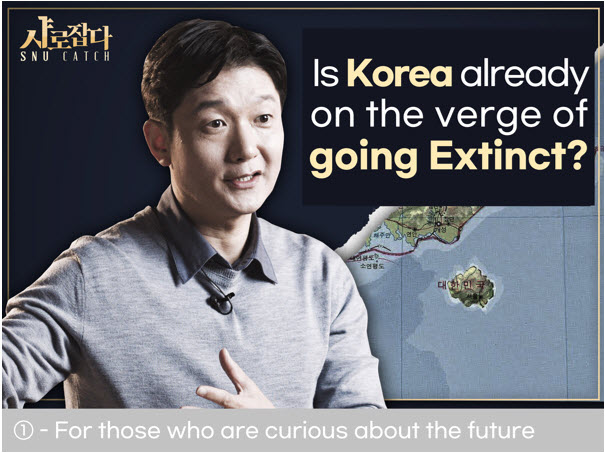 Will the National Pension funds run out in a matter of decades? The dark future our demographic cliff portends: is Korea already on the road to extinction?
Professor Youngtae Cho of the Graduate School of Public Health talks about the social effects that result from the grave issue of low birth rates, and what we can do to overcome it. The future can certainly change if we abandon old ideas irrelevant to our current situation, and instead exercise a good demographical imagination.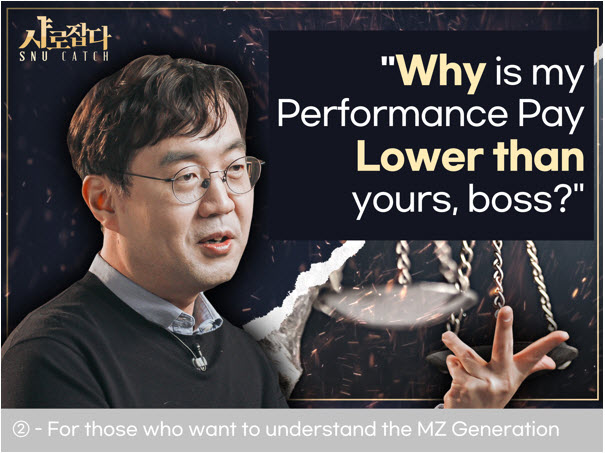 The performance-based pay issue of the "MZ Generation", and their idea of fairness
The MZ Generation, encompassing Millennials and Generation Z, regards "fairness" as a value of utmost importance. Why is the MZ Generation more sensitive to the value of fairness as compared to older generations? Professor Jaeyong Shin of the SNU Business School discusses what the MZ Generation - a generation beset with the anxiety over an uncertain future - thinks fair compensation is.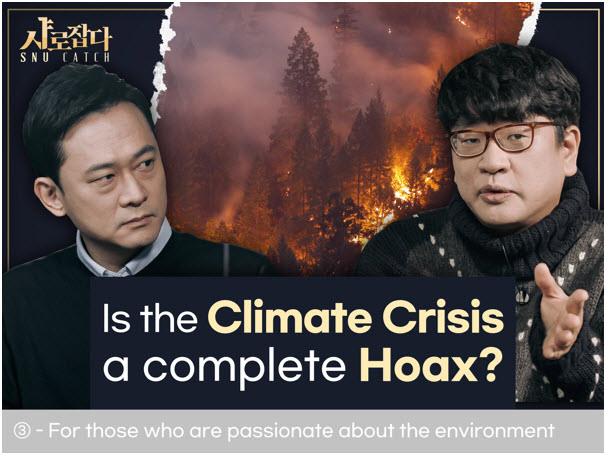 The Earth you know of no longer exists: why we need to focus on climate change right now.
Professor Sujong Jeong of the Graduate School of Environmental Studies, and producer Jinman Kim, who is known for Tears of the Amazon and Tears of the Antarctic, his documentaries about the environment, discussed the international climate crisis. They talked about what needs to be done in this increasingly unpredictable era of climate crisis.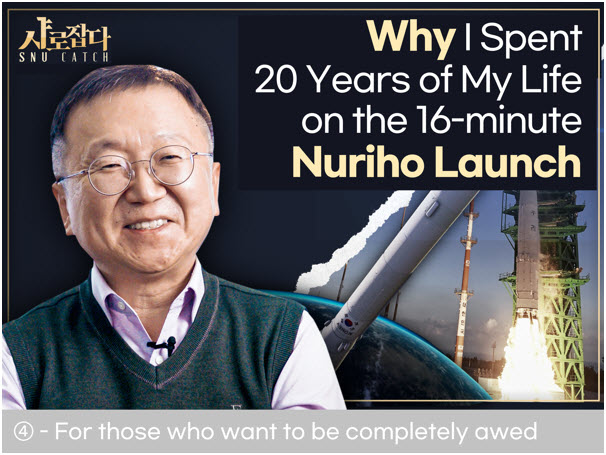 The Blood, Sweat and Tears of The Developer Behind Nuriho
Jeonghwan Ko, an alumnus of the Department of Aerospace Engineering, researched launch vehicles such as Naroho and Nuriho for 20 years as supervisor of the Korea Space Launch Vehicle Program at the Korea Aerospace Research Institute. Ko talked about the hard work that went into the launch of the Nuriho. He spoke frankly about the adversities he faced during the development of Nuriho, plans for Nuriho's second launch, as well as Korea's space exploration program.
*This is a translated version of a post from the 2022 SNU Magazine.
Source: https://people.snu.ac.kr/bbs/board.php?bo_table=69&sca=SNU+inside&wr_id=10
Written by Sneha Karri, SNU English Editor, sneha@snu.ac.kr
Reviewed by Professor Travis Smith, Department of Asian Languages and Civilizations, tlsmith@snu.ac.kr