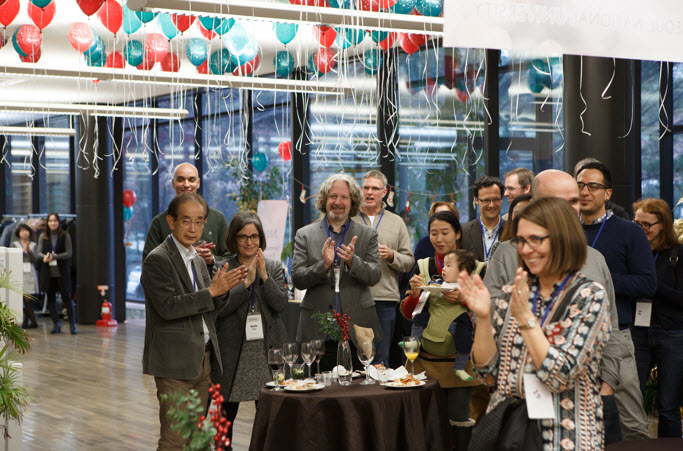 Long considered the flagship academic institution in Korea, SNU has also gained a reputation for academic excellence worldwide. That being said, there are many professors at SNU who, like its diverse students, come from all over the world. Until now, there has been no official organization to act as a united voice for these faculty members. This semester, the international faculty have created the International Faculty Association (SNU국제교수회) which hopes to represent the voice of the international faculty currently at SNU and to widen the global vision of the university. Recently elected president of the new organization, Professor David Wright of the Department of Archaeology and Art History explains in an interview the SNU International Faculty Association's origin, motivation and goals:
What is it like to work as at SNU as an international faculty member?
I've really enjoyed my seven years here at SNU. I thought this school would be a wonderful place for me to do my research, and Seoul is such a dynamic city to live in that I thought it would be a good place to raise my children here and give them an international experience.
What are the greatest challenges you face as an international faculty member?
At the surface level, the language barrier is the greatest obstacle. All of our department meetings are in Korean and since we're only required to speak in English when teaching our classes, it's difficult to follow along. Over time, however, I realized that rather than the language barrier, it's actually the cultural differences that's the bigger divide between international faculty and Korean faculty. Anyone can learn a language with the proper resources, but smaller, essential parts of culture are much more complicated and aren't so easily taught. Academic culture in Korea is very different from that of the US or that of any other culture. Korea has a very specific cultural context and those contexts are challenging to navigate as a non-Korean.
What was the driving force to start the SNU International Association?
In response to the previously mentioned difficulties, several international faculty members and I thought it would be a good idea to get together and see what we could do to not only combat the obstacles as foreign faculty but to also bring to SNU our own unique set of skills as academic scholars with global experience. We have two main agendas. The first: we would like to be better integrated into the fabric of SNU. The second: we want to assist SNU in expanding its outward, international vision. We want to give SNU a truly global vision in terms of research and interacting with the global academic community. Many of my colleagues got their Ph.D.'s in international environments; we want to give these professors a means to fulfill their global vision as well.
As the SNU International Faculty was recently founded, how do you plan to carry out your goals?
Right now we're focusing on increasing our membership. Many of the non-tenure track members at SNU also have international experience and we want to help give them a larger say in the administration of their departments. Also, we want to get as many Korean professors on board as possible. That way we can bring our cultures together rather than being two separate entities trying to impose our way on each other's already existing methods.
What is the best part about being at SNU?
I get along great with my fellow international faculty members and we're a really tightly knit community. It's a wonderful opportunity for me to meet scholars in other fields of academic study that I wouldn't have been able to meet back at home. The fact that we can bond over being international members bring us even closer together.
Written by Yu Young Jin, SNU English Editor, coin1234@snu.ac.kr
Reviewed by Professor Travis Smith, Department of Asian Languages and Civilizations, tlsmith@snu.ac.kr