Managing one's health is necessary to achieve one's goal. However, many SNU members are lacking sufficient exercise due to the typical sedentary lifestyle of academics, and are thus suffering from various diseases attributed to lack of exercise. Recognizing such reality based on recent results of medical checkups, the SNU Health Service Center newly established an obesity clinic. The obesity clinic is helping SNU members to get their healthy body and mind back through systemic programs such as diet programs and exercise counseling.
Customized Clinic that is systematically organized from diet to exercise
SNU Health Service Center which is located on the 3rd floor of the student center, was established in 1957 with the goal of fostering healthy human resources and has played a major role in the health care of members of the school so far. It is open from 9:00 to 5:30 on weekdays, and medical staffs belonging to Seoul National University Hospital provide medical treatment such as ▲Family Medicine ▲Mental health ▲Internal medicine. Health Service Center also operates various health promotion programs such as smoking cessation clinic and CPR education. The advantages of the Health Service Center are that SNU members can get a wide range of high-quality medical services at a low price.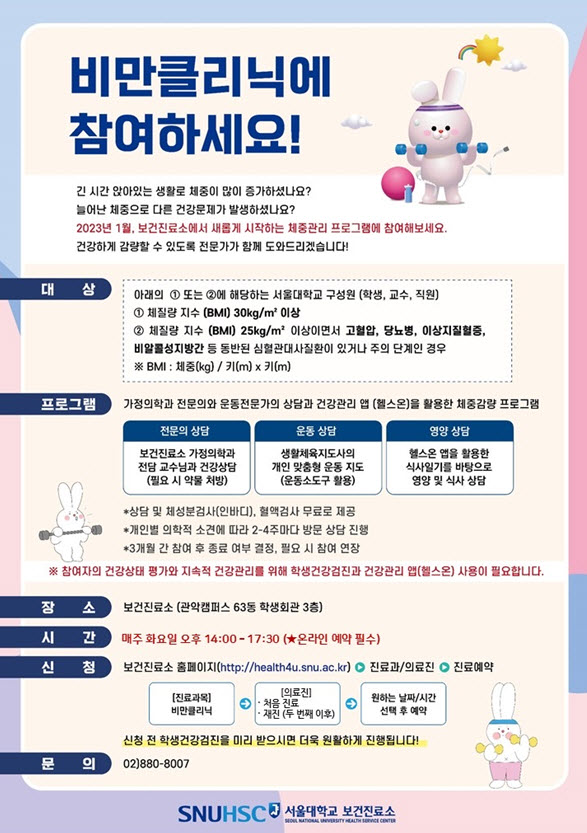 The Obesity Clinic, a health management program, was started in January. According to the results of medical check-ups of students, about 40% turned out to be suffering from overweight and obesity problems. The health clinic opened an obesity clinic with the goal of first, helping members lose weight and treat diseases thereof, as well as the long-term goal of improving the health management skills of SNU members. The obesity clinic is open every Tuesday afternoon and appointments can be made through the Health Service Center website. You can participate if your body mass index (BMI) is 30kg/m or more, or if you have obesity-related diseases such as high blood pressure or diabetes with a body mass index of 25kg/m or more. Members who do not meet this standard can get their lifestyle checked through general medical treatment.
A total of four medical staff (▲ Professor Su-min Jeong of Family Medicine ▲ Nurse Sook-kyung Lee ▲ Nurse Han-na Choi ▲ Young-hoon Jeong, a daily sports instructor) are in charge of the obesity clinic. If you visit the health service center at the appointed time, you will get health counseling with a family medicine specialist to look back on the reasons for your obesity, a chance to examine accompanied diseases, as well as receive nutrition counseling to check your eating habits. After that, an exercise counseling will follow, provided by a daily sports instructor, who will give you one-on-one advice on customized exercises using different exercise props. The participation cycle and counseling contents will vary from person to person, but participants will be encouraged to visit the health clinic every three to four weeks on average and receive counseling for about 20 minutes each time. Medical staffs will continue to communicate with the participants and help participants develop their own health management skills. It is also possible for members to participate in this program without visiting the center. They can participate by recording their diet using the "Health On" app to calculate calories and share feedback on exercise and diet with their daily sports instructors. They can also inquire medical-related information to a specialist, enabling constant lifestyle management even during periods when they don't visit the center.
Seeping into everyday life, an opportunity to form healthy habits
So far, about 75 students, faculty, and professors have participated in the obesity clinic since January. It is free of charge and the actual user satisfaction is very high as the medical staff have been providing high-quality medical treatment and counseling. One participant described the obesity clinic as a reliable "practice helper." Repeated feedback helped participants to keep healthy eating and exercise habits, and as a result, participants have reported to have been able to become more positive resulting in actual weight loss. Other participants also expressed their appreciation to the obesity clinic, reporting with a sense of accomplishment, that "I now live a healthy life that includes a routine of evening exercise." This participant particularly showed high satisfaction with exercise counseling. He started with walking and is now learning muscle training. He recalled that it was a great help that the center introduced exercising habits, with customized exercises while also sharing videos through the Health-on program.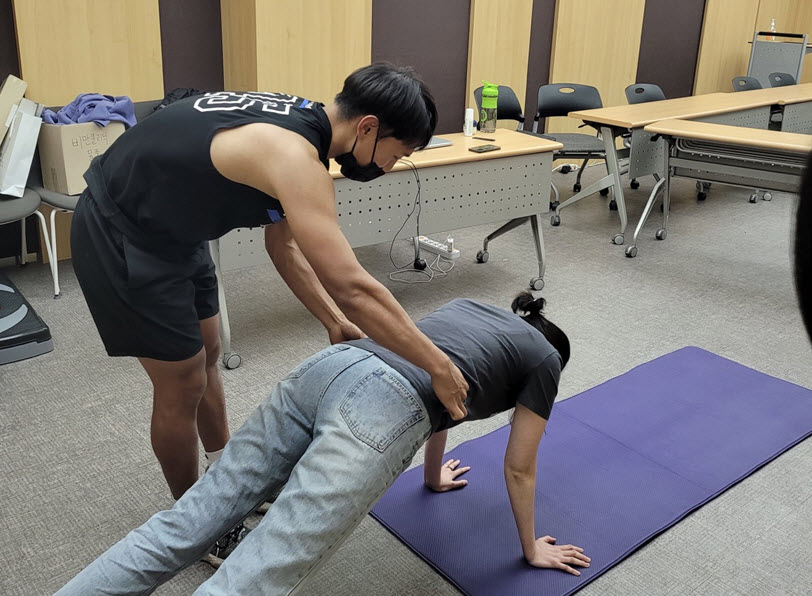 Professor Su-Min Jeong, who is in charge of health and nutrition counseling, says that health becomes the "power to achieve goals with endurance." She stressed the importance of health care, saying that keeping a healthy lifestyle will not only be helpful for disease prevention, but also, in the long term, for one's career. She also shared ways to manage obesity in one's daily life. "Choose what you eat with interest about it." She added, "if you check sugar level and saturated fat rate with a nutritional content table before purchasing food, it is more likely for you to choose to consume healthier foods." She also advised that we should increase the proportion of exercise in our daily lives, such as using the stairs instead of elevators. Nurse Han-Na Choi recommended students to make their own lifestyle routines, saying that fixed sleep patterns and consistent lifestyle will help them find bad habits to correct.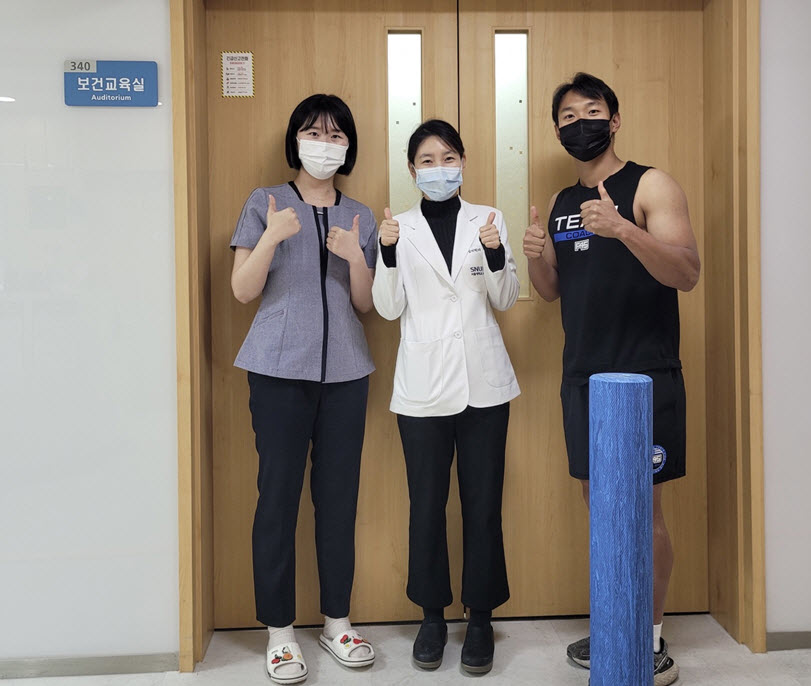 The Health Service Center will gradually expand the obesity clinic by reinforcing nutrition counseling and adding new programs. The medical staff reported that more accurate treatment and counseling will be possible if student health checkups are conducted before the obesity clinic. More information about hours of operation and how to apply for the obesity clinic can be found on the website.
SNU Health Service Center website: https://health4u.snu.ac.kr/
Student Reporter
Nam Nari (Department of Mathematics Education)
narista00@snu.ac.kr
Traslated by
Kim Hye-young (Department of Aesthetics)