The relaxation of COVID-related travel restrictions has revived the dream that many students harbor of studying in different countries. Yet some students feel hesitant to spend a whole semester or more participating in exchange programs. Fortunately, the Office of International Affairs (OIA) offers an attractive opportunity to enrich our summer and winter sessions.
The SNU in the World Program (SWP) allows students to study abroad on a two-week program in an international city during the summer and winter sessions. Each program is named after its host city, such as SNU in Paris or SNU in Beijing. Although the programs are often hosted in partnership with a university in the corresponding country, the classes are made up of SNU students and instructed by SNU faculty. Each program has its own unique theme. Last winter's programs included "Climate Crisis, Green Management" (SNU in Australia), "Inclusive Society and Sustainable Development" (SNU in Japan), and "Citizen Participation in Public Policy" (SNU in Portugal). The program includes an orientation held in Korea before travel, and counts as a three-credit course for the students.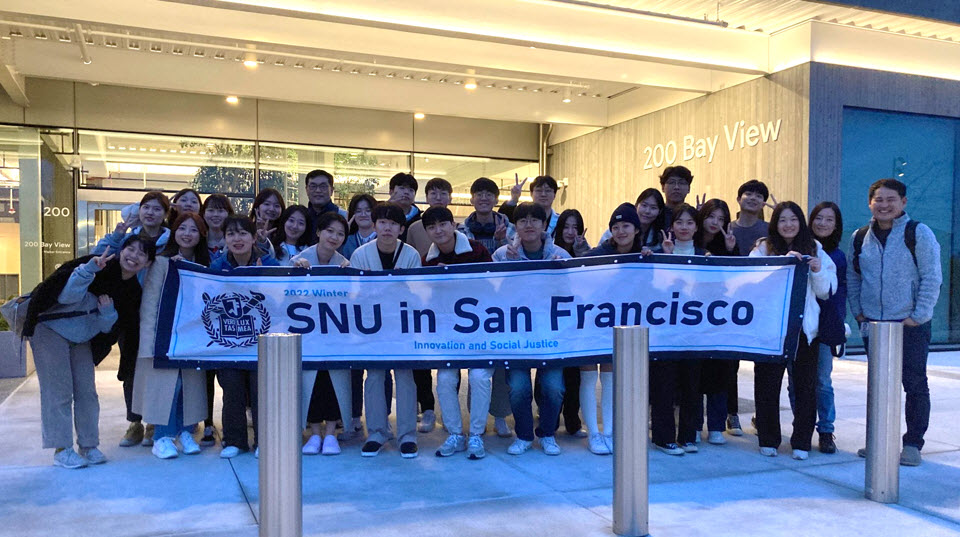 A Dynamic Learning Environment Opportunity
One of the five programs hosted by OIA for the 2022 Winter session was SNU in San Francisco. Its theme was "Innovation and Social Justice," and for the program, SNU partnered with the Social Justice Research Center at the University of California, Santa Cruz. It offered a rare opportunity to discuss the intersection of science and social justice from diverse cultural perspectives.
Yi Ji Kim, a student of the College of Medicine, joined the San Francisco program because she wanted to experience as many school programs as possible. "The topic was compelling because it covered issues like the relationship between artificial intelligence and life science, which I'm interested in but isn't discussed enough." She commented that discussing these topics in a new environment made the experience special. She was able to take lectures from professors of UC Santa Cruz and Stanford about Silicon Valley in the heart of the Bay Area itself, and topics such as racism were discussed in relation to US health inequality. "I think it was important that we discussed these issues while spending two weeks ourselves in an environment that was more multi-ethnic and conscious about it," she said.
For many, the country itself is a major attraction of the program. Eunkyu Cho (Department of Biosystems Engineering) who participated in the SNU in Madrid program last summer, had been fascinated by Spain for a long time. "Since high school, I have been a huge Real Madrid fan, and I had dreamt of traveling to Spain after graduating. COVID made that impossible, which was really disheartening, but when I saw the SNU in Madrid announcement last year I knew I had to go." Taking language classes in the capital of Spain was inspiring, and she was awed by the expertise of the lecturers in fashion, environmental studies, social studies. Prior to actually visiting the museums in Madrid, including the Prado Museum of Art or the Reina Sofía Museum, she took classes from Professor Park Jeong-Ho (Department of Archeology and Art History) as part of the orientation. "They say that knowledge is power, and it was truly different traveling as a part of an educational program because I could see so much more," Cho said. "I wouldn't have been able to appreciate Velázquez in person if I hadn't taken the orientation lectures."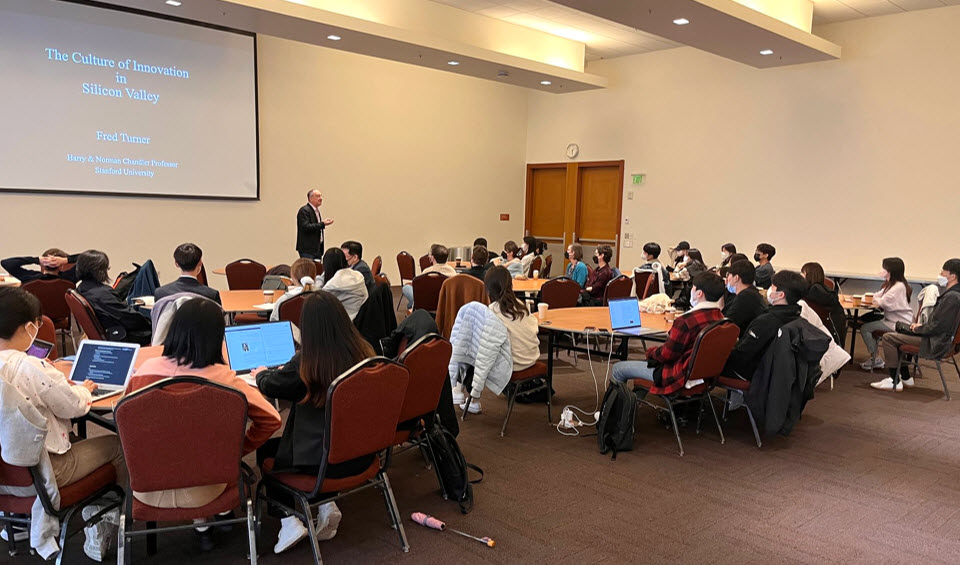 Making Memories with Lifelong Friends
SWP recruits students from a diverse pool of majors and interests, and interaction among the students is a major benefit of the program. Kim, the pre-med student, remarked that the friendships formed during her trip were the most rewarding part of the program. "We prepared a presentation together, toured every corner of the cities we visited together, and learned so much from each other." Cho, the SNU in Madrid participant, was also enthusiastic to talk about her fellow classmates. "I never expected we would get so close during the two weeks in Madrid."
Although the lectures, courses, and presentations were invigorating educational experiences, the experience was as special as it was because it was fun. Cho also mentioned her times at amusement parks, Retiro Park and Sol Square in between schedules with her classmates as the biggest joys of her trip. "I'll never forget the warm nights when we would talk about our futures over cold beer near the dorms," she said.
Perks of Being an SNU Student
SWP is just one of the many programs SNU offers its students that provide more diverse, dynamic learning experiences. SWP is an opportunity for an experience unlike any other, that becomes a hallmark memory for many students. Cho mentioned that perhaps one of the biggest perks of the program was the funding. The funding for SWP differs for each program, but often includes expenses for tuition, residence, and excursions. Depending on the program, meals are also partially provided.
Coming back from their sessions abroad, students begin the new semester with new energy and inspiration from the classes and experiences. "I didn't know that a month in Spain would stay with me for so long," Cho said. "I'm proud that my perspective on the world has broadened through my newfound understanding of Spain."
Everyone who has participated in an SWP program enthusiastically recommends it to the people around them. "If you have time during your summer or winter breaks, you should definitely go – even if you don't, you should make the time. It's one of the most enjoyable experiences you can have as a student at Seoul National University."
Written by Minjoo Lee, SNU English Editor, mjl1018@snu.ac.kr
Reviewed by Professor Travis Smith, Department of Asian Languages and Civilizations, tlsmith@snu.ac.kr