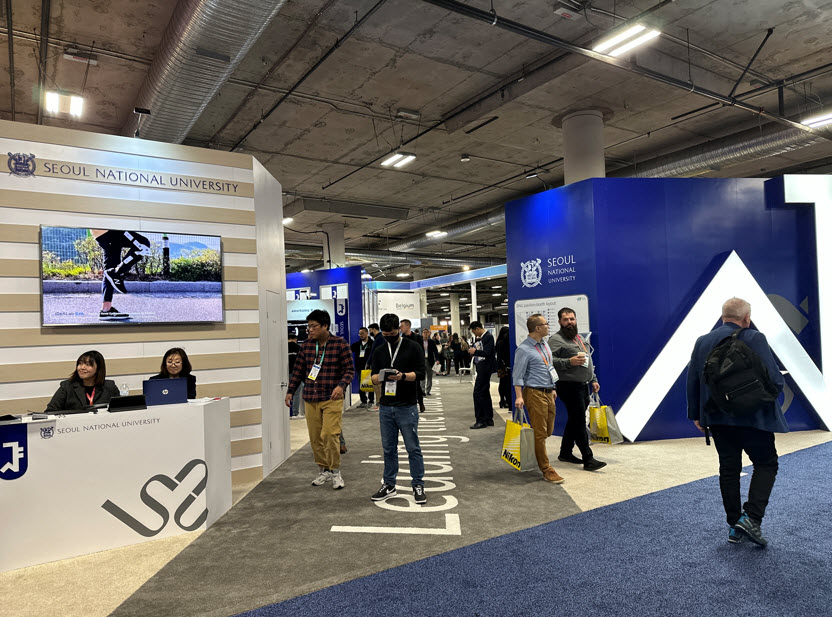 Seoul National University (President Oh Se-Jung) participated for the third time following 2020 and 2022 at "The International Consumer Electronics Show (hereafter "CES") 2023," the world's largest IT and consumer electronics exhibition held in Las Vegas, USA and showcased representative start-ups and the core entrepreneurship technologies
Seoul National University opened the 178㎡ (1,920 ft²) 'SNU Exhibition Hall ' at Venetian Expo-Eureka Park in Las Vegas from January 5 (Fri) to 8 (Sun) and displayed AI, robots, medical devices, bio-healthcare and encryption technology. Also introduced representative start-ups that used Seoul National University technology and excellent laboratory technologies for commercialization.
Companies participating in this exhibition hall were 12 companies: △Gwanak Analog(high-precision sensor RoIC solution), △Blue Robin (avatar robot, robotics medical device) △RS REHAB (wearable aid pants, dysphagia treatment device), △aweXome Ray (smart air sterilization/purification device), △SLZ (design process automation solution), △UJURA Company (AI animal disease measurement and analysis device), △Crypto Lab (complete homomorphic encryption technology software), △TETRA SIGNUM (VR CPR training solution), △PYLONEER (intelligent power grid - Smart Grid) △SN DISPLAY (Perovskite Nanocrystal Solution) △IDeALab Exo (Self-Aligned Knee Joint Guide Device).
In addition, Seoul National University also held a poster exhibition of excellent laboratory technologies that are expected to start a business in the future. A total of 6 excellent technologies: △College of Engineering Professor Ko Seung-Hwan ANTROPHY (Display with multilayer thin film heater) △College of Engineering Professor Kim Yoon-Young IDeALab Meta (Noninvasive Piping Inspection Machine Using Metamaterials) △College of Engineering Professor Kim Youn-Sang Nano Matrix Lab (self-generated blood glucose measuring device) △College of Engineering Professor Park Byung-Gook SMDL (AI semiconductor for neuromorphic system) △College of Engineering Professor Ahn Sung-Hoon IDIM (wearable NOx measuring device) △College of Human Ecology Professor Kim Ji-young Nuseum (Eating habits and nutrition information platform)
In addition, in order to provide undergraduate students with corporate internship experience, a 'Student Supporters Group' was formed to support participating companies. Eight supporters, selected through an on-campus contest and evaluation, were matched 1:1 with the exhibiting companies, and had the opportunity to experience the latest global technology trends as well as corporate promotion support.
Choi Hae-cheon, head of SNU R&DB Foundation, who oversaw the exhibition hall, said, "It was a good opportunity to explore the global expansion possibilities of start-up companies created with Seoul National University's excellent technology and to brand Seoul National University around the world."