The JW Lee Center for Global Medicine at SNU College of Medicine held the 2022 Training Program for the Establishment of Medical Infrastructure and Proficiency in Cardiac Surgery in Ethiopia at Black Lion Hospital of Addis Ababa College of Medicine from December 17 to 23.
The trip for the training program was the second visit of 2022. During the initial visit to Ethiopia last April, the Ethiopian cardiac surgery team selected during the training period of local medical professionals was invited to SNU Children's Hospital to receive additional training from each department for a duration of two months. The training in December was conducted a month after the Ethiopian team returned to their home country so that they could immediately implement the knowledge acquired to improve the conditions for cardiac surgery in their local areas.
Alongside the Director of JW Lee Center for Global Medicine Professor Woong-Han Kim (Department of Thoracic and Cardiovascular Surgery at SNU Hospital) and Director of Global Competency Reinforcement Professor Jae Gun Kwak, the team that headed to Ethiopia was composed of medical professionals from all over South Korea practicing in cardiac diagnosis and treatment, students of the SNU College of Medicine, and Center personnel.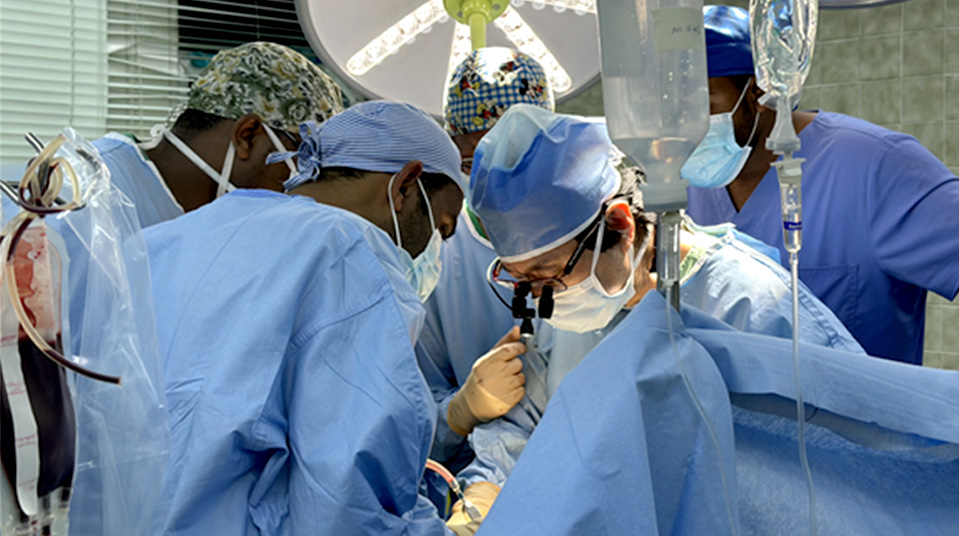 The team from JW Lee Center for Global Medicine and Black Lion Hospital staff worked together in performing twelve congenital heart surgeries, nine cardiac interventions, and around fifty ultrasounds. Local medical professionals exhibited a consistent and gradual improvement in their skillset, producing promising results. During the initial visit to Ethiopia, only two collaborative surgeries by the Korean and Ethiopian medical teams were possible in a day. However, with the local medical professionals taking initiative during the December visit, two operating rooms were put into simultaneous use, allowing up to four cardiac surgeries and three cardiac interventions to be performed per day. After undergoing their procedures, the patients were provided excellent postoperative care by Ethiopian medical staff. Soon after the Korean medical team returned home, they received welcoming news of the patients' safe discharge. In addition, theoretical lectures were given to around sixty local medical professionals each day of the program. In a statement, Director and Professor Woong-Han Kim reflected that "the local medical staff were highly motivated and zealous learners who showed great improvement" and praised the Korean medical team for their earnest enthusiasm, which must have left a lasting impression.
The Training Program for the Establishment of Medical Infrastructure and Proficiency in Cardiac Surgery in Ethiopia was started in 2016 with the aim of bettering the medical standards in areas severely lacking in medical and health competency, where timely treatments cannot be delivered to address congenital conditions, and strengthening the skillset of those local medical professionals. Training in cardiac surgery and education in postoperative patient care has been provided since the beginning of the program. Moreover, the JW Lee Center for Global Medicine is aiming to validate the efficacy of the program by applying statistical analyses to data collected by researchers, as well as establish long-term academic grounds for its continuation.
The JW Lee Center for Global Medicine was established in 2012 in accordance with the vision of Lee Jong-wook, former World Health Organization Director-General. It aims to implement education, research, policy advice, and shared international responsibility measures to better medical and health competency in countries with inadequate medical systems and also strives to nurture future generations to become leaders and visionaries in global health care. Furthermore, with SNU's excellent human resources, the Center contributes to international development aid and sustainable disease prevention and health promotion. In addition, the Center conducts research on significant topics in the field of international health care and provides educational programs targeting domestic and international students alike. (website: http://jwleecenter.org/)
Source https://www.snu.ac.kr/snunow/press?md=v&bbsidx=139333
Written by Hee Seo Lee, SNU English Editor, heeseolee@snu.ac.kr
Reviewed by Professor Travis Smith, Department of Asian Languages and Civilizations, tlsmith@snu.ac.kr