Science Studies is a discipline focused on studying the nature of science and technology and their course of development. It also explores the relationships they form with society to excavate legal and ethical issues and even expands into the policy domain centering on economic and technological innovation. As the role of science and technology increases in modern society, the need for science studies is growing. Responding to this need, SNU has established the Department of Science Studies within the College of Natural Sciences in effect creating an institutional foundation for international level research activities in the field.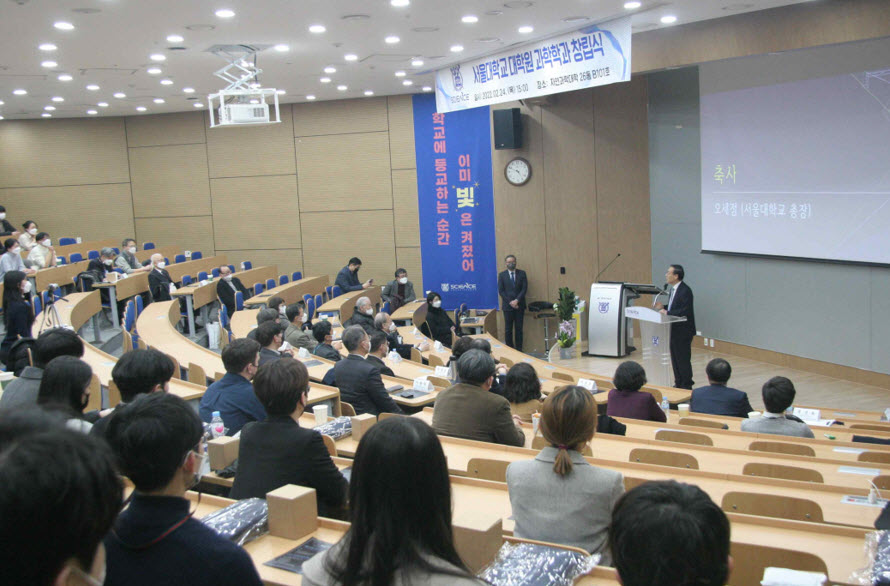 On February 24, the establishment ceremony was held to commemorate the Program in History and Philosophy of Science, which has transformed and expanded to become the Department of Science Studies. The event also sought to define the novel department's development prospects. Selected guests and students were invited including President Oh Se-Jung and Professor Junho Lee, the Dean of the College of Natural Sciences. In his congratulatory address, President Oh pointed out the relative lack of support for science studies given the high level of R&D expenditures of Korea. He hence stressed that the department should focus on contributing to the discussion of the societal implications and policy-level aspects of science.
Professor Hong Sungook, who will serve as the chair, announced the new department's vision, stating that it will study the societal issues that modern science raises and seek the balance point between the benefits and drawbacks of technology by analyzing topics of innovation, economics, law, regulations, and ethics. Through this research, he anticipated the department would help to envision a better Korean society in the era of science and technology.
In the discussion that followed, a panel of professors highlighted the role of the department in seeking appropriate technology application solutions through international and inter-disciplinary cooperation and supported the department's endeavor to conduct international level research in science studies.
Source: https://www.snu.ac.kr/snunow/press?md=v&bbsidx=135687
Written by Jaeyong lee, SNU English Editor, moonn6pence@snu.ac.kr
Reviewed by Professor Travis Smith, Department of Asian Languages and Civilizations, tlsmith@snu.ac.kr