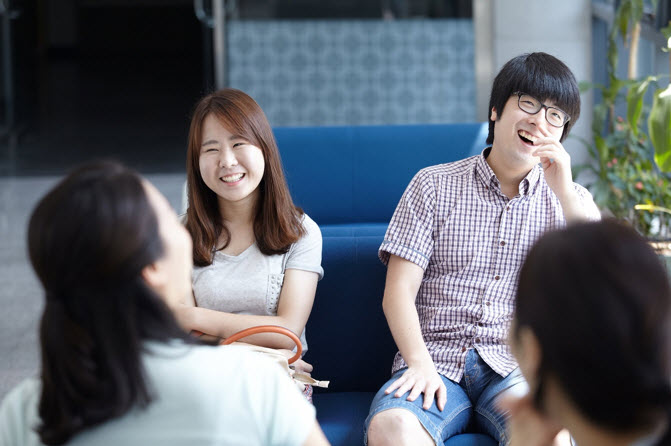 When we enter university, we realize that we really know nothing about ourselves and nothing about the world. There is no single answer key that can prepare us perfectly for our dream careers, no single study guide for building strong and lasting relationships, and no single tutor who can make us realize our potential. While our experiences may be unique, we are all in this phase of discovery and awareness together here at SNU and so we can help and support one another. SNU Friend, a program hosted by the Center for Campus Life and Culture, was founded upon this premise.
Launched in 2013, SNU Friend is a peer group counselling program open to all undergraduate and graduate students. The aim of the program is to guide students in better understanding their own emotional needs alongside those of their peers, in order to have a happier, more wholesome and fulfilling university experience. This is achieved through teaching conversational skills such as the method of 'Listen, Ask, Tell' and applying them to real life situations. During the semester-long course, students engage in discussion guided by the Center's counselors. The recruitment period for this semester ended last month which marked the program's ninth semester in action.
'Listen, Ask, Tell', which is not only the main conversational skill learnt through the program but also one of the program's mottos, teaches three primary traits the program seeks to cultivate: consciousness, prudence and altruism. In the 'Listen' phase, the objective should be to provide the speaker with the comfort of companionship along with the space to express his or her emotions. In the stages of 'Ask' and 'Tell', the person raising questions should do so not only for them to understand the problems at hand but also to aid the speaker in clarifying his or her own thoughts. In vocalizing their thoughts, they are able to find optimal solutions to whatever conflicts they might be facing. The 'Listen, Ask, Tell' method seeks to eliminate any chance of conflicts of opinion, to encourage complete respect for one another, and to empower the individual.
Even though our struggles for self-development and discovery are unique, we can find within them a universality: we all go through them. Unlike our high school days when we could refer to textbooks for the answers to our questions, the issues we face now are not so black and white. While we may never come to a full understanding of "what it all means," some of the most valuable resources we have in making sense of this exciting but tumultuous time in our lives is each other. SNU Friend teaches us that we can all be each other's "Mind Healing Supporters" (another of the program's mottos) because we are not alone in facing the world.
Written by Jeeye Hong, SNU English Editor, hongjeeye16@snu.ac.kr
Reviewed by Professor Travis Smith, Department of Asian Languages and Civilizations, tlsmith@snu.ac.kr