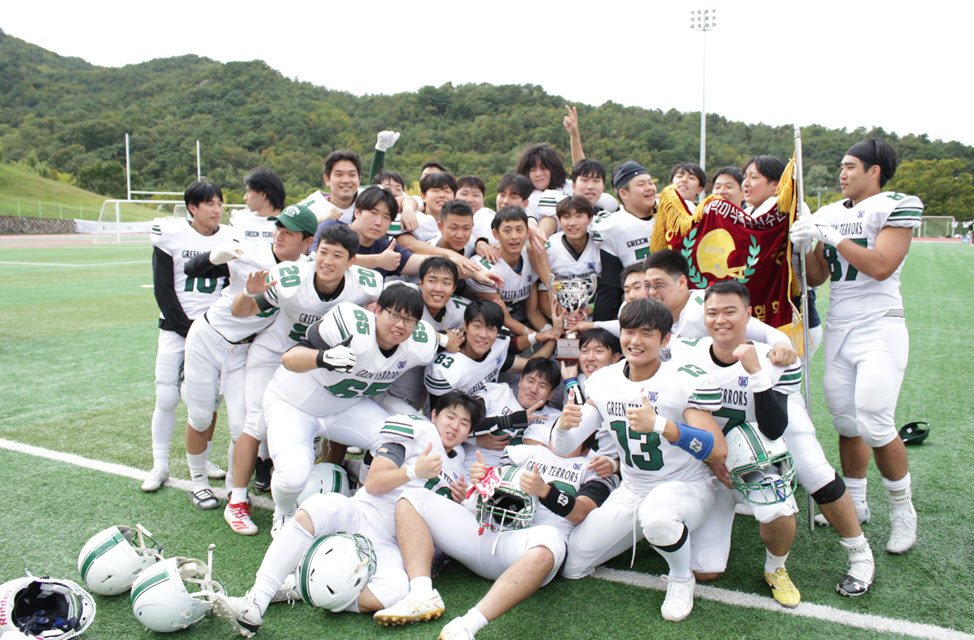 On October 7th (Sat.), SNU Comprehensive Sports Ground was filled with cheers of victory. The Seoul National University American Football Team, known as the 'Green Terrors,' clinched victory in the 2023 Seoul Autumn University Championships. This officially recognized sports team, under the auspices of the SNU Center for Sports Development & Promotion, was founded in 1963 and has been actively involved in the sport ever since. The name 'Green Terrors' was given in the early days when the team was primarily composed of students from the College of Agriculture and Life Sciences, symbolizing the "Green" field, and the word 'Terrors' symbolizes their determination to become a formidable team on the field.
During this tournament, the Green Terrors won every match, securing the championship trophy. This achievement was a result of their relentless hard work. Captain Jung Jin-wook (Department of Fashion and Textiles) shared, "After regular training sessions, we stayed up late for tactical seminars, and as the final match approached, we trained almost every morning and evening. Even during the Chuseok holiday, we spent more time with our team members than our families. I believe that the players, coaches, and managers all gave their best, and we couldn't help but feel ecstatic."
While American football is often associated with intensity and fierceness, it is a sport that places a high emphasis on strategy and is often described as "chess on the field." A single mistake by any of the eleven players can greatly impact the outcome of the game, emphasizing the importance of teamwork and clear roles. The Green Terrors conduct regular evening training every Monday, Wednesday, and Friday during the semester and two training camps during vacation. They also hold additional training and tactical seminars, both during weekdays and weekends, to enhance their teamwork and performance capabilities.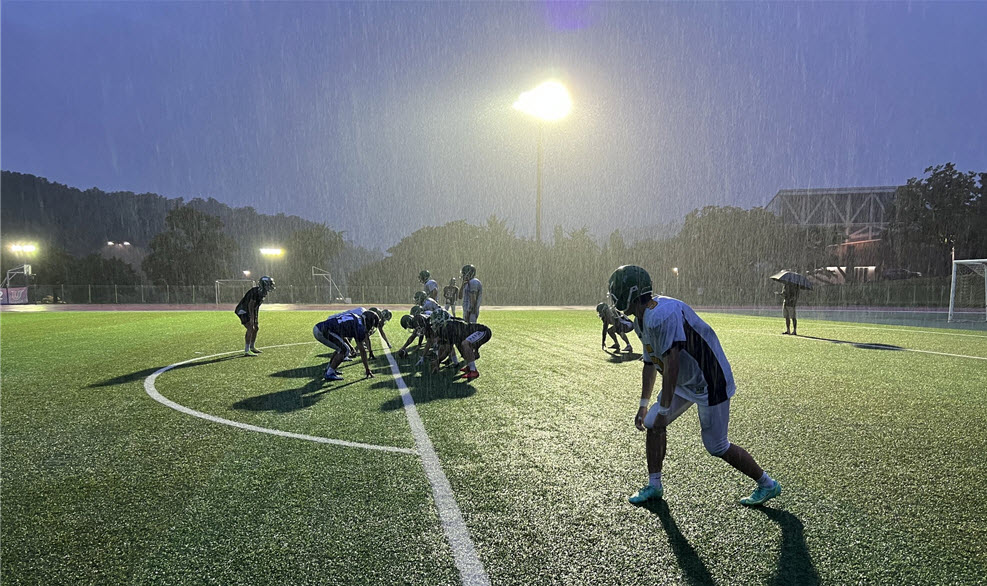 Strong bond is formed as the team spend time training together sweating. Captain Jung Jin-wook mentioned that this bond, this "closeness," is the unique quality of the Green Terrors. He said, "although we have a diverse group of people, we are closer than anyone else. We share not only our athletic lives but also our everyday lives. We are close not only among current students but also between current students and alumni, as we exercise together, have meals together, and receive support together."
The Seoul Autumn University Championships concluded with an overall victory, but the Green Terrors' journey is far from over. Starting on November 4th, the national championship will begin based on regional league results. Eight university American football teams from across the country will compete fiercely for the championship trophy. Ever since the Korean American Football Association started hosting university competitions, the Green Terrors have not yet experienced a national championship win. Captain Jung Jin-wook stated, "our goal is solely to win. We've been aiming for the national championship since April. This year, our team's condition is good, and our players have improved significantly. We will adjust our condition well and train sufficiently to run towards the championship. Please support us."
The Green Terrors, known for their fearlessness on the field, leave us eagerly anticipating their future success.
Seoul National University Communication Team
Translated by InKyung Bae (Department of English Language and Literature)