The agricultural harvesting robot team from the College of Agriculture and Life Sciences achieved 2nd place in the 2023 American Society of Agricultural and Biological Engineers (ASABE) Robotics Student Design Competition. The team, known as SNU-Bot, was led by Professor Hak-Jin Kim from the Department of Biosystems Engineering at Seoul National University.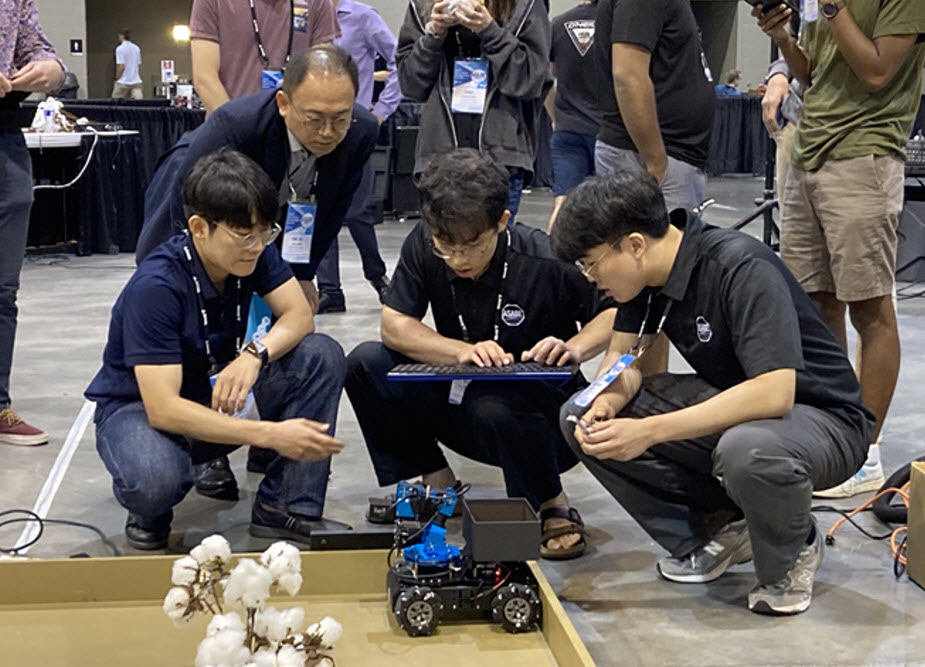 The competition, sponsored by Cotton Incorporated, agricultural equipment entrepreneur John Deere, and CLASS, was held as a side event during the annual ASABE meeting in Omaha, Nebraska, from July 9 to 12, 2023. Fourteen teams participated in total, and SNU competed in the Advanced division, competing against teams from Cornell University, University of Florida, McGill University, University of Nebraska-Lincoln, and Zhejiang University.
The main objective of the competition was to design a robot, approximately 30×30×30 centimeters in size, capable of autonomously harvesting cotton within a 2.4×2.4 meter arena without human intervention. Additionally, the robot had to detect unbloomed cotton as it moved and create a map of its location.
The Seoul National University team, comprising graduate students Yong-hyun Kim and Kyu-jin Jang, and undergraduate students Chul-hwan Yoon and Sung-je Moon, excelled in the technology section, accurately detecting and harvesting cotton while the robot moved autonomously, despite facing time constraints in preparation.
Despite encountering difficulties with robot parts and power transmission just before the competition, the SNU team adeptly overcame these challenges. They successfully demonstrated the robot's autonomous movement of the manipulator, accurately harvesting individual cotton without human intervention.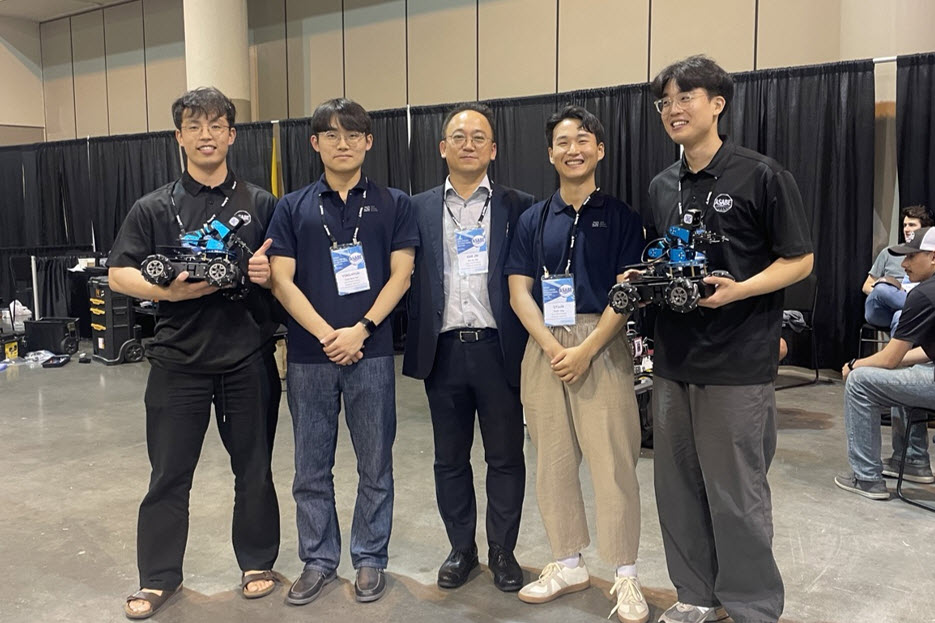 Yong-hyun Kim shared, "We faced many challenges as it was our first competition with a demanding harvesting task. However, we persevered, and the strong team chemistry played a significant role in our achievement as runners-up."
Professor Hak-Jin Kim, the leader of the SNU-Bot team, expressed his satisfaction, saying, "Our ability to precisely identify the position of unevenly growing cotton while in motion, and effectively operate the manipulator and gripper, is a testament to the success of the AI image processing algorithm we developed. We anticipate this will greatly contribute to the advancement of agricultural harvesting robots."
Translated by Seulki Yeo
(Department of Russian Language and Literature)
seulkiyeo@snu.ac.kr