The Seoul National University Artificial Intelligence Institute, led by Director Zhang Byung-Tak, proudly announced the victory of their joint robot team, Tidyboy, comprising members from Seoul National University and Pusan National University, in the Domestic Platform League (DSPL) and Open Platform League (OPL) of the home service category (@Home) at RoboCup 2023—an esteemed international artificial intelligence robotics competition.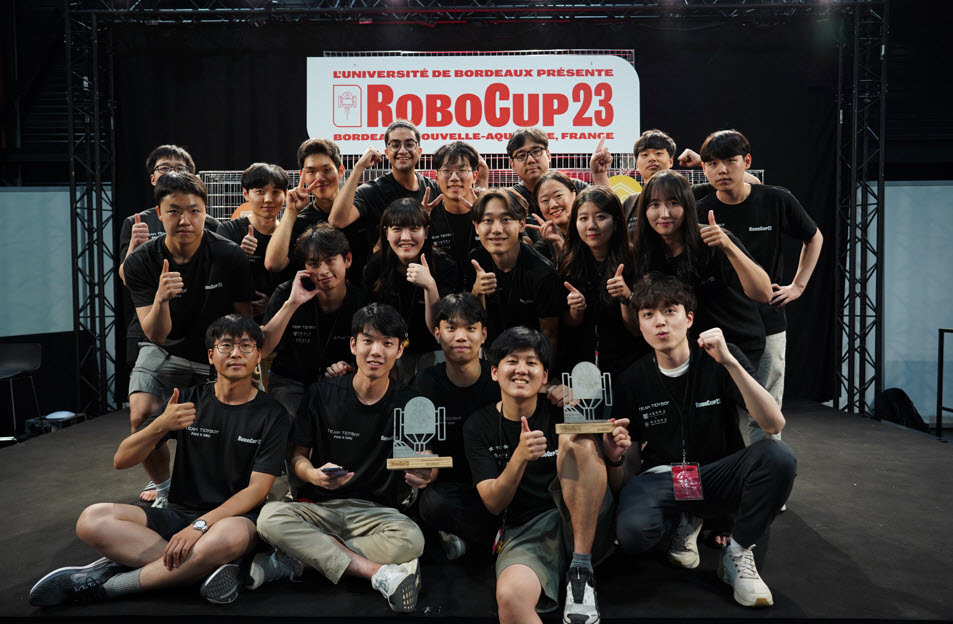 Established in 1996, RoboCup aims to promote and showcase advancements in artificial intelligence and robotics research. This year's event took place in Bordeaux, France, from July 4th to July 10th, with 2,500 participants from 45 countries competing across various categories, including robot soccer, home services, industrial automation, and disaster relief.
The 'Home Service Category' focused on service robot technology designed to assist people in their daily lives within a home environment. Evaluation criteria included showcasing robot technologies for sensing and recognizing the home environment, effective communication with humans, autonomous navigation in indoor spaces, and object manipulation—requiring participants to demonstrate expertise in both AI and robotics.
An impressive record of 33 teams participated in the home services category, including renowned universities like the University of Tokyo, Oxford University, Kyushu University of Technology, and Eindhoven University of Technology.
The 'Tidyboy' team, a collaboration between Seoul National University and Pusan National University, under the guidance of Professor Zhang Byung-Tak (Director of Seoul National University Artificial Intelligence Institute) and Professor Lee Seungjun (Pusan National University), competed in two subcategories: Domestic Platform League (DSPL) and Open Platform League (OPL). The team, comprising Yoo Young-jae, Kim Min-ji, Kim Jae-in, Yoon Hye-jung, Kim Jun-oh, Park Yee-sol, Lim Seung-hyun, Jeon Soo-jin, Lee Cheol-min, Lee Woo-yeol, Lee Min-joon, and Moon Ji-hwan from Seoul National University, along with seven students from Pusan National University—totaling 19 participants.
Despite initial challenges with the robot's operating system and network, the winning team showcased remarkable autonomous cognitive technology, accurately recognizing people's specific actions during the 'human-robot interaction' task. Additionally, they excelled in the 'object manipulation task,' narrowly surpassing Hibikino-Musashi, a team from Kyushu Institute of Technology, Kitakyushu City University, and Waseda University in Japan.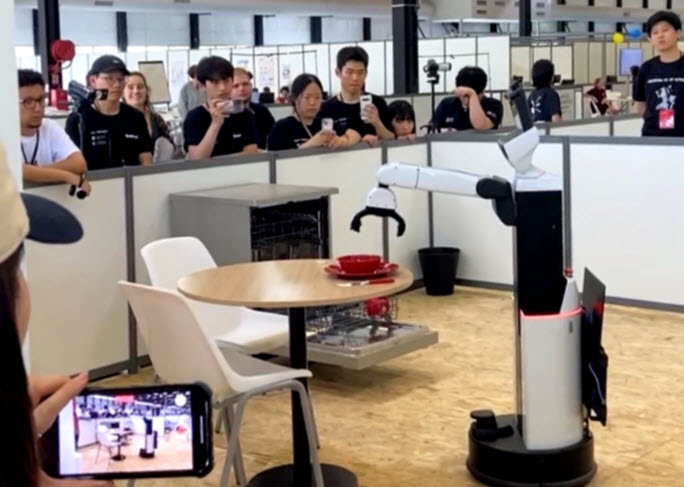 In the final round, the winning team captivated the audience and competition organizers with their perfectly executed storytelling, centered around the theme of "Assisted Meal Preparation."
Yoo Young-jae, a student from Seoul National University and leader of the DSPL team, expressed, "It was truly rewarding to persevere despite numerous obstacles and to witness our team's unwavering determination. I am immensely proud that all our team members, who worked together through thick and thin, returned home with outstanding results and cherished memories."
Professor Lee Seungjun from Pusan National University, who led the OPL team and prepared for the competition, shared his joy, stating, "I am delighted that the Korean team showcased their AI robot technology as the best in the world, despite facing several challenges and adapting to different cultures. I hope that in the future, competitions like this will be hosted in Korea, allowing domestic teams to fully demonstrate their exceptional skills."
Translated by Seulki Yeo
(Department of Russian Language and Literature)
seulkiyeo@snu.ac.kr