"Which book in my interest field should I try reading?" When one gets interested in a particular field and tries to find books in related, one often run into trouble. At times like this, it might be best to ask someone who has already read many books in that specific field, but finding this person is yet another difficult task, nor does searching the internet provide satisfying results. However, now there is a platform we can use to easily solve this problem. It is the 'LikeSNU' service. Seoul National University Library (Director Dukjin Chang) presented big data-driven knowledge & information platform, 'LikeSNU' last February 13th (Mon). This platform utilizes 2,228,717 book check-out data from 55,697 SNU students in last 10 years, to help students accomplish the goal: "reading like Seoul National University students from entrance to graduation."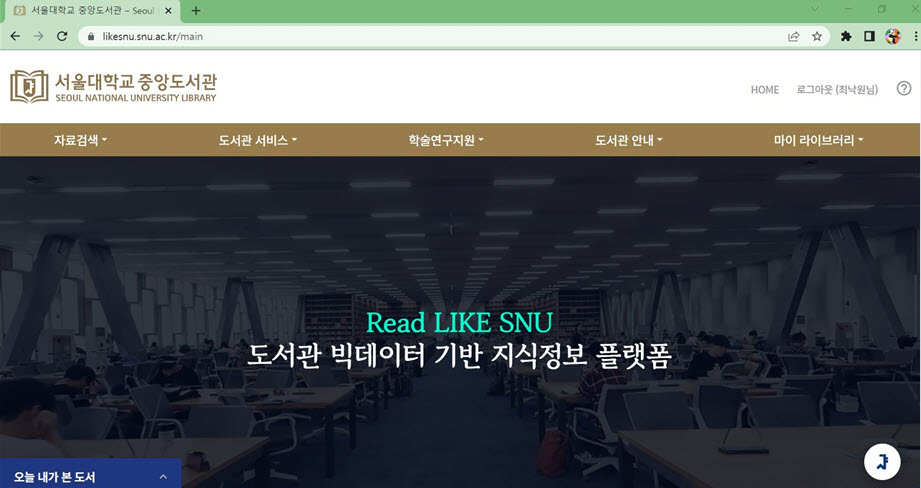 LikeSNU service can be used via its website (https://likesnu.snu.ac.kr), and major features of this service are ▲knowledge map ▲knowledge telescope ▲knowledge compass. The 'Knowledge Map' shows SNU members' knowledge trend related to the user's interest field through big data map. The 'Knowledge Telescope' provides customized book recommendation based on individual reading history and SNU members' reading pattern. And finally, the 'Knowledge Compass' shows the total check-out data and check-out data by subject, so that we can see the coordinates of our knowledge coordinates at a single glance.
With increasing demand for big data driven decision support service, Seoul National University Library searched for the method to gather intra-school knowledge big data in one place and to connect them in order to provide useful intelligent service for SNU members. They analyzed the book check-out data and performed related research since last July, and was finally able to establish the platform last December based on the analytic results. Currently, the analysis has been done mainly on the library data, but as the secondary business, 'LikeSNU' will be collecting school information such as school register data and syllabus will also be included in its analysis. Seoul National University Library mentioned that "We will collect opinions about service for continuous improvement of its features and will also increase users through promotion targeting SNU members."
"Utilizing resources as SNU students, like SNU students"
I used 'LikeSNU' service on my own. A 3-Dimensional 'Knowledge Map' appeared, the books closely connected within a net. I could freely explore the map which included the 500 most-borrowed books by fields. ▲Social Science ▲Literature ▲History & Geography ▲Computer ▲Science · Information · General works ▲Religion ▲Language ▲Natural Science & Mathematics ▲Technical Science & Applied Science ▲Philosophy & Psychology Service is provided within 10 fields. 'Related Map' shows books which other SNU members borrowed before or after reading the book. I selected 『The Invisible Man』 written by Song Sok-ze in the literature field. Before reading 『The Invisible Man』, 『I'll Be Right There』, Shin Kyoung-sook and 『Norwegian wood』, Murakami Haruki were the mainly borrowed books and 『Human Acts』, Han Kang and 『Demian』, Hermann Hesse were mostly borrowed after reading 『The Invisible Man』. You can also check which major classification, middle classification and small classification the selected books go into, and fields that SNU members are recently interested in and related fields of those through 'Knowledge Map.

After log-in, we can also get book recommendations based on the analysis of our own reading pattern 『Uncharted: Big Data as a Lens on Human Culture』, Erez Aiden and 『Don't Think of an Elephant』, George Lakoff were suggested as customized book recommendation. I could see books regarding the fields that I have interest in, and were also recommended the ones that I might want to explore further. The 'Knowledge Compass', which illuminated the reporters' reading pattern, showed statistic analysis indicating that the reporter borrowed 171books in total, and the books were mostly related to the fields of Literature, History & Geography, and Social Sciences. Seoul National University Library added that "More participation leads to more improved service, so we are looking forward to SNU members' interest and use of the service."
Service expansion to support interaction between library users and writing paper
LikeSNU service plans continuously add various services. First of all, LikeSNU is going to provide 'Comparison between my own and SNU members' reading indicators' service as a platform which will support interaction between users, allowing users to compare their reading pattern with other SNU members. The "SNU Collection", which enables following or recommending reading collection between users will also be introduced. The ways in which books are recommended will also be diversified. 'Inter-discipline Reading Road Map', which suggests reading road map to get the knowledge of other fields that are related to students' interest field will be provided, and "Study LikeSNU", which recommends book based on my major, registered course, related major on the basis of course record will also be provided. Lastly, "Research LikeSNU", which supports paper writing will also be added to the feature. Customized services, which can be utilized in a step by step process of writing a paper, such as checking research trends, selecting subjects, and more are also being planned to be included in the service.
Seoul National University Library provides various services to support SNU members' library utilization besides 'LikeSNU.' For example, 18 special lectures by authors were planned through the SNUpress writing lecture. The library also held workshops to enhance research force 4~6 times a year to support paper submission to overseas academic journals. Moreover, they have also conducted education on using online academic information during the month of March.
SNU student reporter
Nakwon Choi (Department of Political Science & International Relations)
paradise@snu.ac.kr
Translated by
Hye-young Kim (Undergraduate, Department of Aesthetics)