College students learn many things, both in classes and outside of them. The abundance of opportunities a campus can provide for diverse relationships is extremely valuable, and students map out their own way of life as they experience various clubs, activities, relationships, and so on. For some, tennis is both a passion and a teacher. In his autobiography Open, American tennis champion Andre Agassi said that "tennis uses the language of life." Student clubs can be an excellent environment to learn this language.
Impact, affiliated with the College of Social Sciences, is one of SNU's several tennis clubs. It is named after a tennis term referring to the moment the racket makes contact with the ball. "The move before hitting the ball is called a take-back, and the move right after the ball is hit is a follow-through," explained club president Juhyung Park (Department of Mathematics). "Impact refers to the most critical moment in a swing." With more than 10 years of history, the club has grown into the largest tennis club in SNU, accommodating more than 100 members. Impact is open to tennis players with a wide range of experience, from absolute beginners to skilled players.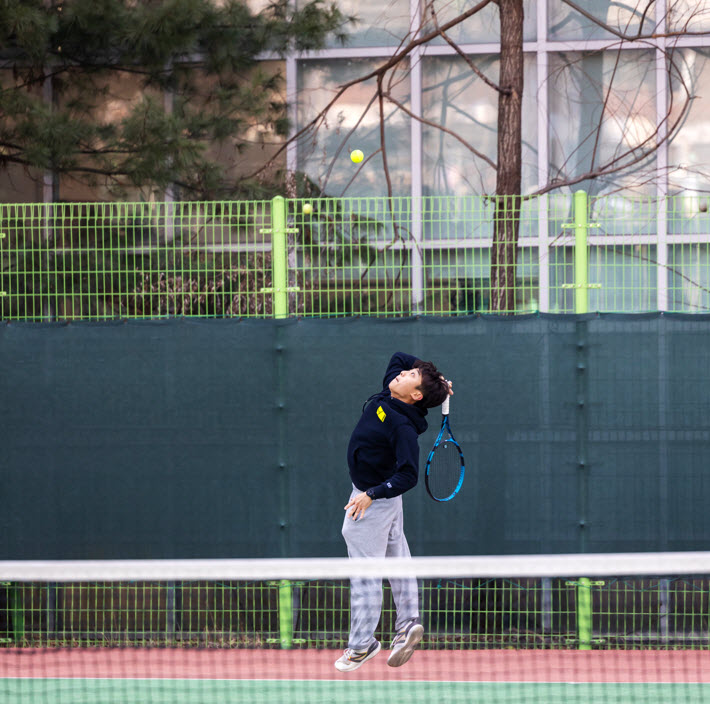 Members of the club practice on the campus tennis courts every Thursday afternoon for regular meetings. The courts are divided into two zones, one for lessons and one for games. Beginners can learn tennis from a team of skilled student coaches. Others are free to play matches among themselves. A tennis workshop, or the Impact Open, is another important part of the club's schedule. The tennis workshop is a two-day overnight event, during which members travel to a vacation cottage and tennis court outside of the city to participate in various activities. Besides the workshop, there is also a tennis tournament called Impact Open in the middle of the semester, where members play against each other competitively.
With all these activities, it is natural that the members feel a sense of belonging, and friendships carry on beyond their weekly gathering. Other than this connectedness, Impact also prides itself on its competitiveness. The club participates in various competitions, both within and outside of SNU, and is having good results. "Good performances at competitions are crucial for a sports club to retain and recruit members," Park emphasized.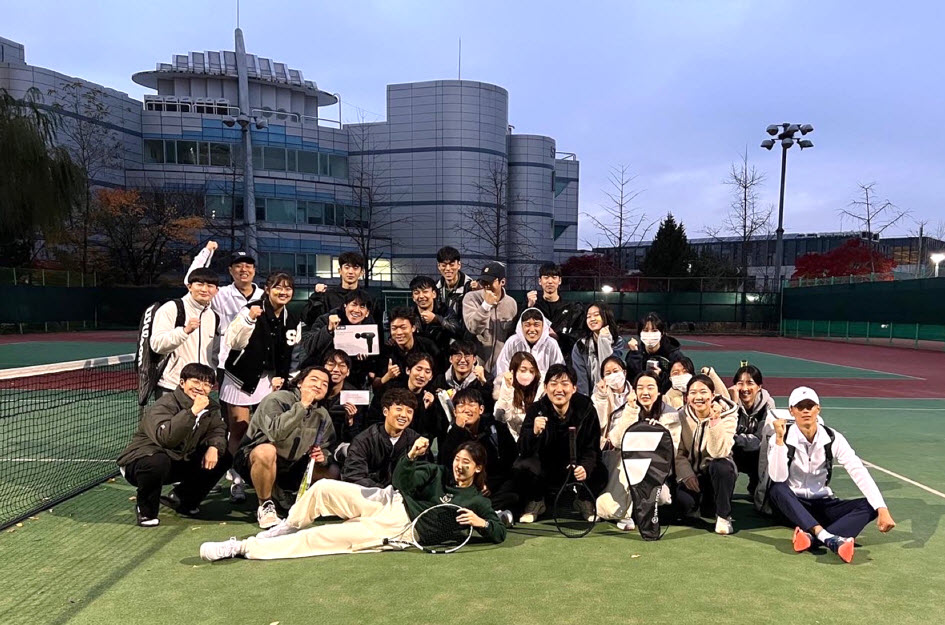 Tennis is becoming increasingly popular in Korea, particularly among those in their twenties and thirties. SNU is currently one of the most active participants in the university tennis scene. This is perhaps thanks to its large tennis courts, which provide tennis lovers with plenty of space to practice and compete. Joohyeok Park (Department of Earth Science Education) pointed to this amplified accessibility as the biggest advantage of being part of a tennis club. "Tennis isn't a sport you can play at any time, any place," he said. "Being part of a club gives me the opportunity to train every week without much trouble and keep in shape."
For many, it is who they play with that makes up the biggest part of why they enjoy a sport. At a university, sports clubs provide the opportunity for students not only to play a sport, but also to come together. Park pointed out that because college clubs accommodate various skill ranges, students can enjoy competitive games with members of diverse skill levels. "My best moments at Impact weren't big events or matches," he continued, "but watching my tennis buddies grow and find their own paths in life. We all have our own complicated, chaotic lives, but when we all step back on the court we can share big laughs."
Written by Minjoo Lee, SNU English Editor, mjl1018@snu.ac.kr
Reviewed by Professor Travis Smith, Department of Asian Languages and Civilizations, tlsmith@snu.ac.kr