Seoul National University Selected as 「Workplace of the Year」 by THE Awards Asia 2022
Seoul National University (President Oh Se-Jung) was selected as the 「Workplace of the Year」 by THE Awards Asia 2022, based on the performance of the SNU junior board operation for university innovation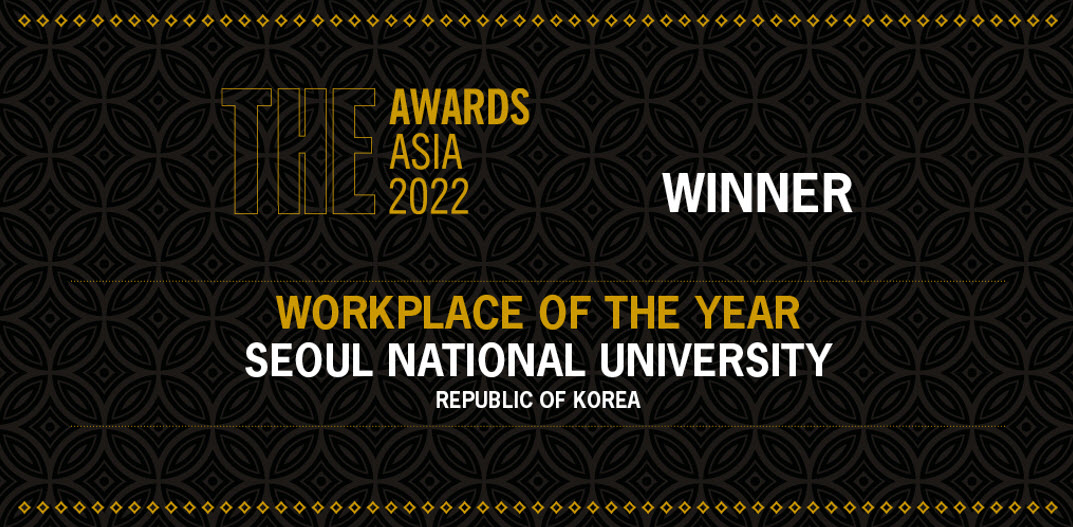 The British university ranking agency Times Higher Education (THE) has awarded best Asian universities in 10 categories related to university management every year since 2019. 22 Asian countries submitted about 500 entries for this year's THE Awards Asia and a total of 80 entries were shortlisted at the end of March. The final award ceremony was held on May 31st at THE Asia Universities Summit 2022 in Japan and was livestreamed on THE's YouTube channel.
The 「Workplace of the Year」 category is to recognize university's special efforts to create an employee-friendly work environment and workplace culture. The SNU Junior Board, which consists of employees who are in their 20s and 30s, was highly praised for its active solution to various university problems and contribution to revitalizing communication and strengthening networks among employees. Launched in April 2021, 15 MZ generation employees who have worked less than 10 years gathered to present various innovative ideas such as in-house campaigns to improve workplace culture and Co-Mentoring program to promote communication between senior and junior employees.
Meanwhile, in addition to the 「Workplace of the Year」 category, SNU was shortlisted for a total of three categories, including the 「Leadership and Management Team of the Year」 category for establishing SNU Holdings and Ventures, and the 「Outstanding Support for Students」 category for holding the 2021 Dream ON SNU Metaverse Job Fair.
Below you will find the comment from THE:
Some challenges are common to universities everywhere, which makes innovative approaches to tackling them of global interest.
One such challenge is how best to engage and mentor younger members of staff, who represent the future of a university but can feel excluded from its decision-making.
In April 2021, Seoul National University (SNU) set out to address this with those who were early in their careers as university administrators, and to find ways to bring their ideas and perspectives into institutional plans.
This initiative was led by the University Innovation Centre, which launched the SNU Junior Board with a view to tackling the sense of a "generation gap" within the workforce, bringing together staff in their twenties and thirties to help develop new strategies to address university-wide challenges.
Gathering every month despite the disruption of the Covid pandemic, the Junior Board addressed issues including workplace culture and environmental, social and governance matters.
As part of the scheme, a new mentoring programme was established; in a two-month pilot, this brought together senior and junior staff from 14 university departments.
The judges praised SNU for looking beyond the immediate demands of the pandemic to address broader workplace issues that were fundamental to the future success of the university.
They said: "The Junior Board was a way to expose younger staff to a range of university issues and give them the opportunity to understand institutional challenges, suggest solutions and share ideas and expertise. The model builds and empowers a staff network, and there is evidence that the ideas generated are feeding through to senior management."