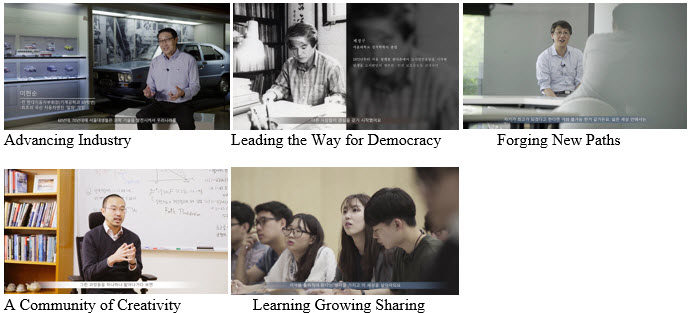 The Seoul National University Public Relations Team has released a promotional video exhibiting the school's academic prowess, rich history, and diverse talent pool to both domestic and international audiences. This video uses an unconventional, interview-based format that introduces the school through the voices of its own community. This distinguishes the video from a more conventional voiceover model commonly used in the promotional materials of corporations and other universities.
Titled A Community of Creativity and Knowledge, the video has five parts: "Advancing Industry," "Leading the Way for Democracy," "Forging New Paths," "A Community of Creativity," and "Learning, Growing, Sharing." The topics range from the collaborative research endeavors of the faculty to the vital influence that SNU has had on the social and economic development of the Korean nation.
"Leading the Way for Democracy," for instance, focuses on SNU in the 1980s, when a rapidly expanding economy caused great economic disparity and sowed the seeds for the struggle for democracy. The video pays tribute to Park Jong-chul, an SNU student who was tortured and murdered for taking part in student protest movements. His death added fuel to the fire of discontent, leading to the June Democratic Uprising of 1987. By highlighting pivotal moments like this in the school's history, the video recognizes SNU as a leader in Korea's democratization.
In "Learning, Growing, Sharing," current students share their experiences of pursuing education at SNU. They credit SNU with providing various opportunities to explore extra-curricular passions and taking the initiative to globalize its education through exchange programs. The video shows the curiosity and enthusiasm of the students, whose intellectual acumen and cultural diversity help to actualize SNU's potential as a global academic leader. "As a research university, there really is no better place to experience such a variety of disciplines," says one student.
Interviewees include members of the teaching faculty, alumni, and student body, selected for their contributions to SNU culture and to society at large. Professors Narry Kim (Department of Microbiology) and Philip Kim (Department of Physics at Harvard University), for example, are world-renowned pioneers in RNA and Graphene research respectively. Other professors interviewed, such as Lee Ji-hong (Department of Economics) and Cho Young-tae (Graduate School of Public Health) have conducted innovative research in their respective fields, while featured alumni such as Lee Hyun-soon (Vice Chairman of Hyundai Motors) and Yoon Jong-yong (Vice Chairman of Samsung Electronics) are among the luminaries of modern-day Korean industry.
A Community of Creativity and Knowledge shows SNU's strengths, rich culture, and potential for the future. The video was created by the SNU Public Relations Team and was subtitled and captioned by SNU English Editors.
Watch the videos at Seoul National University Youtube channel
Written by Yu Young Jin, SNU English Editor coin1234@snu.ac.kr
Reviewed by Professor Travis Lamar Smith, Department of Asian Languages and Civilizations, tlsmith@snu.ac.kr