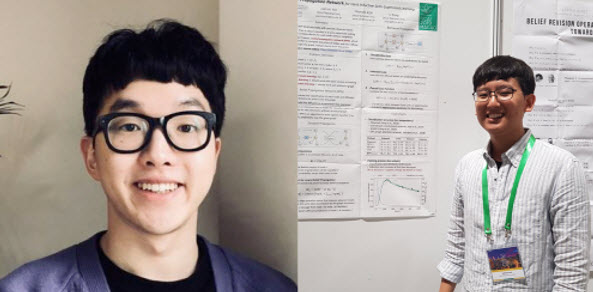 On September 16, the SNU College of Engineering announced that two PhD students from the Department of Computer Science and Engineering have received the Google PhD Fellowship. The recipients of the fellowship are Kim Byeongchang (Professor Kim Gunhee, Vision and Learning Lab) and Yoo Jaemin (Professor Kang U, Data Mining Lab).
The Google PhD Fellowship recognizes and supports graduate students from around the globe for outstanding research in Computer Science and related fields such as computational neuroscience, machine learning, human-computer interaction, mobile computing, and natural language processing. Kim and Yoo were recognized for their exceptional research in natural language processing and machine learning, respectively.
Recipients of the fellowship are invited to a global summit at Google's Mountain View campus, where they learn more about future technologies and receive networking opportunities with Google's vast research community and other fellowship recipients from prestigious institutes around the world such as Stanford, MIT, and ETH Zurich.
"We are proud to present our talented engineering students to the world," said an SNU official. "We will continue to foster talents that will influence the whole world."
Source: http://www.dailytw.kr/news/articleView.html?idxno=19454
Written by Chae Hyun Kim, SNU English Editor, michelle25@snu.ac.kr Reviewed by Professor Travis Smith, Department of Asian Languages and Civilizations, tlsmith@snu.ac.kr