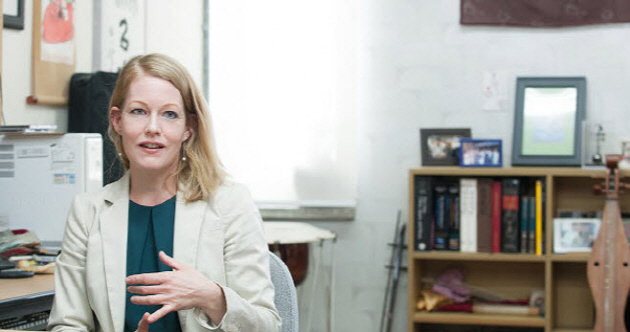 Korean classical music and anthropology
Although she majored in music for her undergraduate degree in 1992, due to its stressful environment, Professor Hilary Finchum-Sung (College of Music) hoped to study anthropology of the social sciences in graduate school. Eventually she decided to study ethnomusicology, a fusion of anthropology and music. After she had begun her masters, a professor who studied Korean folk music recommended to her to listen to Korean classical music. Professor Finchum-Sung had had little exposure to Asian music, let alone South Korean music, and since this was a time preceding YouTube, her first encounter with Korean classical Music began with three CDs that she bought from a bookstore. She recalls her surprise the moment she first heard it, "The music was vibrant but simple." Ever since this initial introduction to Korean classical Music and completing her masters in 1997, spurred by her curiosity and a recommendation, she spent the next 18 years dedicating herself to this field.
Thoughts on identity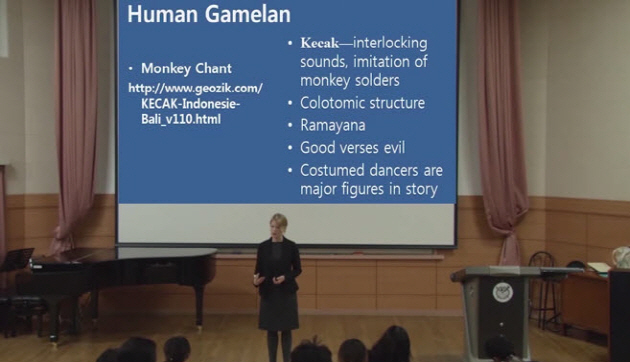 During her research in graduate school, Professor Finchum-Sung came across many articles that proposed that Korean classical music was unpopular among Koreans. She notes, "The region that I was born in had its own traditional music. Growing up in Nashville, Tennessee, people preferred classical music and was reluctant to admit that they enjoyed the region's music. However, during my graduate studies I realized the importance of music related to my identity." She believes that the traditional classical music of each country contains a unique national identity, so she feels that it is important that people explore this identity even if it may be unfamiliar at first. She says, "To claim that one doesn't like Korean classical Music because one is unacquainted with it is wrong." She analyzes the unpopularity of Korean classical music among contemporary Koreans, and hopes to develop strategies that may resolve this issue. Her ponderings on identity goes beyond her field of study.
She described the transformation of Korea from her observations of her first visit to Korea in 1999, and her many subsequent visits. She reminisced about her time in a boarding house where in order to drink coffee she had to use a burner to heat up instant coffee. Today, she is greeted by cafes in almost every street corner which evokes from her an expression of surprise and worry. She says, "Things have changed unimaginably. Cultural change is natural, and inevitable but we must not forget our identity. Today, a visit to any major city will yield a singularly uniformed culture of style, music, and even infrastructure. We are headed towards a universal culture, but discourse on Korean identity must persist." Regarding the education of Korean classical music, she stated, "For Korean children, learning gugak [Korean classical music] is as important as learning Korean language and literature; an integral part of Korean identity. But, a good percentage of my students in general classes have had extremely limited exposure to gugak. Many admit they know very little about gugak. My hope is that children in public schools will continue to have increased access to gugak so that, in ten years, every young Korean person can confidently say they know and understand gugak. I didn't say like, since that is a matter of individual taste. Yet, knowing gugak is the key and an important part of embracing a global Korean identity in the 21st century."
A different perspective on Korean classical music
At present, Professor Finchum-Sung specializes in the theory of national classical music. Ethnomusicology, which she studied in graduate school, involves differences in both research areas and methods. Therefore she has much experience with field surveys of the region related to the music. She stressed the importance of ethnomusicology even though it is currently a somewhat unfamiliar concept in Korea. She then discussed the lens through which she viewed Korean classical music. "I have only experienced Korean classical music for 18 years. I was unfamiliar with this music during middle and high school. Since I was not exposed from an early age, I have a different perspective on the music. I believe this is an advantage." Currently spending a year on sabbatical leave, she is focusing on writing on the education, composition, and trends of Korean classical music, and is studying how this music has changed over the past 20 years, and contemplating its future direction in the 21st century. She is also researching intangible cultural assets and carrying out field surveys of certain regions. As she's interested in female folk songs, she visits villages to conduct interviews as part of her on-site investigations.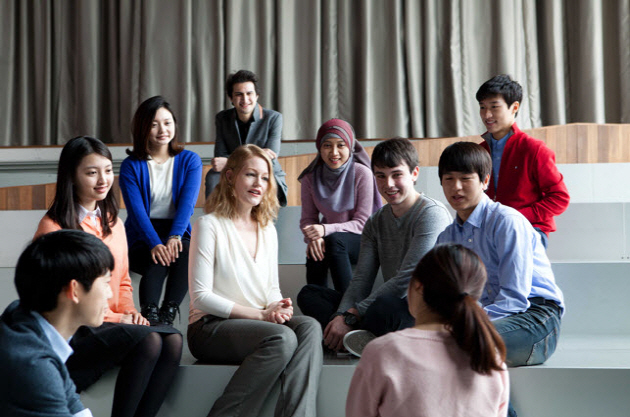 America to Korea
After she received her Ph.D. at Indiana University (2002) and did her post-doctorate at UC Berkeley (2002-2003), she lectured at the University of San Francisco. During this time, she received an email from her colleague who informed her that the Korean classical music department of Seoul National University had an open position for an international professor, and subsequently applied for it. She was appointed as a professor in 2009 at SNU. As a mother, much difficulty lay in store for her during her move to Korea. With language and cultural barriers, she initially had trouble settling in. But after 6 months, and efforts on her part, such as speaking Korean at home, she gained relief as her Korean improved. It has since been six years, and today she jokes that she speaks better Korean than English.
Korean music in the world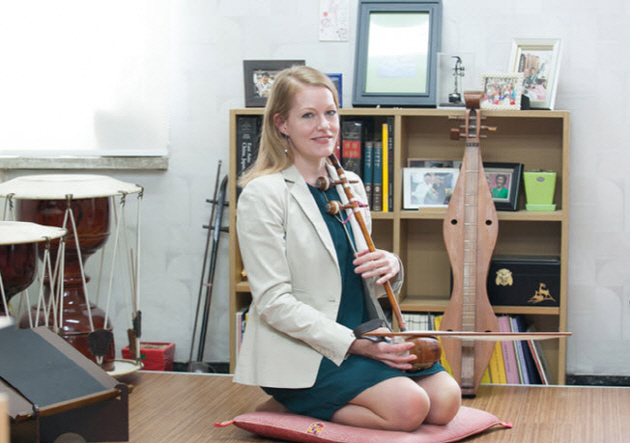 Professor Finchum-Sung regards the book, Sound and Sentiment: Birds, Weeping, Poetics and Song in Kaluli Expression, by Steven Feld, as the initial compass of her life. "This is the book that led me to my field of study. The author carried out field surveys in Papua New Guinea, and explored the idea that the sounds of nature were linked to the human soul. The residents of the area believed that a person who dies is reincarnated as a bird which is why they consider the birds' songs as the songs of their ancestors. Thus, they would compose songs while listening to the birds. I wanted to study the theory behind such music." Professor Finchum hopes to continue exploring this field with research to produce quality publications. By presenting and publishing her research in English, she expects to increase Korean classical music's presence in the world. She holds pride in her global research, and hopes it will eventually lead to greater worldwide interest in Korean classical music. Furthermore, she wants to increase the influence of ethnomusicology in Korea by teaching it to her students to provide them with a different approach to the study of Korean classical music. She notes, "Despite weathering 20th century occupation, war and a quest for modernity that pushed aspects of traditional culture under the rug, gugak has proven resilient. In the year 2015, we can see the fruits of decades of dedication and perseverance on the part of gugak professionals, and I believe gugak will continue to have a stronger presence in contemporary Korean society. Much of this is due to the creativity of musicians and composers and the work of theorists and critics chronicling developments in gugak's performance and expansion. In addition, thanks to both overseas performances and on-line networking, gugak's audience has expanded beyond Korea to reach all corners of the globe. Gugak will never be a popular music like K-Pop, but, staying true to itself, will continue to develop and enrich the global soundscape with its many-layered sonorities, from the most traditional to pop-oriented sounds. While these developments I have described are a natural and healthy part of the process of cultural change, gugak's presence in arts education in public schools still needs much support from the Korean government and from teachers and parents."
Article translated: http://snu.ac.kr/news?bm=v&bbsidx=121598 by PARK Sun-ok (Department of Consumer Studies)
Written by JUN Taehoon, SNU English Editor, taehoonjun@snu.ac.kr
Reviewed by Eli Park Sorensen, SNU Professor of Liberal Studies, eps7257@snu.ac.kr