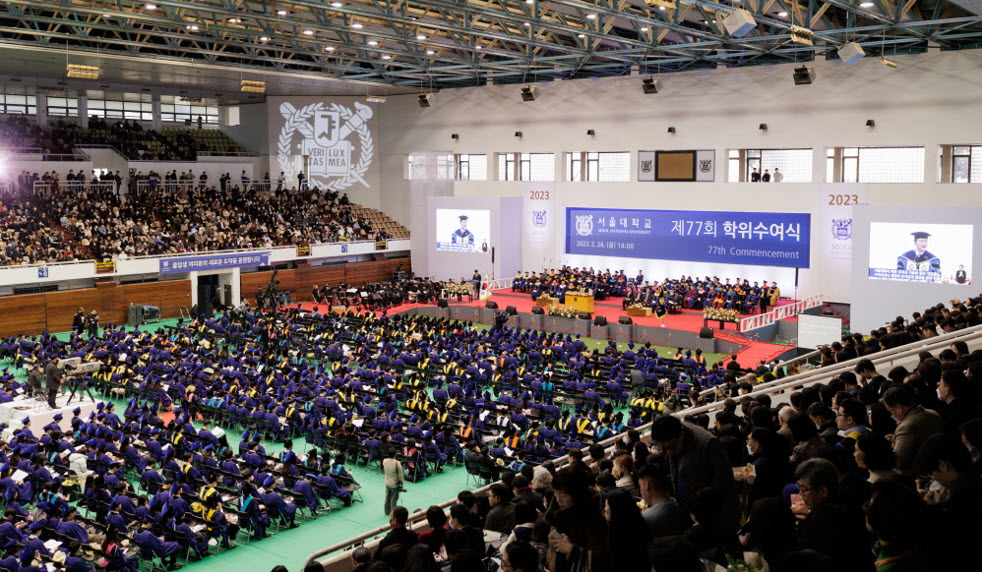 Seoul National University (President Honglim Ryu) held its 77th Commencement Ceremony on February 24 at 2 P.M., in the Gymnasium at Gwanak Campus. 2,154 undergraduates, 1,708 master's students, and 775 doctoral students received their honorable degrees, a total of 4,637 students.
The Commencement Ceremony had been an untact event due to the COVID-19 for some time, and this was the second time since last August (the 76th Commencement Ceremony) that the occasion returned to a face-to-face event.
"At the beginning of a new start, be a brave challenger, who looks upon oneself continuously and becomes a pioneer of his own life, and who expresses himself and puts social values up front," said President Ryu as he addressed the graduates. "By sharing your knowledge and abilities to those around you, make us proud by being a Seoul National University graduate who is also the leader our society needs, and a respected intellectual," he added.
This year, Ko Junghwan, director of Korea Aerospace Research Institute, who also successfully leaded the launching of Nuri, was invited as the congratulatory speaker of the ceremony, and is expected to encourage and plea for preparing for the future and a firm sense of purpose.
Major Events
-National Courtesy, Report on Education Matters, Graduation Grant (President Ryu), Congratulatory Speech (Kim Jongseop, President of SNU Alumni)
-Representative of Graduates Speech, Congratulatory Speech (Ko Junghwan, Director of Development of Korea Space Launch Vehicle Program, Korea Aerospace Research Institute)
-Conferment of Degree, Certification Merit etc.