"The virtual within the real. The real within the virtual. Invite us to your virtual world."
The Faculty of Liberal Education recently held the 8th Humantube Video Contest, around the theme of "virtual." Previously, contests were based on themes such as "how to live," "happiness," "me," "relationships," and "feelings." The contest was designed to show that videos are an important part of digital culture, allowing anyone to become a consumer or producer of creative video content. Participation was open to all SNU students submitting entries between August 1 and October 17.
Participants were required to submit videos that were three minutes long, in any of the formats that could be used on a UCC (unified communications and collaboration) platform. The following categories were given as examples: short films, motion graphics, documentaries, music videos, animations, video art, experimental films, and photovoice.
An award ceremony on November 2, was hosted to celebrate the efforts of all participating teams. The Faculty of Liberal Education screened ten finalist video entries.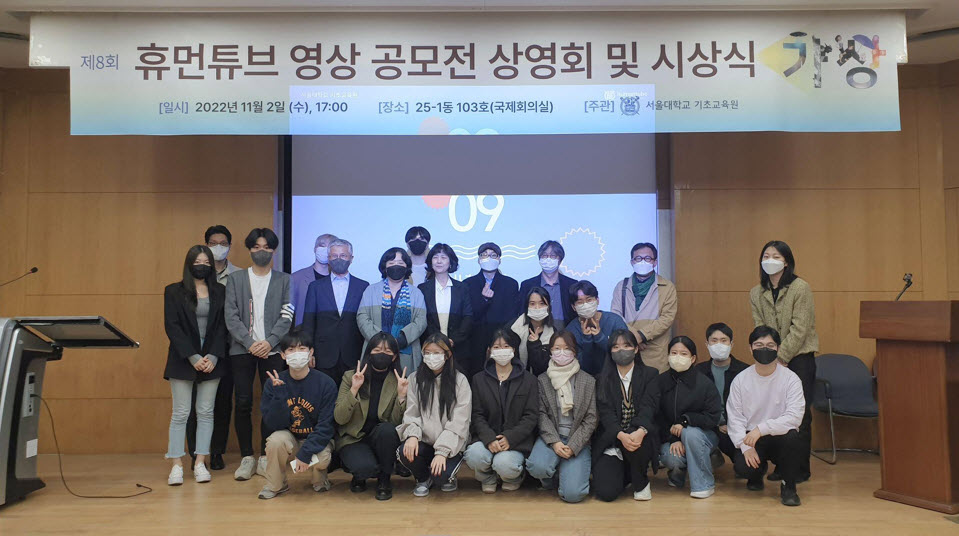 Choi Yun-Young, Dean of the Faculty of Liberal Education, kicked off the event with a screening of last year's winning piece entitled "My Tick" and a keynote address. She explained that "Humantube", a portmanteau of "human" and "YouTube", was an initiative created to encourage media literacy among students. She noted that many students from the College of Music participated in this year's contest, and also that there has been a significant increase in the quality of entries compared to previous years. Choi said that one of the best parts of Humantube is that the professors who watch the entries discuss them in depth and explore the value of the participants' works.
The second address was provided by Professor Jo Dong-Joon of the Department of Political Science and International Relations, chair of the selection committee. Professor Jo stated that he wanted students to use diverse media to reflect on their lives from an objective point of view, "otherizing" their experiences to examine them from a different perspective. He hoped that through this opportunity, students would be able to practice their media literacy skills, which would be of great use to them in their future career pursuits.
During the event, the student producers of each entry were invited to speak about the meaning of their work and why they created it. This was followed by a screening of their work and an expert analysis of the work by a critic. After the screening ended, attendees were asked to participate in a real-time vote to decide the winner of the people's choice award.
There were 19 entries in total, with 57 students from diverse fields of study participating as individuals or in teams. Eight professors and 21 students conducted a comprehensive evaluation, with the main criteria being originality, alignment with the theme, creativity in directing and editing, and adherence to the time limit. Twelve entries were selected in the preliminary round, with each entry evaluated separately by the video contest committee, expert critics, and 21 students. Finally, eight video entries were selected for awards.
First and second place prizes were awarded across three categories, namely the Content Award, Critic's Award, and Relatability Award. First and second place awards included prize money of 1,000,000 KRW and 500,000 KRW each respectively. Professors Jo Dong-Joon, Min Eun Kyung, Bernhard Egger, Hong-Jung Kim, and Kang Hye-Jeong of SNU decided upon the winners for the Content Award, while Professors Park Sang-Woo, Shin Chung-hoon, Chang-Young Jeong, and Kwang-Hoon Lee selected the winners of the Critic's Award. The peer evaluation group of students determined the winners of the Relatability Award, while the People's Choice Award was decided via the real-time vote during the award ceremony. Finally, the grand prize was awarded to the team scoring the highest points across all categories.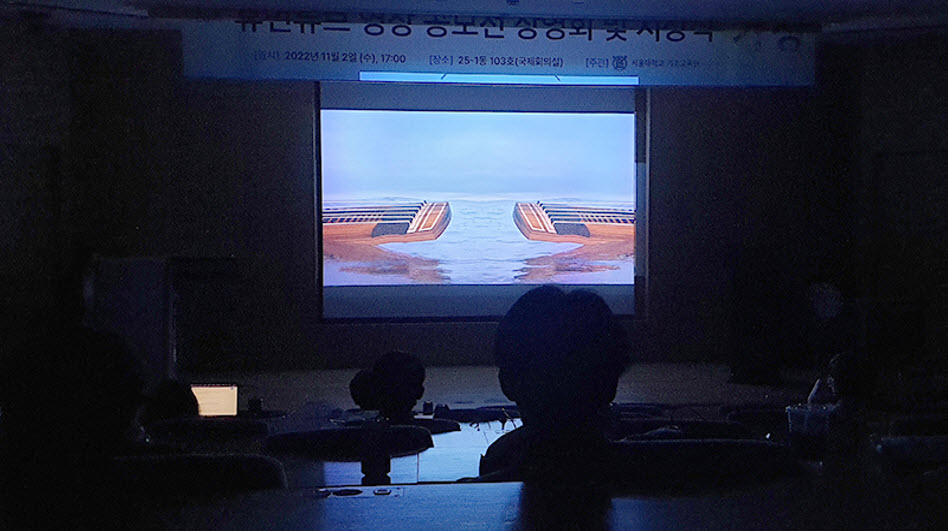 Da-On Jin of the Department of Korean Music was awarded first place in the Content Award category for her piece titled "Geomunbada", a wordplay conjuring the Korean traditional instrument geomungo floating in a black sea. Jin was inspired to create this piece as she recognized a parallel between the aristocrats of the past using the "geomungo" to channel their fantasies, and our use of the virtual in contemporary society. She also commented on depicting the geomungo floating over a vast seascape to show how insignificant our ideal or virtual worlds can be in the grand scheme of things. Evaluators also highlighted the playful nature of her piece, which was entertaining and lighthearted while also serving as a biting critique.
The runner-up award in the Content Award category was presented to Ye-Won Jin, Ji-Yeon Shim and Seon-Yul Lee of the Department of Communication for their work titled DiVRsity. This work was the only piece which featured a wearable device for a virtual reality experience, and demonstrated that virtual reality is not only limited to fantasies, but can be used to understand the real world better as well. The audience was able to experience the daily life of a visually impaired person through an avatar in a virtual world.
The first place prize in the Critic's Award category went to Eun-Woo Park (Department of Communication), Ye-Eun Song (Department of Korean Literature and Language), Min-Yeong Yeo (Department of Sculpture) and Hanyi Jang and Chang-Soo Maeng of the Department of Civil and Environmental Engineering. The team's work was entitled "Even If it's Only in the Virtual World." The video explored the story of a high school girl who meets a high school version of her mother via virtual reality.
The runner-up in the Critic's Award category was the team of Seung-Ho Kim (Department of Aesthetics), and Sang-Yi Lee and Jin-Wook Lee of the Department of Philosophy, who produced "Shadow," a music video featuring lyrics about how we may either love or hate our virtual selves, and how such perceptions may surprise us.
"Virtual Sanity" was awarded first place for the Relatability Award category, produced by Hyeon-Jo Kim (Department of Business Administration), Hyeon-Woo Kim (Department of Electrical and Computer Engineering), Pyeong-Ah Son (Department of Business Administration), Philip Lee (Department of Korean Language Education), Jin-Wook Lee (Department of Economics), and Seo-Jin Heo (Department of Instrumental Music). The team attempted to evoke the inexplicable dread associated with the virtual, showing how we remain immersed in it even as it overtakes our real lives.
The runner-up of the Relatability Award category went to Mok-Won Choi (Department of Communication) and Eun-Woo Jeong (Department of Communication) for "Virtual World." The work features an AI researcher who meets a virtual human, exploring the blurred lines between the real and the virtual.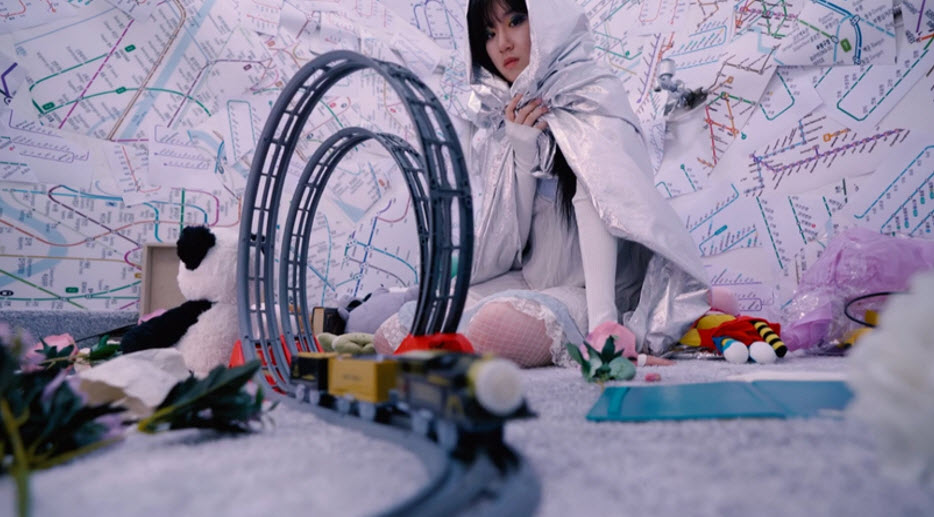 The grand prize, valued at 1,500,000 won, was split between two winners that tied in the scoring. "Subway, Anyway" was one of them, produced by a team consisting of Su-Yeon Park (Department of Oriental Painting), Ye-Jin Kim (Department of Composition), Jeong-Hyun Na (College of Liberal Studies), Eun-Sol Kwon (Department of Physical Education), Yoo-Jin Lee (Department of English Language Education), and Ji-Yeon Ko (Department of Design). "Subway, Anyway" also won the People's Choice Award, which included a monetary prize of 500,000 won. A representative of the team shared that the main character was inspired by the strangeness one feels wandering through the Seoul subway, comparable to being lost in Wonderland.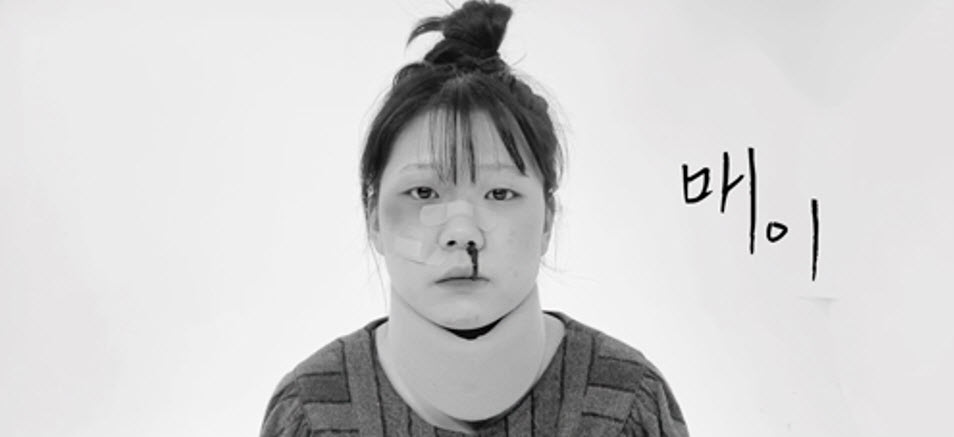 The other grand prize winner was "May", produced by Ye-Seo Kwon (Department of Sculpture). She stated that she created her work to explore what sort of person she should be in a world where it is hard to distinguish between the real and the virtual. According to Professor Park Sang Woo, "May" aptly depicts the futility of humanity's failed attempts to escape the virtual world, due to its powerful hold on us.
The works of students were thought-provoking, relatable, and of high production quality, as was clear from both the critics' comments and feedback from the peer evaluation process. The 8th Humantube Video Contest was a great success, achieving its purpose in allowing students to build their digital literacy skills and freely express themselves.
To stay updated on further initiatives and opportunities for development, refer to the Faculty of Liberal Education website: https://liberaledu.snu.ac.kr/.
Written by Sneha Karri, SNU English Editor, sneha@snu.ac.kr
Reviewed by Professor Travis Smith, Department of Asian Languages and Civilizations, tlsmith@snu.ac.kr