On November 22, the SNU Department of Political Science and International Relations invited Min Jin Lee to participate in a discussion with members of the SNU community. "Conversation with Min Jin Lee, author of Pachinko," was hosted at the university's Museum of Art Auditorium as part of the department's 10-10 Initiative, which aims to advance ten academic fields at SNU to develop research capabilities to become the top ten in the world. The conversation served as a valuable platform for students and faculty members to interact with the world-renowned author. The interesting discussions provoked throughout the event provided deeper insight into the author's thoughts and personal experiences, encouraging a more profound understanding of her books and their themes.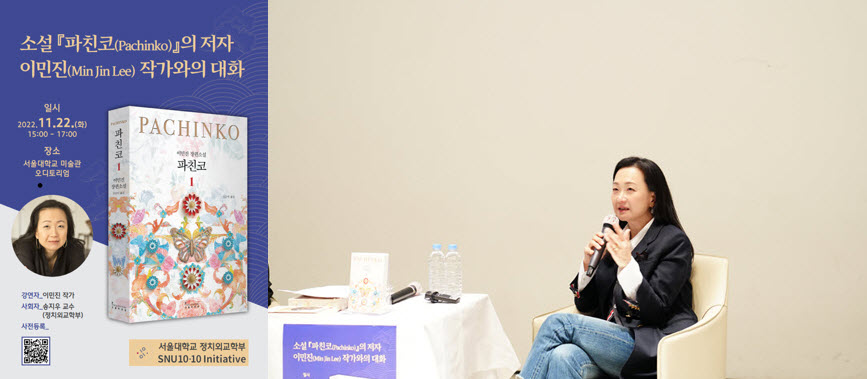 The first part of the event consisted of a discussion between Lee and Professor Jiewuh Song, who acted as moderator. The themes and questions that guided the discussion were based upon inquiries made by members of the SNU community that were collected beforehand. They covered a variety of interesting ideas such as class, gender, and identity. One recurring subject was the idea of acknowledging the humanity of others. Pachinko touches upon this idea, drawing a cruel reality where people habitually dehumanize others, perceiving them as different from themselves. The author elaborated upon this idea during the discussion, explaining that society's desire for efficiency prevents individuals from recognizing the complexity of others' identities. Labeling people denies individuals' need to be recognized and exacerbates unfair power dynamics as seen in racial or gender discrimination. Overcoming this tendency is thus crucial in the pursuit of a more considerate society, and Lee emphasized the first step may be to spend more time with others to fully understand them.
When talking about her personal experiences, Lee brought attention to her journey as a writer. She revealed that her ambition to be politically influential as a writer had resulted in her initial drafts of Pachinko to be overtly political. The change from her more pedagogical drafts to the published version, however, emerged from her understanding of the importance of being a strong narrator. "If I really wanted to fulfill the magnitude of my insane ambition, I needed to have the skill level in terms of a narrator to make you sit with me for 560 pages." The most radical thing a political writer can do is make the audience feel enlightened about a political idea and for that, persuasion is essential. The author emphasized that the path to becoming politically influential as a writer thus required her to write powerful narratives.
Indeed, the author's engaging yet informative narratives are what make her books page-turners. Her journey as a writer is far from over as Lee revealed that she is currently in the process of writing a third book. Titled American Hagwon, the book was initially going to discuss the Korean drive for higher education. As research for her book progressed, however, the theme of the book changed to the concept of status reclamation. According to Lee, the foundation of the Koreans' intense educational system lies in the historical desire to reclaim the status that Korea had once lost. The accumulation of such situations has caused education to become perceived as the means to secure stability. Through further exploring the hagwon phenomenon, the author hopes to shed light on its history and the implications it has on future generations.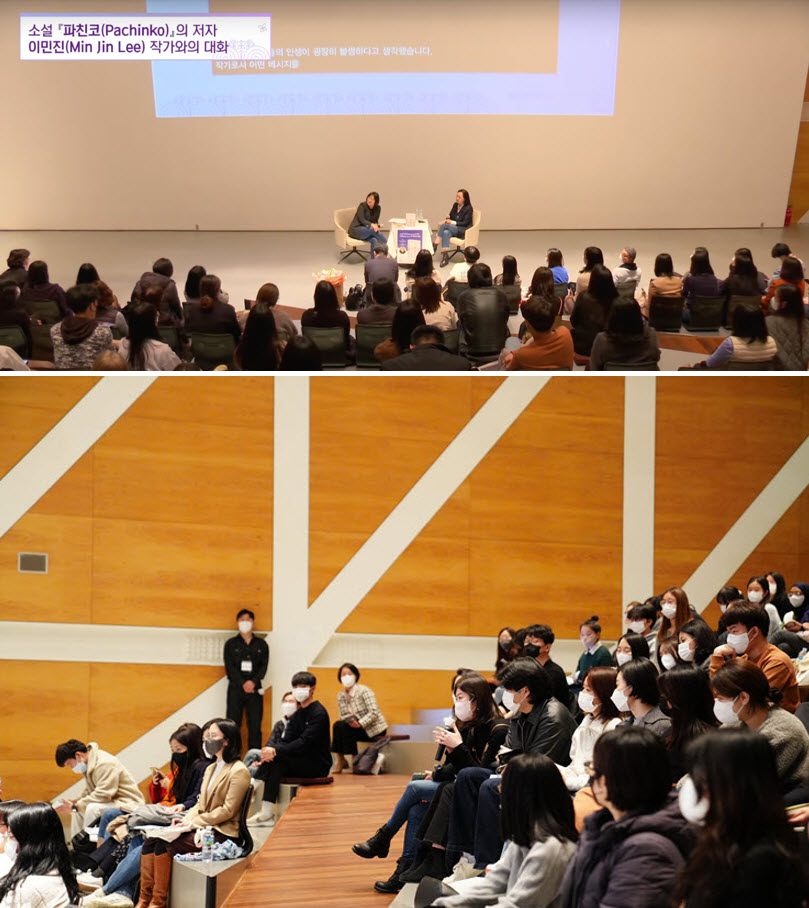 The second part of the event invited the audience to directly ask questions to Min Jin Lee. One question inquired about why the author specifically chose pachinko to write about. "When I went to Japan, people would say their name and occupation, and very often, they would say that pachinko was in their family tree. It was inescapable," Lee said. Pachinko was a space that created jobs for people when no other jobs were available to them due to discrimination. As she came to understand the importance of pachinko in people's lives, it became impossible for Lee to not write about it. "Because I write novels about characters, I have to think about what the characters do, not just about what they believe in. That's why pachinko came in."
Apart from questions addressing the theme of her novels, the author also responded to those asking about her personal experience. One such question asked about the source of her motivation to write, as publishing a book can be a time-consuming process. "The reason I continued was because I believed not just in my dream, but in the importance of my questions," Lee said. Even if nobody else was interested in her questions, the questions were valuable to her, driving her to find answers. Addressing an audience member struggling with her career, she advised her to look back to what made her start her journey. "I hope your dreams are important to you. Important enough for you to keep going," Lee said.
"Conversation with Min Jin Lee, author of Pachinko" was a meaningful opportunity for students to be exposed to insightful perspectives regarding issues that affect the lives of Koreans. The SNU 10-10 Initiative plans to sponsor more events like this that allow students to engage with a broad range of perspectives and become globally-minded scholars.
Written by Yeryoung Lee, SNU English Editor, yeryounglee@snu.ac.kr
Reviewed by Professor Travis Smith, Department of Asian Languages and Civilizations, tlsmith@snu.ac.kr