On December 14 (Wednesday), the grass square in front of the administration building officially opened. Seoul National University continued construction for about 20 months since April last year to create a new Grass Square and build a two-story underground parking lot. Prior to the official opening, Seoul National University held a "Grass Square Naming Contest", and "Grass Square" was chosen as the final name after the on-site vote on December 14.
Securing parking spaces and providing safe campus access, accomplishing two goals at once
The Grass Square, which has been in place since its relocation to Gwanak Campus in 1975, is now newly open to students again in 47 years. The Grass Square renovation was carried out to solve the shortage of parking spaces in Seoul National University and secure the safety of pedestrians. The newly created parking lot in the basement of Grass Square accommodates 180 cars on the first basement floor, and 239 cars on the second basement floor, a total of 419 cars. 23 electric vehicle charging stations are also set up. Unlike the Grass Square in the past, where four sides were surrounded by roads, the road is now underground, separating vehicles and pedestrians. Through this, safe campus passage centered on pedestrians could be prepared. In addition, cascades and trees were located on top of the Grass Square to create a pleasant and beautiful campus.
Choi Hyun-yu (Matriculating Class of 2020 · Instrumental Music major) said, "I still remember participating in the freshman event here just before entering school," adding, "I'm happy to see the Grass Square again." In addition, he said, "I hope it will be a place to hold festivals and various events and make good memories." In the future, student-led festivals and various school events will be held in the Grass Square, and a cafe will open in the underground space.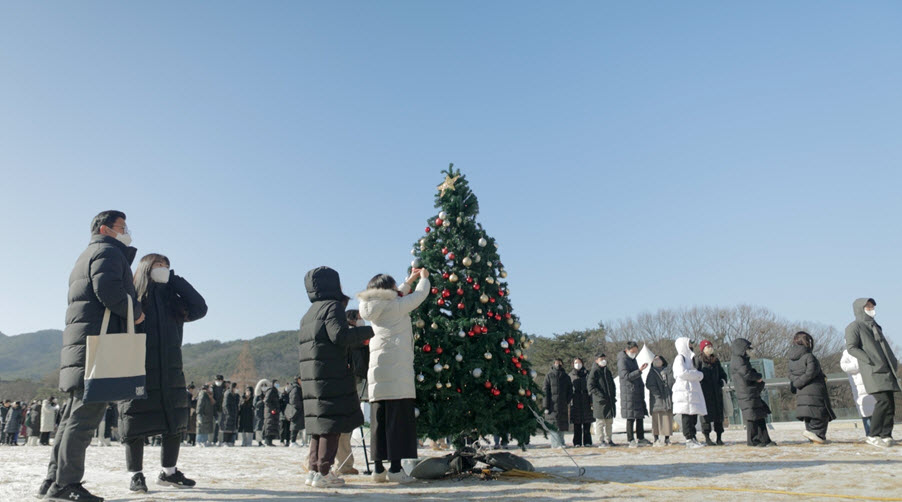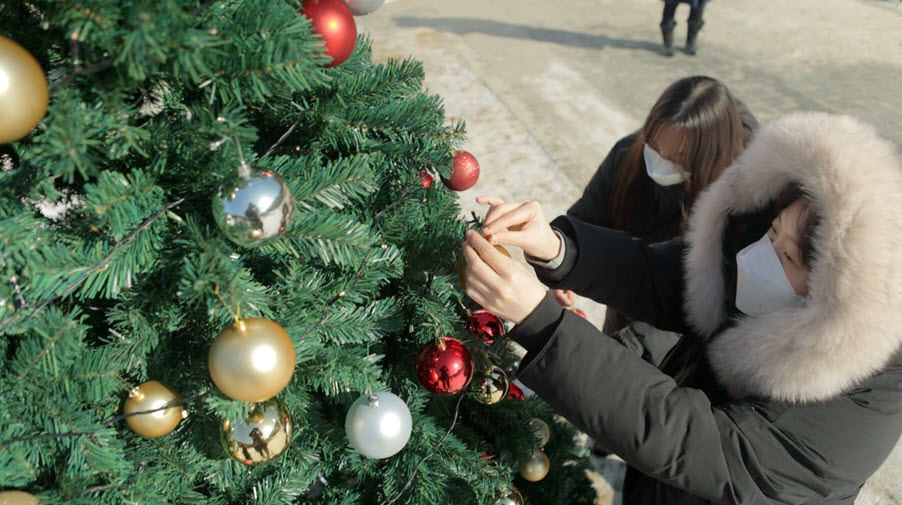 The "Grass Square", named by students themselves
Prior to its opening, the "Grass Square Naming Contest" was held until December 2, and three final candidates were selected by representatives of school members. The final candidates were ▲ Grass Square ▲ Shine Plaza ▲ Neu-tee Maru. Grass Square is an intuitive name that carries on the name that members used to call. Shine Square stands for a plaza for shiny Seoul National University people by combining 'sha' which symbolizes Seoul National University and 'in (人)' which means people. Neu-tee Maru is a combination of Neu-tee (Zelkova, the symbolic trees of SNU) and Daecheongmaru's "Maru", which means embracing everyone like Zelkova trees and becoming an open square for everyone like Daecheongmaru.
On December 14, on-site voting was held with the opening of the grass square. The on-site voting was conducted by selecting an ornament that represents the candidate and hanging it on a tree located on both sides of the Grass Square. Cookies and coffee were provided to people who voted on-site. As a result of on-site voting which more than 1,000 people participated, the Grass Square, was selected as the final name, receiving 44% of the votes. Park Joon-beom (Matriculating Class of 2018 · Department of Electrical and Computer Engineering), who participated in the on-site voting, said, "I think it is meaningful for students to participate in deciding the name of the square, and it was really innovative to vote by hanging an ornament on the tree."

In addition, starting with the progress report on 2pm by Jeong Bong-moon, director of Bureau of Construction and Facilities Management, a ceremony for 'Creating a Walking Campus from the Main Gate to the Grass Square' was held. A video of students looking forward to a campus with the new Main Gate Square and Grass Square, as well as a congratulatory video from the member of the National Assembly Yoo Ki-hong, Chung Tae-ho, and Mayor of Gwanak-gu Park Joon-hee, was played. A plaque of appreciation was also awarded to the construction company that completed the Grass Square construction safely. "The newly created Grass Square and Main Gate will not only be a physical space, but will light up with vitality given from Seoul National University members and citizens who love Seoul National University," President Oh Se-Jung said. "We will build a complex cultural space leading to the main gate, cultural center, and grass square, further developing into a university that expands and shares knowledge and communicates with the local community."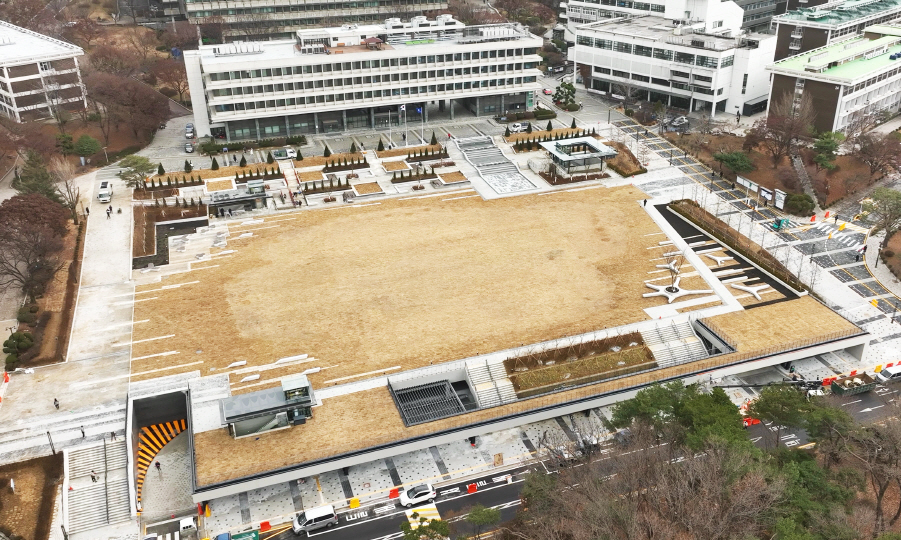 Since opening as a festival venue for students in 1987, the Grass Square has been used as a venue for various events such as school festivals and freshman welcoming events. In particular, Seoul National University Freshman event included an event every year where freshmen gather in Grass Square to fly balloons into the sky to cheer for freshmen' dreams and hopes. It is hoped that the newly renovated Grass Square becomes the center of Seoul National University's campus and a hub for communication where students engage in various activities.
SNU Student Reportery
Nakwon Choi (Department of Political Science and International Relations)y
paradise@snu.ac.kr
Translated by
Jungyun Oh (Department of Aesthetics)