The years we spend as a student on campus are limited, and it is natural that we want to give everything a shot before we leave school. For some, this includes trying out different majors. During the first two weeks of November, the Academic Advising Center of Seoul National University held a conference on major design, titled "Stories of Majors and Careers, Back to Back." During the two weeks, various speakers, at different points of their lives, were invited on Tuesdays and Thursdays to introduce the benefits of holding several major degrees.
Many of these talks focused on the specific career paths that multiple-major graduates had taken, with the speakers looking back at how majoring in multiple fields helped them in the course of their lives after graduation. Others aimed to give students a closer look into the details of the school lives of students currently pursuing multiple majors. On November 8, the second day of the program, three undergraduate students were invited to talk about how multiple majors shaped their college lives, as well as the difficulties of dealing with the intense load of coursework and entailing obligations. The speakers mentioned their respective reasons for pursuing multiple majors, offering heartfelt tips on how to map out one's own path.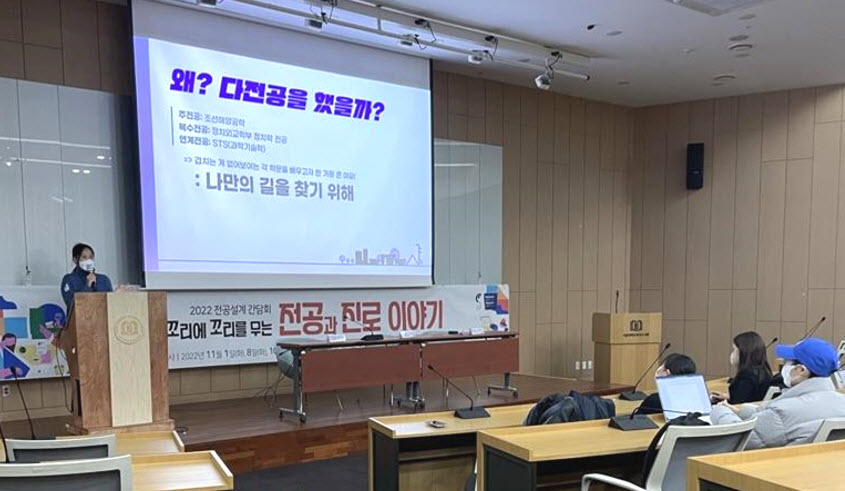 The first speaker was Jieun Kim (Department of Naval Architecture and Ocean Engineering), who is juggling a double major in political science and an extended major in science and technology studies. The theme of Kim's speech was "getting through SNU," taking into consideration that many students worry about how to set their course of life after, or sometimes even before, graduation. According to Kim, pursuing multiple majors could be one way to avoid the pressure of having to take extensive courses within a single major. This could, however, be a difficult choice to make for students that are accustomed to getting speedily ahead in life, as it inevitably postpones graduation. According to Kim, selecting multiple majors is a choice that requires both commitment and courage.
Kim presented four steps to "surviving" at SNU with several majors: to take courses from other majors in advance before beginning a double major track; to look up roadmaps for majors; to evaluate whether your choices were made on your own terms, rather than as a result of peer pressure; and lastly, to utilize the Academic Advising Center for help when you're stuck. "Multiple majors shouldn't just be a getaway car to escape from your current studies," she emphasized. "It should be something you really want to do."
The second speaker, Seyeon An (Department of French Language and Literature) centered her speech around the realistic career concerns that humanities majors may have. Offering her own story of studying two majors, French literature and business, along with a minor in computer science and engineering. An spoke of the various classes, activities, and experiences that led to her choosing each of these majors, and the doors that this opened up for her. An's speech was conveyed in a sharp tone of realism, brutally poking at the unspoken questions, concerns, and regrets of many humanity majors. She also proposed several less well-known career routes and directions to consider.
Hyunsoo Kim (Department of Oriental Painting), the last speaker, was navigating the most majors, pursuing degrees in design, consumer science, and anthropology. Her message was to do what you truly enjoy during your time at college. "You shouldn't be shy about taking on challenges," she advised. "The biggest merit of Seoul National University is the active collaborations and exchanges between its diverse colleges. You should take advantage of these opportunities and resources." As a fine arts major, Kim was also positive that gaining a wider perspective on the world would help her in her artistic endeavors. "It is impossible to create without knowledge," she emphasized, stressing that interest in different ways of seeing the world is essential for someone who wants to be creative.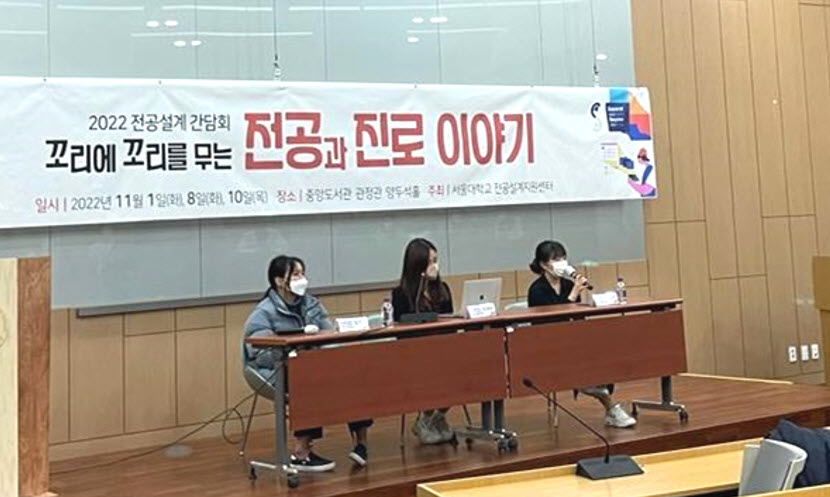 Following the three speeches, a Q&A session was held, where the audience participated actively with various questions about the speeches and the speakers themselves. Perhaps the most meaningful part of the discussion was that students were able to gain more knowledge not only about life after university, but also about where to go for more knowledge when in need of help. In order to catch up with the ever-changing dimensions of society, as well as to truly discover what they want from their university life, it is advisable that students seek diversity in their studies and experiences during their time on campus. The Academic Advising Center will continue its efforts to make sure that students are aided in doing so.
Written by Minjoo Lee, SNU English Editor, mjl1018@snu.ac.kr
Reviewed by Professor Travis Smith, Department of Asian Languages and Civilizations, tlsmith@snu.ac.kr