COVID-19 has not been easy on anyone, and the toll it has taken on self-employed businesses has been a much-discussed social problem ever since its outbreak. University neighborhoods, once crowded and buzzing with the hubbub of college students, have experienced a sharp decline in activity. As a result, local shops have been struggling to stay in business.
SNU's T-um is a consulting club affiliated with the College of Business Administration that specializes in protecting local businesses. As a social contribution organization, it aims to help small-scale businesses that are experiencing managerial difficulties, as well as to revitalize declining neighborhoods. Students trained at consulting firms work with the Gwanak-gu Office and Campus Town to offer free consulting and work through strategies. T-um aspires to actualize their vision of "the most heartwarming consulting in the world."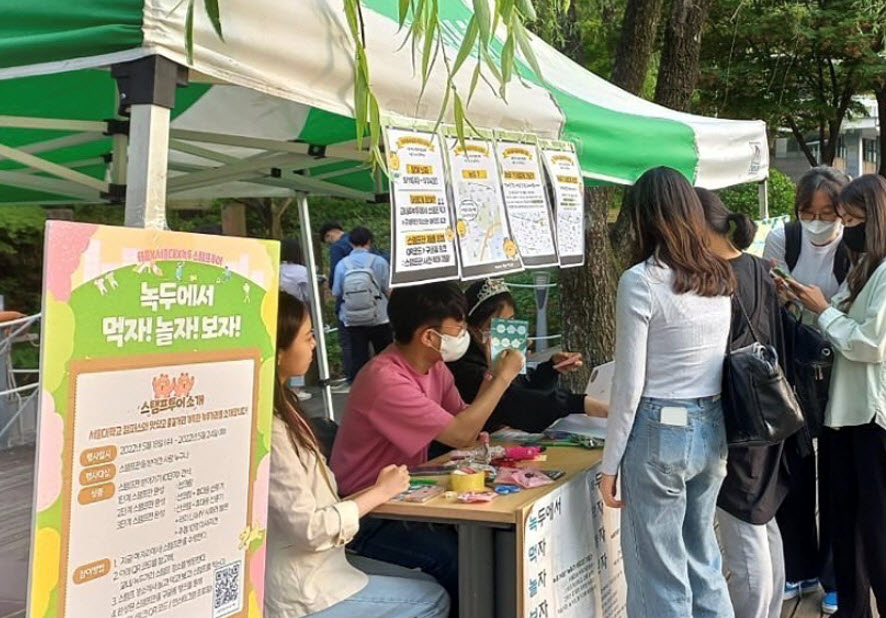 During regular semesters, T-um operates on a team basis under the common objective of stimulating the local district of Daehak-dong, Gwanak-gu. The composition of these teams and their specific activities change every semester. In the first semester of 2022, a total of six teams were formed, each team for one letter of the word "CHANGE." Teams C, H, A and N performed consulting for self-employed businesses, each team taking charge of one business located in Daehak-dong for the semester. Team G and E worked on revitalizing certain districts, carrying out various projects for the overall resurgence of a selected alley in Daehak-dong. The team meetings are held regularly more than twice a week, and local officials or presidents of related businesses participate in meetings several times a month. There are two general meetings each semester where the teams share the progress of their projects and exchange feedback.
In this way, T-um has collaborated with over 50 companies in business consulting projects in Daehak-dong so far. In addition to the team projects, T-um carries out various activities such as holding talk concerts with local consulting experts or organizing special lectures from T-um alumni. Currently, various projects are being planned to encourage SNU members to visit Nokdu Street, in order to revitalize the local commercial district of Daehak-dong itself.
Team E was one of the teams that set its sights on working to revitalize Nokdu Street. The team conducted three main activities – a stamp tour, a road map production, and the distribution of Naver Place guidebooks. The stamp tour was the main event of the three. Stamp stands were set up in various spots on the SNU campus and on Nokdu Street, and prizes were given out to those who visited all these stands and completed the stamp board and participated in the quizzes and games of the stands. The goal of the tour was to encourage students to visit Nokdu Street. Hoyeon Cho (College of Business), who led the team as project manager, described the process of planning the event as demanding yet rewarding. "It was the first time we hosted such a large-scale event, with a much larger audience as our target. Our team worked especially hard, since we had to take several trips to the campus and to Nokdu to put the event together, and I'm very grateful to our team for all the hard work," she said. The promotion and event were both great successes, and Team E saw a higher participation rate than expected.
As the majority of universities switched to online classes due to the pandemic, the concerns of self-employed businesses relying considerably on the students' activities have deepened. Yoohyun Kong (Department of English Language and Literature), president of T-um, commented on how rewarding it was to see the CEOs of these businesses, who were initially struggling from the sharp drop in sales, work more comfortably after consulting with T-um. "The projects are demanding, but I forget how hard the work is anytime I run into the CEOs who remember me and greet me warmly," she said. She also expressed pride in the quality of T-um's consulting. "Some CEOs were reluctant at first, doubtful of whether students would be able to consult properly. But by the end of each project, they have been happy with the results."
Written by Minjoo Lee, SNU English Editor, mjl1018@snu.ac.kr
Reviewed by Professor Travis Smith, Department of Asian Languages and Civilizations, tlsmith@snu.ac.kr