During the school year, the student cafeteria is crowded with people. During peak hours at 1pm and 6pm on weekdays, it sometimes takes a long time to pay for and receive the menu, so many students rush to eat or go to a convenience store in order not to be late for class. There are also many students who eat delivery food. After the beginning of the school year, the 'Peckish Box' appeared as an alternative to the crowded cafeteria. The unmanned convenience food corner started operating on the first basement floor of the Student Center from Monday, September 19th.
'Seoul National University Station Exit No.9' changed into 'Peckish Box'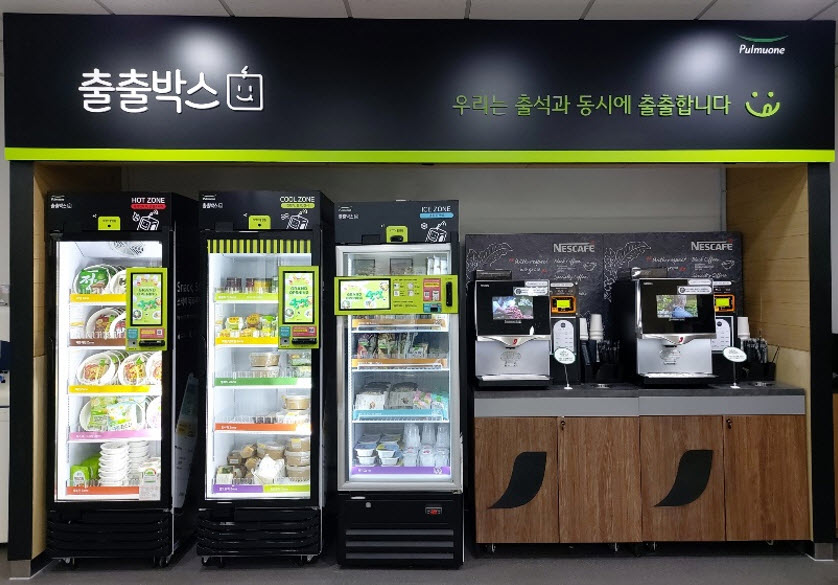 The basement space of the student center, which had been empty for two and a half years, began to be used again when the Peckish Box entered the center. In the past, this place was called 'Seoul National University Station Exit No.9', and there was a cafeteria in the student center operated by the SNU Cooperative (hereinafter referred to as the "Saenghyup"). As the number of people going to school decreased due to the spread of COVID-19, the restaurant was closed in March 2020. Since the spread of the infectious disease subsided and classes changed back to face-to-face, there was a discussion at the Board of Directors of Saenghyup in March to reorganize and operate restaurants that were closed. Thus, an unmanned food stand provided by food company Pulmuone was entered in student center's basement floor.
The peckish box, which started its full-fledged operation on September 19, consists of a freezer, two refrigerators, a ramen cooker, a coffee machine, and a microwave oven. Frozen foods include bento boxes, dumplings, and breads cooked in a microwave oven, while refrigerated foods include various types of ramen, sandwiches, gimbap, fresh fruit juice, and boiled eggs. An official of the Saenghyup said, "Ramen is mainly made up of dry noodles that are not fried." He said that when selecting the menu and the company to have a contract, he tried to provide a more diverse and healthy meal rather than a convenience store food.
Product purchases are made at kiosks installed on each shelf of frozen and refrigerated food. You can also check stock and order products in advance on the smartphone application 'Peckish Box'. Pre-orders can be placed until 2pm of two days before the date of receipt. You can also subscribe to a lunch box or salad to be used daily for a week or two at a discounted price. Discount events and point benefits provided through application subscription are a bonus.
Enjoy a healthy meal in the 'Peckish Box'
From the second day onwards, more than 20 students were having lunch at the Peckish Box. People lined up in front of five ramen machines and a microwave oven. The reporter checked the stock of the salad in advance through the application and found the Peckish Box. Nutritional information, such as allergens and calories, was also provided in the application. He paid for salads at a discounted price on a shelf which is also a refrigerator and vending machine, and earned points.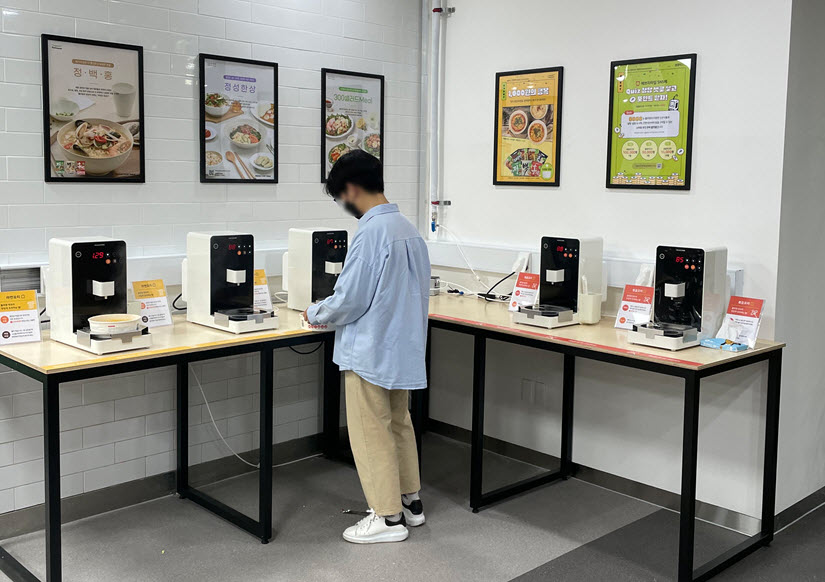 Inside the corner there is space for up to 64 people. On the same day, Hong Tae-hee, a student (Department of Mathematics Education Master's course) who visited the Peckish Box, bought a frozen lunch box. She said, "I came here after seeing an Everytime's (SNU student online community) promotional article. I never imagined that I would even have a lunch box made for the diet. I usually go back and forth around the student center, so I plan to eat here more often in the future." She also added that it would be nice to have detailed instructions on how to use the unmanned sales stand and keep the waste disposal bins neatly managed.
Seo-yoon Lim (Pre-medical School, matriculating class of 2022), who used convenience stores rather than student cafeterias because of the price burden and long waiting times, bought ramen at the Peckish Box for the event price 1,000 won. Student Lim, satisfied with the ample dining space, said, "I would love to have a meal while chatting with my friends," and showed her expression to come here again.
On the way from the Peckish Box to the ground, there is an opinion board. Saenghyup plans to change and add menus and adjust business hours based on user's feedback. Saenghyup official said, "If the Peckish Box is operated even at night, students studying late near the student center will be able to satisfy their hunger." The Peckish Box is wide open to those who want to enjoy a simple yet nutritious school meal.
SNU Student reporter
Lee Gyurim (Department of Communication)
gyu2129@snu.ac.kr
Translated by Hamin, Oh (College of Humanities)