On July 26, an exhibition entitled "The Professor who Lends Books" was held at the 2nd floor book café of the SNU Central Library. The exhibition was co-hosted by the Central Library and SNU News, which is currently publishing an article about book recommendations from SNU professors. The exhibition, which ran through September 16, featured a display of a selection of books recommended by seven professors as well as articles related to the books.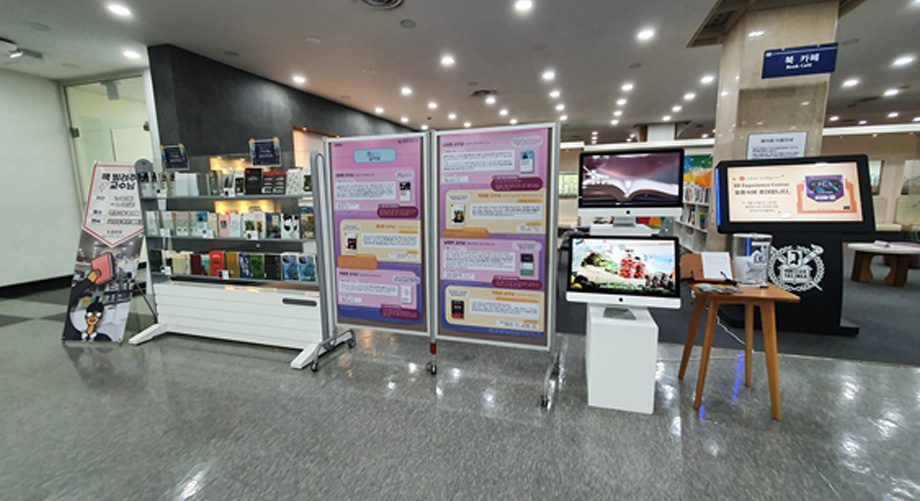 Hoping that their love for books reaches students' hearts
"The Professor who Lends Books" has its roots in an SNU News new media department video series, in which a different professor introduces his favorite book in each of the eight 10-minute videos. "Rather than recommending strictly academic books, our videos recommend books that are more emotional and can reach the students' hearts. Having professors directly introduce their favorite book enables the recommendations to be detailed as well," said reporter Kim Hyewon, a member of SNU News.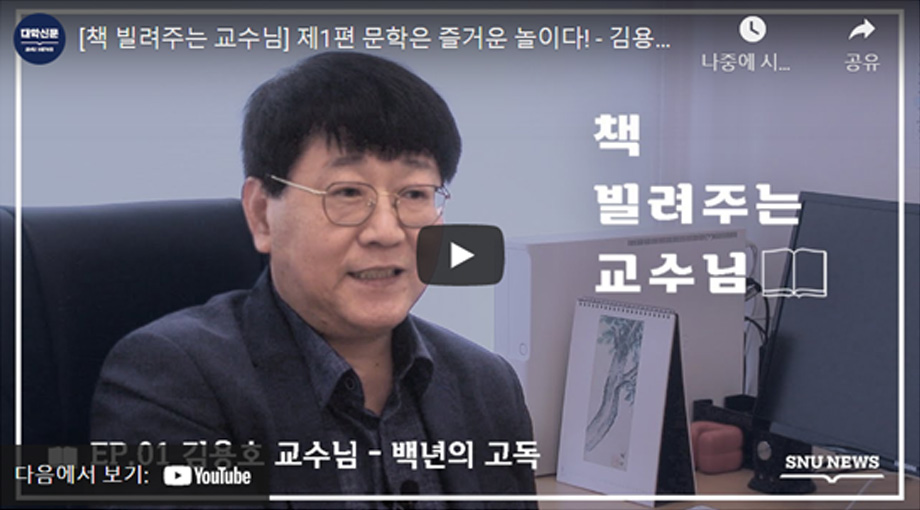 Thus far, Lecturer Kim Yong-Ho (Department of Hispanic Language and Literature), Professor Hong Sungook (Department of Biological Sciences), Professor Park Won-Ho (Department of Political Science and International Relations), Lecturer Na Bo-Ryeong (Department of Korean Language and Literature), Professor Park Won-Chul (Department of Applied Bio-Engineering), Lecturer Nam Young-Joo (Department of Child Development and Family Studies), Professor Park Tae Gyun (Graduate School of International Studies) have appeared in the series. "To satisfy the needs of as many students as possible, we invited professors from a diverse range of departments and directly received requests for certain professors through social media platforms," said reporter Kim.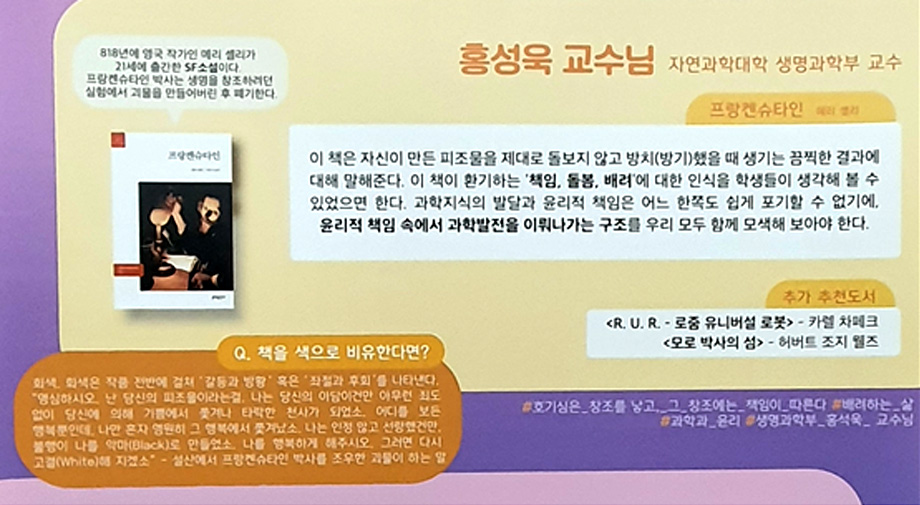 A Diverse Exhibition of 21 Recommended Books
With a total of 21 books on display, the exhibition also included a summary of each book and the reasons it was recommended. A screen also showed "The Professor who Lends Books" video series. Of the book suggestions, literature was the most recommended genre. Professor Hong Sungook recommended Mary Shelley's Frankenstein, emphasizing the need for scientific development under considerations of ethical responsibility. Professor Park Won-Chul proposed William Golding's Lord of the Flies, suggesting students think about how fragile and miserable humans can become when confronted with pure violence and barbarism. Aside from literature, Professor Park Tae Gyun selected New Ideas from Dead Economists by Todd G. Buchholz, stating that it explains economics easily to the masses and reminds the readers that all studies reflect their times.
Source: https://www.snu.ac.kr/snunow/snu_story?md=v&bbsidx=137651
Written by Yeryoung Lee, SNU English Editor, yeryounglee@snu.ac.kr
Reviewed by Professor Travis Smith, Department of Asian Languages and Civilizations, tlsmith@snu.ac.kr