The SNU Center for Sport Development and Promotion is now hosting a series of guest lectures, with each lecture focusing on one sport. Reporter Son Daebum's lecture on June 23 was one of them. Son, a basketball commentator and reporter of the Korean Broadcasting System (KBS), visited SNU to give a lecture on "Leadership in Ball Sports." In his lecture, Son examined the leadership of various well-known NBA head coaches and gave his thoughts on ideal leadership in sports.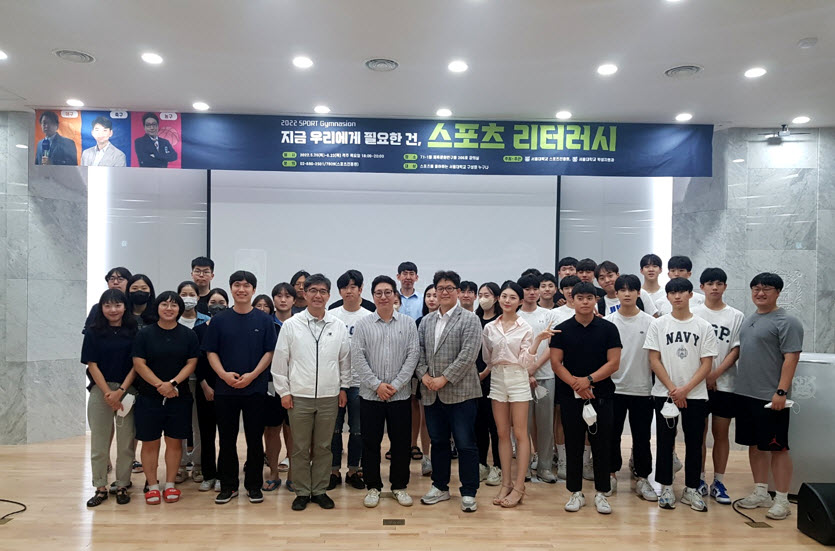 Phil Jackson: Making a Team Based on Unity
One example Son mentioned was Phil Jackson. A former coach of the Chicago Bulls and the Los Angeles Lakers, Jackson contributed to a total of 11 championship titles. Son stated that since Jackson had numerous legendary players on his roster such as Michael Jordan, Kobe Bryant, and Dennis Rodman, people may think that a great many of his championship trophies were an inevitable consequence. Jackson, however, played no small part in the success of the teams he oversaw. The major issue was that his players of talent usually possessed an individualistic mindset. Michael Jordan, for instance, was known for his egocentric character, and Kobe Bryant, having made his debut as an NBA prodigy at the very young age of 18, had difficulty grasping the concept of unity necessary for a team.
To tackle this problem, Jackson invented his own strategy called the "triangle offense." To execute this strategy effectively, all five players on the court must be actively engaged in the offense. This was a move to reduce reliance on the star player, for example Michael Jordan. Prior to Jackson, basketball coaches tended to encourage the individual play of talented players. This tendency, however, resulted in a performance downturn. The vulnerability of a tactic relying on individual talent was that the team could not make a successful attack if their opponents focused their efforts on stopping the star player (referred to as "Jordan Rules" in NBA). Jackson tried to increase the level of contribution of all the players, and advised Jordan to give his companions more opportunities. Jackson moreover encouraged every player of his team to take turns making speeches after each game. This led to enhancement in self-esteem for all the teammates and provided them with the opportunity for attentive listening.
The Ideal of the Players' Coach
Son emphasized in his lecture that to unify the team and become a successful head coach in basketball, the coach should be able to lessen the empathy gap between the players and the coaches. This empathy gap, similar to generation gaps, usually intensifies when coaches try to light a fire under the players with comments such as "I worked harder than you back when I was a player." Son said that empathizing with the player's difficulties both on and off the court, that is to say, becoming a "player's coach," is indispensable for a coach in team sports. Sharing common responsibility with the players in defeat is also necessary, according to Son.
Son's lecture was the third in a series of "Sports Literacy" lectures hosted by the SNU Center for Sport Development. The objective of this series is to inform SNU faculty and students of the social and scientific foundations of professional and amateur sports. Starting in May 2022, three lectures on baseball, soccer, and basketball have been held so far, and those on golf, running, yoga, dancing, and martial arts are planned for autumn and winter. Registration for the lectures is available via the SNU Center for Sport Development (https://cafe.naver.com/snucsdp2) website.
Written by Seunghwan Oh, SNU English Editor, ascendhwan@snu.ac.kr
Reviewed by Professor Travis Smith, Department of Asian Languages and Civilizations, tlsmith@snu.ac.kr