As climate abnormalities increasingly appear around the world, interest in sustainability is growing at the national, corporate, and individual levels. Accordingly, combating the sustainability crisis and climate change by combining various fields of study with environmental awareness is becoming ever more important. Focusing on fostering proactive Green Leadership, the SNU Institute for Sustainable Development (SNU ISD) has been training green leaders through its Green Leadership Certificate Program since 2011.
Fostering Green Leaders for Future Society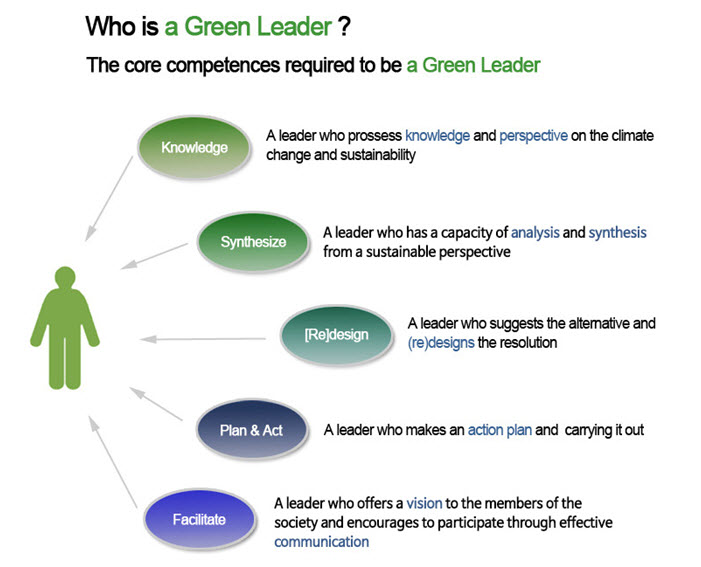 By providing interdisciplinary education and collaborating with public, private, and academic sectors, the Green Leadership Certificate Program aims to cultivate creative and active leaders who will be in the vanguard of society's push toward a more sustainable future. Undergraduate students are eligible for participation regardless of their major. A certificate issued by the President of SNU and the Minister of Environment is awarded to those who have completed more than five Green Leadership courses including the "Green Leadership Internship".
The Green Leadership core curriculum consists of courses such as "Green Leadership," "Climate Change and Health," "Sustainable Living Design," "Understanding Green-Economy," "Green Leadership Internship," and "Gwanak Omnibus Course." Students can also register for up to two electives in the fields of Green Social Sciences and Sustainable Science Studies. This semester, the program offers the core curriculum courses "Green Life and Consumption," "Green Leadership," and "Energy and Technology Economics" along with 25 electives.
Green Leadership Internship, Translating Knowledge into Real-World Competency
"Green Leadership Internship" is a mandatory, on-site course that runs during the summer and winter sessions. Through the internship, students take part in blueprinting a sustainable future by participating in various tasks such as product analysis, research paper writing, business planning, and on-site studies at public and private institutions. After students apply to the institution of their interest and complete basic training, they are assigned a role and participate for more than 90 hours over one to two months.
At the end of the internship period, students gather with their advising professors for a final seminar and share their thoughts on the course. In some cases, with the help of professors, the students move on to materialize the specific action plans that they had presented in the final seminar. A notable example is the Teumbat Project, which transformed the courtyard of building 220 into a rest area, developing the action plan formed in "Green Cities and Community Design," led by Professor Son Yonghoon of the Graduate School of Environmental Studies in 2014.

The "Green Leadership Internship" has expanded extensively since 2012, when it was established with only six partner institutions and 12 participants. Since 2017, it also began to offer summer and winter sessions. This summer session, the internship features 21 partner institutions and is led by Professor Yoon Jihyun of the Department of Food and Nutrition. Basic training commenced on June 24. Student participants are offered the opportunity to use big data at government agencies such as the National Institute of Environmental Research, as well as participate in market research, development, and sales of environmentally friendly products at private companies such as Glory & Tech. At research institutions such as the Green Energy Strategy Institute, students can engage in sustainability research projects.
According to SNU Green Leadership Whitepaper: The Ten-Year Story of the Green Leadership Certification Program, officials of partner institutions suggested extending the internship period and even displayed interest in developing the internship into a specific project-based activity and a talent hiring window. Accordingly, Tree Planet, Energy X, and Xquare, companies participating in this year's summer internship, intend to extend the contracts of their interns or even offer full-time positions.
Participating students gave positive feedback, emphasizing the opportunity to understand their job roles through on-site learning about corporate green management strategies and international policies. A student who interned with ENlighten, a renewable energy IT platform company, cited learning the trends of the environmental industry and experiencing intra-corporate communication as their most memorable accomplishment. They also added that the internship had opened doors to practical knowledge and competency, eventually helping them plan their career path while working for more than a year throughout the extended period.
Students can find information on the program's timeline, courses, and internship reviews from SNU ISD's website (https://isd.snu.ac.kr/greenleadership/). If you want to lead the way in making a positive impact, the Green Leadership Certificate Program will certainly be your choice.
Source: https://www.snu.ac.kr/snunow/snu_story?md=v&bbsidx=136303
Written by Jaeyong lee, SNU English Editor, moonn6pence@snu.ac.kr
Reviewed by Professor Travis Smith, Department of Asian Languages and Civilizations, tlsmith@snu.ac.kr