Seoul National University (SNU) Gwanak Campus has a good campus where students and staff can take a break walking. However, sometimes it's difficult to decide which trail to take on a large campus. Considering that there will be routes optimized according to individual needs and familiarity among the many routes on campus, the Center for Sports Development and Promotion SNU prepared the Gwanak Campus walking map 'SNU-Walk'.
Exercising? Let's solve it at the university!
In 2021, when all programs were paralyzed due to the COVID-19 pandemic, the Center for Sports Development and Promotion prepared the SNU-Walk project about a year so that members can continue to enjoy exercise and rest. SNU-Walk classifies walking paths on campus according to the situation and needs of members of the school and encourages outdoor sports activities called 'outdoor walking exercise'. the Center for Sports Development and Promotion produced a 'SNU-Walk Map' based on the classified routes and distributed it online and offline.
The SNU-Walk map consists of 31 Seoul National University walking courses, 'SNU-Ro', considering the accessibility of campus members. The 31 courses are roughly divided into three types according to the total distance, required time, and calories burned. ▲SnuModuRo (S), which is organized into 11 courses and allows you to explore the entire campus ▲SnuSaiRo (N), which consists of a total of 7 courses and where you can cross paths in between ▲SnuHanaRo (U), which consists of a total of 13 small loop paths. Each name was named through the Dulle-gil (Road) Naming Contest last November. The Center for Sports Development and Promotion employees walked directly on each trail to identify and classify the characteristics. Detailed information such as distance, time, and calories were identified using a pedometer app, and the map was completed using the average of this information of male and female adults. You can also check information such as campus attractions and sports facilities on the map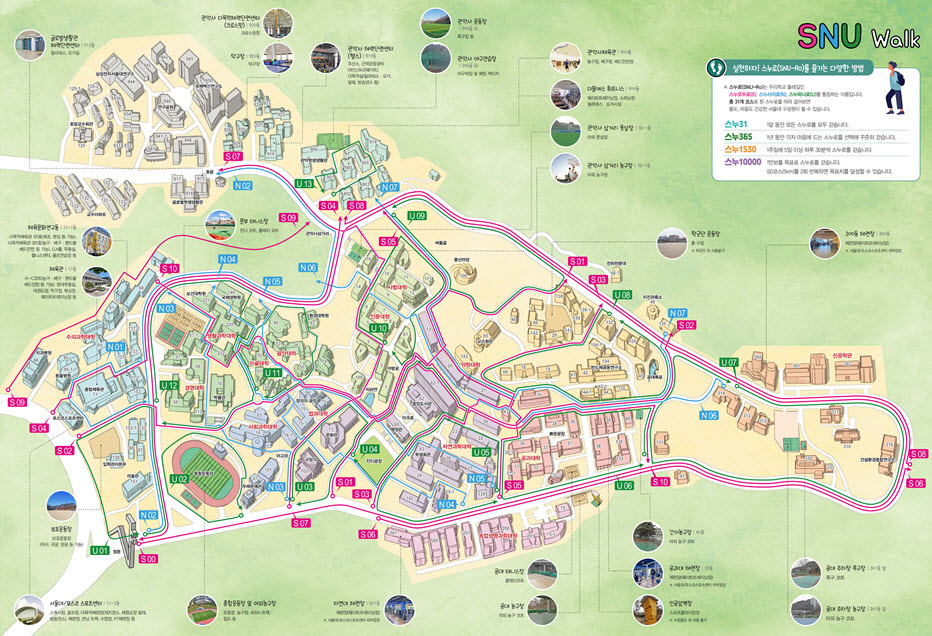 3 courses, let's choose and walk the course that suits you the most.
The three types of Dullegil (Road) are divided according to the requirements of users. If you want to spend a lot of time exercising, SnuModuRo (S) is perfect for you. Conversely, if you don't have a lot of time to exercise, SnuSaiRo (N) is suitable for you. For members who need to return to work after exercising may consider using SnuHanaRo (U). In order to take a more detailed look at each course, the reporter walked by himself.
Snummoduro (S) is a course that mainly consists of main roads on campus and allows you to tour the entire campus. With a total of 11 sections from S0 to S10, it takes the longest of the three courses, and consumes a large amount of calories. The S0 section is a section that walks around Seoul National University, and it is the longest course among SnuModuRo (S). From S1 to S10, it was composed of roads divided from S0 and main roads within the school. So, it would be good to use it leisurely in the evening after finishing the day's schedule.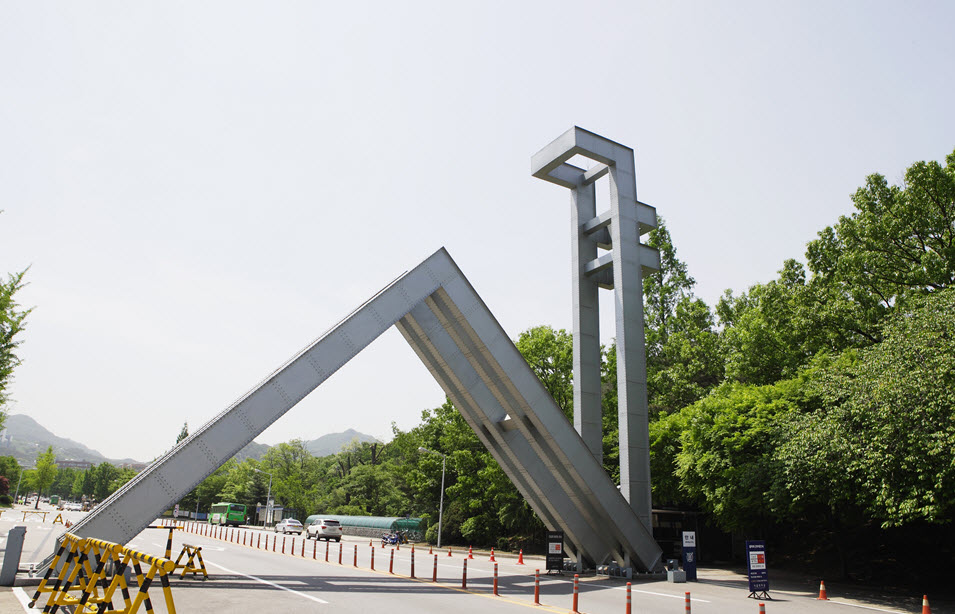 SnuSaiRo (N) consists of an alley in the campus and consists of 7 sections from N1 to N7. Unlike SnuModuRo (S), this course is tailored for members who want to enjoy a short break while studying or working. Except for the N2 section, which has a long distance of 2.8km from the main gate to the rear gate, all courses pass through 2-3 colleges, and the average section takes about 1.5km and takes about 15 minutes.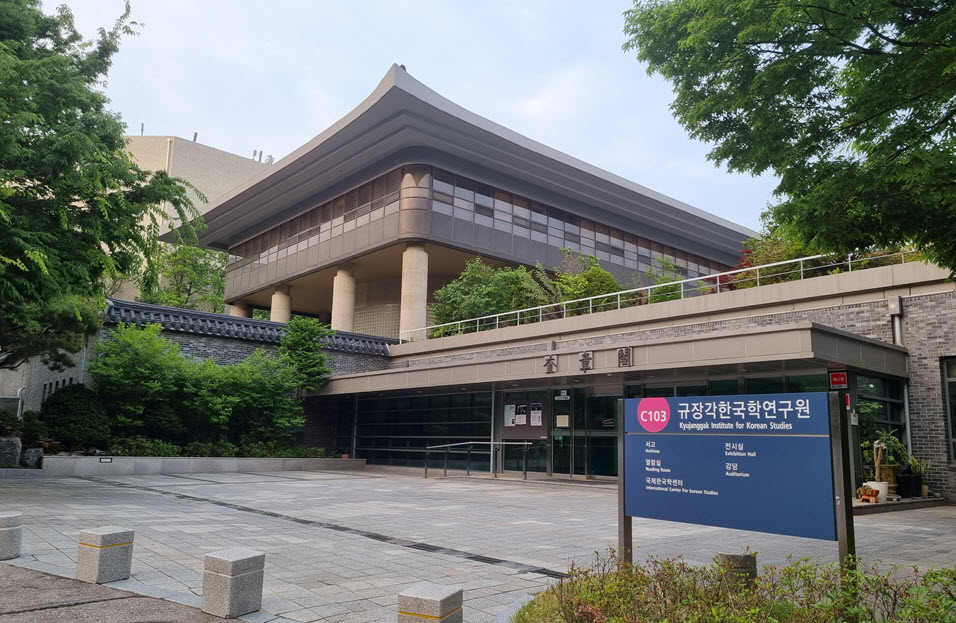 SnuHanaRo (U) is a circular road with the same starting and ending points, and consists of 13 sections from U1 to U13. The average consumption time is mostly between SnuModuRo (S) and SnuSaiRo (N), with the longest section being 2.32km and the shortest section being 0.68km. It is a good course to use for students, who study while sitting in the library or for faculty members after lunch. Most of the courses revolve around one or two colleges. In addition to this, there are section U2 for walking around the sports complex, section U4 for walking around the Central Library, and section U9 for walking around Beodeulgol.
The number of students visiting the school is becoming more diversified as the momentum of the Corona virus has subsided and sports activities have become more active. Ahn Bae-Hyeon who is in charge of the project said, "A number of institutions in the school are also showing a lot of interest in SNU-Walk. The Office of Informatization Systems & Technology is developing a 'SNU-Ro tour' program that will be included in the Seoul National University campus map app. I hope that more members can easily take care of their health on campus."
SNU student reporter
Seok-Ju, Lee (Master's Program in Materials Science and Engineering)
tjrwn0902@snu.ac.kr
Translated by
Hamin, Oh (College of Humanities)