The word "Hallyu", or the Korean Wave, has been around for a while, but no one expected it to become as enormous a tide as it has today. With the worldwide success of canonical works such as Squid Game (2021) and Parasite (2019) interest in Korean culture and the potential of its contents has peaked at unseen levels. From music to dramas, to movies and variety shows, the Hallyu wave is touching every corner of the world, and perhaps its most eager surfer is Netflix. Netflix is the platform that produced and distributed Squid Game, which went on to be the most successful Netflix Original of all time, and has been investing in and circulating Korean movies and shows for quite some time now, including Mr. Sunshine (2018) or Okja (2017). It seems that there is a powerful mutual dynamic between the platform and the globalization of Korean cultural content, and at this point it is hard to think of the two separately.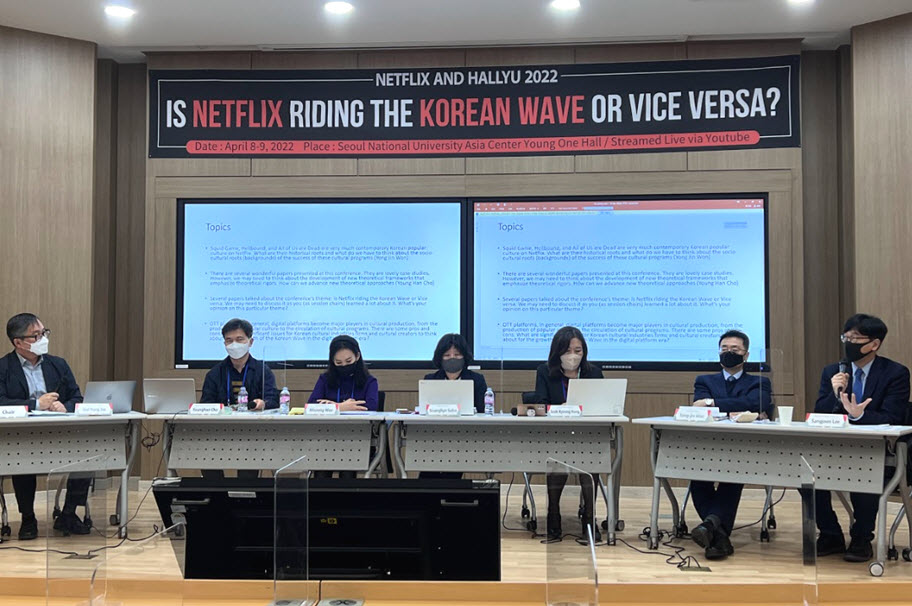 The two-day conference "Is Netflix Riding the Korean Wave or Vise Versa?", co-hosted by co-organized by the Institute of East and West Studies at Yonsei University and the Center for Hallyu Studies at Seoul National University Asia Center (SNUAC), from April 8 to 9, invited experts from around the world to discuss these dynamics. It was organized by Seok-Kyeong Hong (Seoul National University), Dal Yong Jin (Simon Fraser University), and Sangjoon Lee (Nanyang Technological University), and held at the Seoul National University's Asia Center Young One Hall and streamed via YouTube. Over forty experts and scholars of Hallyu joined to offer cultural and critical insights on the Netflix era, and what it means for transnational cultural flows, particularly in South Korea.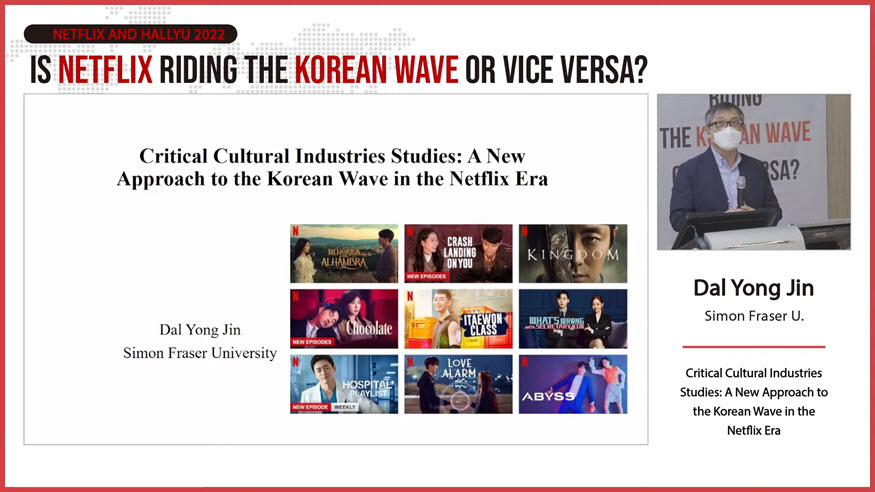 The five sessions of the first day mainly discussed the relationship between the novelty of the "Netflix era" and the inevitable shifts it has brought to our culture. Squid Game, and the smash impact it had on culture worldwide, was a common topic for many of these sessions, and subjects ranged from multiculturalism to global production. The second day consisted of two sessions that examined more broader subjects through the lens of Hallyu and Netflix, such as the relationship between global and local and changes in the production system during the pandemic. Q&A periods were held in between the sessions, where discussants responded to questions asked by the panels and expanded their discussion.
The sessions covered a wide variety of topics and interesting perspectives. Daniel Mazur, a researcher at the Universidade Federal Fluminense in Brazil, not only commented on the way Korean content and the worldwide platform have formed a positive companionship, but also how recent K-dramas have noticeably universalized their narratives, aware of the high possibility of global distribution. On the other hand, however, such acute consciousness of a global audience has ironically led Netflix to strategically homogenize the Asian content it has on its platform in the process of presenting and recommending it to its global viewers.
Through Hallyu, it has become clear that Netflix is much bigger than a mere platform and distributor; it manipulates the tide as much as it shifts along with it. Multicultural and multinational cultural flows stimulate discussions on larger scales of discourses such as otherness, capitalism, orientalism and more. What we see represented on our screens is inevitably a translation of other cultures, and the stories and aesthetics are affected by a consciousness of this. Squid Game has made the biggest splash yet, with the Korean cultural scene as its pool. SNUAC will continue to develop, in collaboration with scholars worldwide from various fields, the theories and conversations necessary to uncover new insights into the global cultural sphere – truly global in that it is no longer only Western-driven and embraces the great technological and environmental changes we have seen in recent years.
Written by Minjoo Lee, SNU English Editor, mjl1018@snu.ac.kr
Reviewed by Professor Travis Smith, Department of Asian Languages and Civilizations, tlsmith@snu.ac.kr