Perhaps the most distinctive characteristic of our generation lies in the integration of its diverse population. There is no doubt that we don't just exist, but coexist – these days, appreciation of cultural diversity is extremely important. SNU is no exception to the trend of globalization, and our campus is increasingly becoming populated with people from various nationalities and backgrounds. In response to these changes, a diverse coalition of SNU members have been contributing to the community through the SHANUM (SNU + nanum, "sharing" in Korean) Multicultural Society for Social Responsibility.
SHANUM is a program organized by SNUSR (Seoul National University Social Responsibility), which aims to encourage volunteer and community work among SNU members, including non-Korean speakers. SHANUM is the only one out of the many global social work programs in SNU that does not require a certain command of Korean. Any SNU member can participate in SHANUM's projects, regardless of their level of Korean proficiency.
Past projects have included several volunteering activities such as kimjang (kimchi making), "plogging" (picking up trash while jogging), or the mother tongue education program. The latter aimed to teach languages to children from multicultural families in Korea. Many children of multicultural families do not speak the language of their parents. Members of SHANUM would teach such children the language of their parents, allowing better communication within multicultural families.
This winter's members were from 16 different countries. For a team with such diverse backgrounds, cultural diversity becomes an inevitable subject of discussion. This semester, the SHANUM members came together for three projects related to this key idea: the Global Cultural Diversity Camp, the Global Motherland Culture Experience Expo, and the "Starry Night of Culture."
The Global Cultural Diversity Camp, which was the common project for all participants, was an offline event that took place on campus on January 22. Members set up "culture booths", each of which introduced a unique element of global culture. Interestingly, the booths did not necessarily represent the cultural backgrounds of the team members themselves. Instead, each team studied a culture that they wanted to introduce, regardless of their cultural backgrounds. In the picture below, for example, a Malaysian member is explaining traditional games of the Maori, an indigenous people of New Zealand. "The surprising fact is, there were no team members from New Zealand that helped prepare this," said Bongkwan Kim, director of this project. "For us, studying and trying to understand another culture in itself was an important part of the program."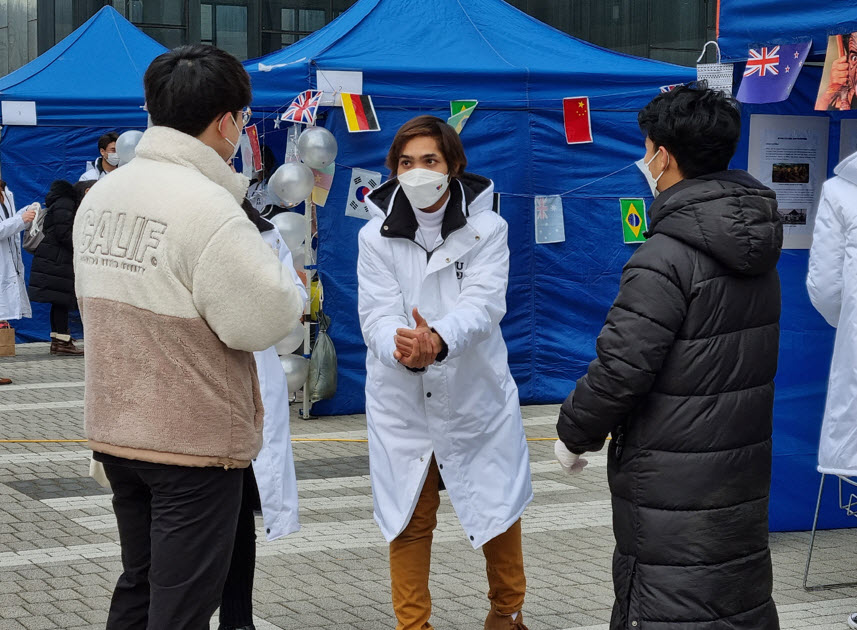 Another major focal point for the Camp program was trying to, and helping others to, overcome cultural generalization. Below is a picture of a booth that chose to introduce traditional African clothing garments. The booth members took special care to avoid generalizing African culture in terms of a homogeneous continent. "Such generalization is often at the core of people's prejudice or preconceptions," explained Kim. By explaining the characteristics of garments from African countries such as Zimbabwe and Nigeria, the team shed light on the various individual elements that make up African culture.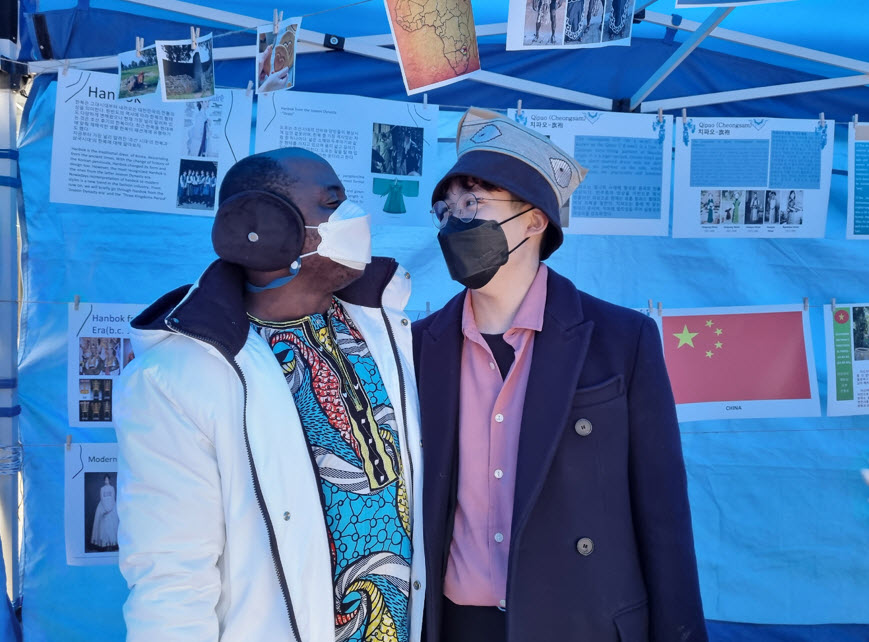 Following the immense success of this winter's program, SHANUM is planning to expand its activities for members of SNU that are not fluent in Korean. There are several other programs at SNU that work towards cultural diversity, but SHANUM focuses on facilitating the integration of international SNU members into the community. "By participating in volunteer work for the community and the school, international participants were able to feel a sense of belonging in this community, that this really is also their community," said Kim.
Xenophobia continues to be a serious issue worldwide. A crisis situation such as the pandemic brings out our selfish and ignorant sides, and appreciation of cultural diversity is becoming more important. It is imperative that our society think more about the value of coexistence. SNU's SHANUM will continue its efforts to inspire more conversation about this subject, at the same time encouraging SNU members to take action.
Written by Minjoo Lee, SNU English Editor, mjl1018@snu.ac.kr
Reviewed by Professor Travis Smith, Department of Asian Languages and Civilizations, tlsmith@snu.ac.kr