SNU strives to benefit society through service work. In particular, the Institute for Global Social Responsibility (SNUSR) has been an important avenue for the university's efforts to reach out to communities in need.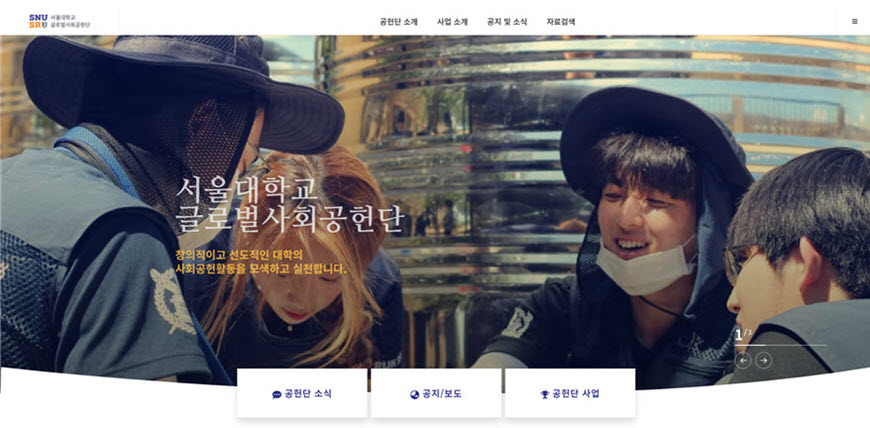 SNUSR, Past and Present
The SNUSR was established in 2013. Since then, it has been responsible for carrying out service work related to education, technology, and culture. As its name suggests, the SNUSR lead the university's initiative to benefit communities around the world. Of the institute's many programs, 'Community and Service in Vietnam, Binh Dinh' is a notable example of success. Over the course of six years, program attendees have worked together with local students to restore the water purification systems of the Binh Dinh province. Their hard work was commemorated with a letter of appreciation from the Binh Dinh Foreign Office, which was awarded in June. The program has since continued digitally, under the name 'LAN and Service in Vietnam.' While the pandemic prohibits volunteers from pursuing field work, adapting the program has enabled them to support Binh Dinh's communities remotely.
The SNUSR mentoring program, which focuses on supporting underprivileged students, has also yielded great success. According to SNUSR representative Kim Bong Kwan, the significance of the institute is its ability to foster hardworking, action-oriented students. Recently, a student that had been through the program as a mentee was able to matriculate at SNU, and is now volunteering as a mentor. "Moments like these warm my heart," Kim said.
Knowledge, the Foundation for a Better Society: SNUSR Courses
The SNUSR courses are created in collaboration with the university's various colleges. The courses encourage students to widen their perspective and seek practical applications for their knowledge outside of the classroom. Two courses were made available for registration during the spring semester. The first course, Advanced Topics Project 1 (College of Liberal Studies), had students volunteering to teach at the local children's center. The second course, Critical Thinking in Dentistry (Department of Dentistry), dealt with important social issues such as healthcare and a decline in the reading comprehension ability among the elderly. Cho Yejun, a student who recently took the second course, noted that the support the SNUSR provided enabled in-depth research and the opportunity to interact with experts in the field of dentistry.
Kim urges students not to hesitate to participate in any of the institute's many programs. "SNUSR provides a unique opportunity to collaborate with one's peers in working towards a better future for everyone."
For more information on the SNUSR and its programs, visit the institution's homepage: (https://snusr.snu.ac.kr/)
Source: https://www.snu.ac.kr/snunow/snu_story?md=v&bbsidx=132747
Written by Min Seo Ki, SNU English Editor, mskey717@gmail.com
Reviewed by Professor Travis Smith, Department of Asian Languages and Civilizations, tlsmith@snu.ac.kr