X-rays have been used in radiology for more than a century and have helped many humans undergo medical examinations, but negative perceptions of the technology have remained strong because of the use of substances that continuously emit radiation such as uranium. However, AweXome Ray focused on great benefits of X-rays, and eventually developed a next-generation light source (EUV&X-ray), the core of smart ventilation systems. The next-generation light source used in air purification equipment reduces microscopic dust as well as bacteria and viruses. I met with the four aweXome Ray co-founders who wanted to make the world a better place and more 'awesome' with X-rays and learned how they cooperate and work.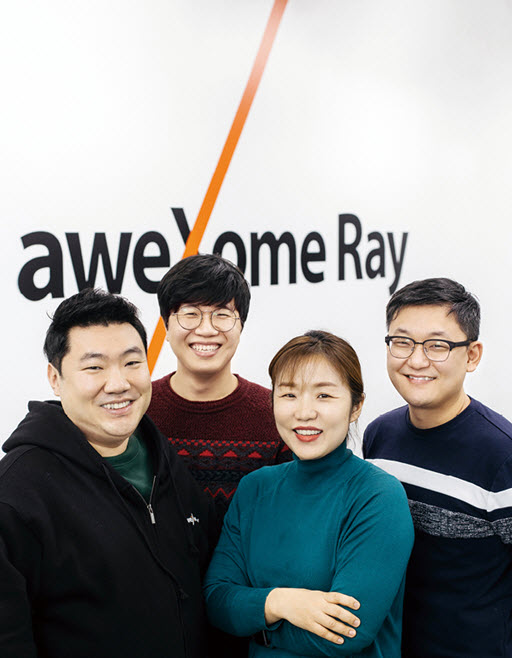 Hi. Please introduce aweXome Ray. What kind of company is it?
Se Hoon Ghim: Hello, AweXome Ray is a technology company that develops and manufactures smart ventilation devices for indoor air quality improvement. We make air sterilization and purification devices that remove all bacteria and viruses as well as fine dust in the air. We purify the air to remove viruses because we have developed a new type of next-generation light source (EUV&X-ray), which is a key component of the device, and can directly produce the core material of the light source.
Because of the use of X-rays, I assume there are many misunderstandings.
Se Hoon Ghim: Ultraviolet rays (UV) are weaker than X-rays, and EUV (Extreme UV) is the strongest. We have the technology to transform EUVs to soft X-rays and hard X-rays, and these are not harmful at all because we use the necessary electromagnetic waves only inside the shielded device, not directly at humans. The Radiation Safety Management Committee said that our product cannot be regarded as an X-ray, but the company name makes us known as an X-ray company, so there seems to be a misunderstanding. However, looking back, X-rays were used only to help humanity, such as for diagnostic equipment in hospitals. We created the company with the idea that X-rays can be used to benefit the world, and we coined the slogan "We make the World a Better Place".
Air purification devices that remove not only fine dust but also viruses are evaluated as a necessary technology in the post-coronavirus era. What convenience do you think this technology will bring to humankind?
Geun-su Jeong: I think new threats like COVID-19 may continue to emerge. It would be nice to cope successfully with new threats using current technology, but it seems that there are quite a few areas where an immediate response is difficult, as was the case with COVID-19 this time. We are working hard, hoping that our technology will emerge as a tool to protect us from new threats.
Hong-su Choi: There is a filter in a product from one of our competitors in air purification technology, and this filter generates a lot of carbon dioxide in the process of being disposed of. Our products can be semi-permanently reused through the washing process, so I think that it will be one of the many means to solve the environmental problems that humanity worries about.
AweXome Ray was also selected as a promising company for the Korean Green New Deal by the Ministry of Environment. Since the founding of aweXome Ray, have there been any changes in your thinking about the environment?
Se Hoon Ghim: Actually, I held negative views on environmental issues. Environmental issues are a fairly technical issue that is connected to energy, but most in the field are environmental companies that do not have a technology base. So I thought of them quite negatively, but since our technology can contribute to the environmental field, I wanted to do better. I want to generate positive outcomes in the environmental field based on technology. We were the only new company founded less than 3 years ago that was selected as a promising company for the Green New Deal last year by the Ministry of Environment. I think we have been recognized for solving environmental problems based on technology.
I know aweXome Ray is a company created by four people as co-founders. CEO Se Hoon Ghim also told us that in an interview, startups that are co-founded have an unconditional advantage… I wonder why.
Se Hoon Ghim: You can do it alone for up to a year. You can start a business by yourself, and you can make a prototype by yourself. But when the company succeeds, you can't do it alone. I remember a case of someone who worked hard at a large company and then started a business alone, but that person couldn't do what he was best at. I need an expert in each field. From a wider vantage point, I think that co-founding is advantageous when the company starts growing a bit.
It's been 3 years since you've been together at aweXome Ray. Let me ask you about the attitude you need to be a co-founder. What type of attitude do you need?
Jung-woo Kwon: Starting a company with just one person is lonely. However, there is a problem that co-founders face due to differences in their respective positions. Each individual's position is always different, so we really need time to fine tune it. And most co-founders are acquaintances. There's no way to know all the skills of the other co-founders. No matter how close you are, be sure to write a contract. (Laughter)
Geun-su Jeong: Since each of us has developed each other's expertise, it is an environment in which different opinions are bound to arise. It's important to understand the competence and judgment of the other person. We are also working on this.
Hong-su Choi: In some ways, I think it's similar to the kind of problems you face after marriage. I think the key is how to overcome the embarrassment that is felt when discovering a different side of the person you thought you knew. It is your choice to have co-founded a company with these people, so it is important to constantly believe in that choice.
Listening to you talk, I think the process of coordinating opinions must have been really difficult. I'm also curious about the most difficult part of starting a joint venture. Is it coordination of different opinions?
Jung-woo Kwon: It is difficult to separate the public and private spheres. At first, the trust and work experience accumulated in people you know are added up, creating a great synergy. But when different opinions emerge, personal feelings of regret come up. Even now, it's still a learning process, but I think we have already learned a lot.
Geun-su Jeong: Actually, it's all difficult. (Laughter) Especially after co-founding, the weight of having made the choice increases. It is a burden because I think that even a very small thing can threaten or affect the well-being of the entire organization. The only way to overcome the burden is to believe in your choice.
Se Hoon Ghim: As the company grows, things that were okay for four people start to feel overwhelming. Then I hire another person, and I wonder how to deal with the problems that arise as the organization grows. Then I ask my older mentors. I convey the indirect experiences relayed from them to the company.
As with aweXome Ray, there seem to be many cases of hiring seniors at startups. I am curious about the reason why you work with seniors at aweXome Ray.
Se Hoon Ghim: In the manufacturing industry involved with production of analysis machines, I experienced a clear difference between a person who only has theory and a technical expert. For example, take a startup that makes robots, a product needs 6 years to be released without technical experts. It takes that long because you try to do it yourself. If a technical expert had done it, the product would have been available in a year or two. Especially in the manufacturing industry, I think that senior technical experts are essential. However, the question of how to get along with senior technical experts in the organization remains.
Jung-woo Kwon: I think it's a matter of culture in the end. AweXome Ray is made up of people from their teens to their 60s. When teenagers and people in their 60s communicate, each has their own difficulties. We are interested in communication issues between individuals at the company level, and we are creating a culture of sharing such difficulties. In fact, it works just by letting me know that people are interested in the company.
Is there any other special aspect of aweXome Ray that makes it possible for various age groups to cooperate?
Jung-woo Kwon: I can't do it right now, but the CEO runs a program called 'Meetup' once a week. It is a place where 30 employees of aweXome Ray gather and ask about each other's well-being. And, if it's not really sensitive information, we make the work outcomes of each team accessible to all employees. AweXome Ray wants to transparently share the company's information and make it an organizational structure that grows with our employees.
Geun-su Jeong: Our team has a lot of young people. Most of my friends have little experience in the company, so I actively inform them about and embody the lifestyle and culture within the company.
Hong-su Choi: There are a lot of seniors on our team. I think cooperation is also a form of trust. Sometimes, I don't understand what the seniors are saying. However, if you take a step back from that situation, there are more times when it was an effective solution that resulted in accurate judgments. I think that aweXome Ray's attitude of cooperation helps to bridge the two generations and act as a lubricant to connect the thoughts of the two groups instead of expecting the two age groups to figure it out themselves.
I heard that aweXome Ray's workforce has increased from 8 to 30 in the initial period. It seems that this number will grow in the future. I am also curious about the talent you want at aweXome Ray.
Se Hoon Ghim: At first, during an interview, the candidate is really not attractive if they say, "I will give my life for aweXome Ray". Rather, I think the answer "I want to learn a lot here and then leave" is better. There are a lot of great companies like Tesla that emerged out of PayPal. If you are from aweXome Ray, I would like you to be recognized as a person with a certain mindset to some extent. I want to create a setting that allows us to make an initial investment when we say that you are starting a business with your own inventions after working hard at aweXome Ray.
The CEO has lectured on technology commercialization at Seoul National University. If you have any stories you would like to share with Seoul National University students who dream of starting a technology business, please tell us.
Se Hoon Ghim: Developing a technology that can be commercialized is a completely different story from developing technology and then commercializing it. In the end, you need to understand each step of turning an idea into a product and pushing it into a business model. I have a lot of friends who want to do business with ideas. Consider whether an idea can actually be commercialized, it gives you a much broader perspective and direction. Usually, when engineering graduates start to build a product, each function, whether it is software or hardware, comes with all the functions needed in the end. In fact, what you choose in that state is commercialization, but I never received such training. That's why we continue to give lectures on technology commercialization. However, since I don't know how long I will be able to lecture, it would be nice if the technology commercialization lecture was designated a formal course.
Please introduce the future of aweXome Ray, as envisioned by the four co-founders.
Se Hoon Ghim: I'm pinning my hopes on the goal of a stock listing on a special technology firm. With a realistic bent, I hope that X-rays will help the world, and I have a sense of mission to show people that the technology in schools and labs can be commercialized and successful. I hope that aweXome Ray will be an example of successful technology commercialization. Also, I hope there will be a lot of companies that follow in the footsteps of aweXome Ray.