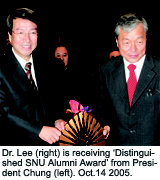 Lee Jong-wook, graduated Medical College in 1976, Director-General of the United Nations World Health Organization, made the fight against HIV/AIDS a hallmark of his tenure and led global preparations for a possible human bird flu pandemic.
The world has lost a great man today, Secretary-General Kofi Annan said in a tribute to the Republic of Korea expert, who throughout his 23-year career at WHO made a difference in every programme he managed, whether leading the charge to eradicate polio from the Western Pacific, or launching a cutting edge Global Drug Facility so that people would have access to tuberculosis medicines.
Lee Jong-wook was a man of conviction and passion. He was a strong voice for the right of every man, woman and child to health prevention and care, and advocated on behalf of the very poorest people,? Mr. Annan added. He tackled the most difficult problems head on, while upholding the highest principles. He will be very gravely missed, but history will mark Lee Jong-wook?s many contributions to public health.
Dr. Lee, who became Director-General of the 192-member WHO in July 2003 in succession to former Norwegian Prime Minister Gro Harlem Brundtland, had been in hospital in Geneva since Saturday afternoon, where he underwent surgery to remove a blood clot on his brain. He remained in intensive care and declared dead at 7.43 a.m. this morning. Dr Anders Nordstrom, currently Assistant Director-General for General Management, will serve as Acting Director-General.
The sudden loss of our leader, colleague and friend, is devastating, the agency said in a statement.
In his tribute Mr. Annan recalled that he spoke with Dr. Lee just a few days ago."Our conversation touched upon WHO?s long-running efforts to tackle the global challenge of HIV/AIDS ; an area that he was particularly committed to; as well as the Roll Back Malaria campaign," he said.
He was at the forefront of the global fight to prevent an avian flu pandemic, and was a champion as well in the battle against a host of other public health threats from HIV/AIDS to tuberculosis.
While personally a modest man, Dr. Lee was a bold leader. When he became Director-General, he took a risk and announced that WHO would work with partners to achieve"3 by 5" ; to ensure 3 million people with HIV/AIDS would have access to the medicines they needed by the end of 2005.
The programme transformed the way leaders thought about AIDS medicines for people in poor countries and while the world fell short of the target, the successes and momentum of"3 by 5" demonstrated that universal access to medicines was possible ; and had become a moral imperative.
A few days before his death, Dr Lee explained his vision of"universal access" to staff in his office as he worked on his speech to the World Health Assembly beginning in Geneva today.
"There can be no 'comfort level' in the fight against HIV," he said."We must keep up the pressure to get prevention, treatment and care linked and working. A key outcome of"3 by 5" was the commitment to universal access to treatment by 2010."
"But what does universal access mean? To me, this means that no one should die because they can't get drugs. It means that no one will miss being tested, diagnosed, treated and cared for because there aren't clinics."
As WHO Director-General, he led global efforts to tackle avian influenza and to prepare for a human influenza pandemic. Pointing to the health, social and economic devastation of historical influenza pandemics, he stressed repeatedly that every head of state should ensure their country developed a national pandemic preparation plan.
He personally met with many heads of state, including United States President George Bush, President Jacques Chirac of France, and President Hu Jintao of China.
Underscoring the recognition of his role, Dr. Lee was invited by Russian President Vladimir Putin to speak at the G8 Summit of top industrial countries in July in St. Petersburg, where the fight against infectious disease is one of three major items on the agenda.
Dr. Lee, who had very wide-ranging intellectual interests and in his spare moments enjoyed classical music, the theatre, reading Shakespeare and other great literature, is survived by his wife and son, two brothers and a sister and their families.
May 24, 2006
SNU PR Office