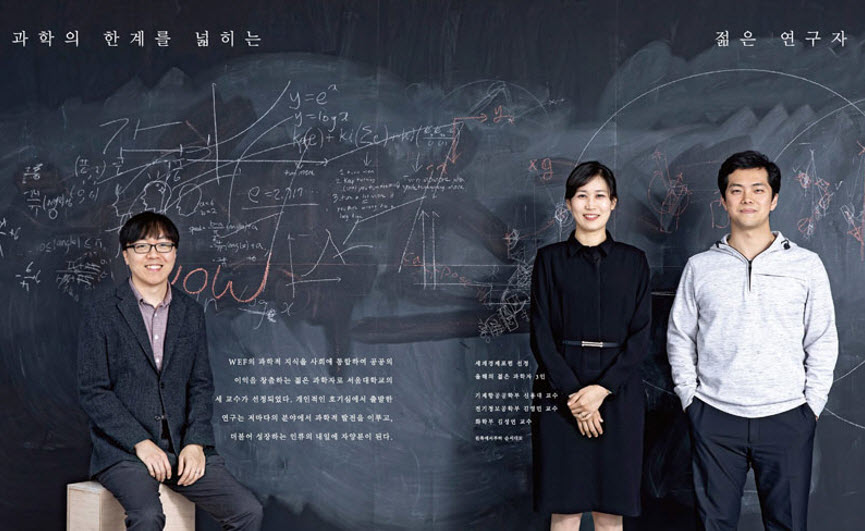 Convergence and harmony, a common theme for mankind
"I'm sure all researchers feel the same, but I find my field of study really interesting. We're working on developing 3D models and cutting-edge media to explore new developments" – Kim Young min
The World Economic Forum (WEF), more commonly known as "The Davos Forum" for its now iconic location in Switzerland, was established in 1971 as a platform for the international community to set public agendas and present a collective direction for human activity. Every year, young scientists under the age of 40 with excelling academic achievements are recognized by the forum. This year, 21 scientists were selected from 11 countries. All of the Korean scientists who made the list are professors at SNU, making the school the institution with the largest number of winners. The winners are Professor Kim Sung-Yon (Department of Chemistry), Professor Kim Young Min (Department of Electrical and Information Engineering), and Professor Shin Yongdae (Department of Mechanical and Aerospace Engineering).
"Although my main association is with the Department of Mechanical Engineering, my research focuses on the understanding of biological phenomena and treatments. I think it is meaningful to merge the two disciplines." -Shin Yongdae.
The three professors have this in common: they conduct interdisciplinary research with the goal to contribute towards the development of mankind. Professor Kim Sung-Yon uses multidisciplinary technologies which combine chemistry, optics, and genetics to study brain science, while Professor Kim Young Min uses 3D sensors to study human-to-robot communication.
The WEF is a non-governmental organization seeking common understanding and cooperation in all areas of life, including politics, culture and the environment. It is for the same reason that the three professors were selected as scientists of the year, recognized for their contribution in expanding the limits of science in the areas of public health, sustainability, harmony and equality. Last summer, the professors were invited to attend the Summer Forum, where they were able to interact with world leaders. They recount their experience as a rewarding opportunity to learn the different perspectives of various experts, including politicians and business leaders.
"There was a session in which we discussed brain science with high-ranking officials from the Middle East and lawyers from Africa. It was a rare opportunity for me to explain the cutting edge technologies of brain science and receive feedback from experts in different fields. I was impressed by their sincere efforts to further their own research in their respective countries."- Kim Sung-Yon.
Being a researcher and educator in changing times
In the face of the Fourth Industrial Revolution and rapidly changing technologies, it has become increasingly difficult for scientists to stick to one research goal. The direction set at the beginning of the study is often changed and morphed into something completely different by the time the research is concluded.
"It is becoming harder to make significant discoveries without the immediate readiness and flexibility to embrace new technologies. My lab uses technologies that weren't even developed when I was studying for my degree. Technology will only develop at a faster pace in the future, so we need to learn to keep an open mind as researchers."- Kim Sung-Yon.
"The development and introduction of technologies stimulates new imagination, which lay the foundation for further innovation. It's important to develop a wide range of intellectual curiosity." – Shin Yongdae
In addition, the three professors share the commonality that they are relatively new to their positions at SNU. Professor Kim Sung-Yon took his place in 2015, Professor Shin Yongdae in 2018, and Professor Kim Young Min just this past year in 2019. As young researchers and educators in a rapidly changing era, they feel the heavy responsibilities of being a bridge between the campus and society. Behind their concerns over the most effective teaching methods for students, are worries about the passive attitudes ingrained in Korean culture. They work to cultivate the ability of students to think for themselves and to create a classroom atmosphere where students can openly share their opinions.
"I think my role is to help students go into society as creative thinkers," Professor Kim Young Min said. The three professors remain committed to a vision where universities are able to motivate societies beyond classrooms and participate more actively in important social and cultural issues. Their tenacity as researchers and passion as educators allow them to run towards a brighter future.
The secret between human behavior and the brain – Professor Kim Sung-Yon
"Even as brain science continues to advance in many respects, there are still many simple human behaviors that have not yet been conclusively explained in neural terms." For example, it is common knowledge that eating the right amount of food is important for your health. Research has found that after ingestion, mechanical stimuli from the mouth to the esophagus and stomach are transmitted to the brain, triggering one's appetite. Based on this research, Kim is focusing his research capabilities on the signalling between the five viscera (liver, lungs, heart, kidney and spleen) and the brain. He is taking a reductive approach to explaining basic human behaviors, such as eating and drinking, and finding warmth and coolness.
Human-robot communication – Professor Kim Young Min
"The world we live in exists in three-dimensions, and it's constantly changing. We create three-dimensional sensors to develop and utilize models." Interest in what can be seen and heard directly with our eyes and ears has evolved into a research topic. Kim conducts research which develops multi-dimensional technologies that incorporate three-dimensional information into machine learning and the principles of mathematics and geometry. It aims to utilize computer graphics, VR, AR and artificial intelligence, all while maintaining mathematical depth. In order to develop technologies that are useful for human interactions, high-tech knowledge such as robotics and IoT are also incorporated.
Engineering cells – Professor Shin Yongdae
"There are a lot of surprising and interesting things you discover when looking at cells through the eyes of a mechanical engineer. I dream of understanding life phenomena and the possibility of treating diseases." Shin studies how nano-scale proteins gather to make micro-scale intracellular structures, and has developed technology which is able to control these structures using light. He is guided by the idea that cells, as living materials, are also subject to the laws of physics. He is working on creating an epidemiological interpretation of cells and developing operational techniques to do so.
Source : SNU People
Written by Minju Kim, SNU English Editor, minjukimm@snu.ac.kr
Reviewed by Yu Young Jin, SNU English senior Editor, coin1234@snu.ac.kr