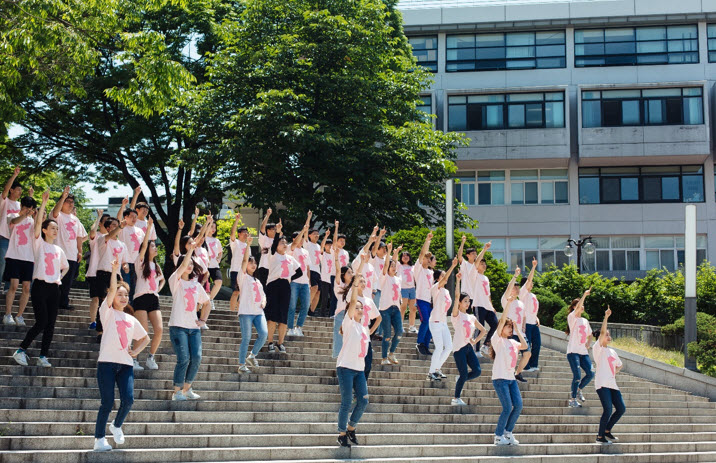 On June 1, the College of Education, Institute of Sport Science, and the Unification Education Research Center held a flash mob: Dance for Unification 3. Following the efforts of 2016 and 2017, this event was held this year as part of the "University Pioneers of Unification Education" project led by the Korean government.
This flash mob was a combined effort of various organizations within the SNU community. It was choreographed by dance majors of the Department of Physical Education, and the music was composed by students of the College of Music. Students from Image Band, the SNU video production club, captured the whole event on camera.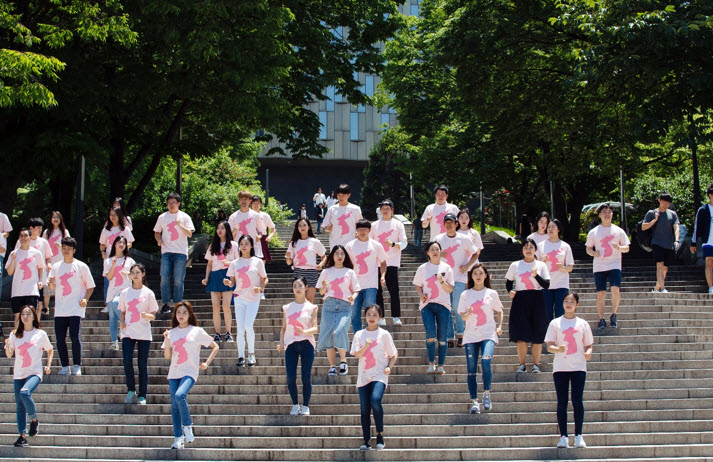 The event took place at 12:30 at the Acropolis Square in front of the SNU main library, capturing the attention of many SNU members. Not only the 50 people who signed up in advance but also many others passing by for lunch joined the event. Together, they danced along to the rhythm that symbolized unification. "We thought for a long time about how to express the idea of unification with our own bodies," Yoon Seoyoung, leader of dance majors, said. "This flash mob was a meaningful event in which we could reflect on the idea of unification together."
Professor Choi Euichang (Department of Physical Education), who organized the flash mob, added hopes that this event will help the SNU community in preparing for the future of a unified Korea.
Source: http://www.edaily.co.kr/news/news_detail.asp?newsId=02853606612810624&mediaCodeNo=257&OutLnkChk=Y,
http://m.edu.donga.com/news/view.php?at_no=20180531135402442067
Written by Chae Hyun Kim, SNU English Editor, michelle25@snu.ac.kr
Reviewed by Professor Travis Smith, Department of Asian Languages and Civilizations, tlsmith@snu.ac.kr