How SNU Has Changed to Better Accommodate Disabled Students in the Last Decade
A Conference Hosted by the Disabled Students Support Center (Part 1)
On the SNU campus, one often sees places reserved for the disabled in parking lots, libraries and cafeterias. However, many people at SNU rarely have the chance to interact with disabled students and learn more about their concerns. At the moment, there are about 75 disabled students studying at SNU. The Disabled Students Support Center (the Center) held a small conference to share a glimpse of disabled students' experiences at SNU and to evaluate how accessible to the disabled SNU has become over the past decade.
About the Disabled Students Support Center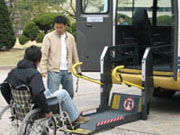 In 1995, SNU established a special admissions program for students with disabilities. Ever since, the disabled have been an important minority of the student body. In 2002, disabled students and student activists gathered to form an organization named 'SNU Disabled Human Rights Solidarity Project Team'. This team worked hard to improve learning conditions for the physically disabled, such as hosting seminars on the subject of disabled people's rights and petitioning the university for more accessible facilities.
Thanks to the team's efforts and SNU's willingness to accommodate the special needs of the disabled, a center dedicated solely to supporting the special learning needs of disabled students was built in 2003. This center is the Disabled Students Support Center located on the first floor of Building 500.
Introductions
Convener: Hello everyone, and thank you for coming here today. First, could you introduce yourselves?
KIM Geon ('08): I am a visually handicapped student studying in the Department of Economics. I am not completely blind but have impaired vision.
HA Tae Wu ('10): I am studying in the Department of Psychology. I use an electronic wheelchair to move around campus. This is because I have trouble moving my body due to a muscular disease called 'myopathy'. I am legally classified as 'Physically Disabled First Class'.
JEONG So Ra: Greetings, everyone. I work at the SNU Disabled Students Support Center, which provides facilities and programs for the disabled students at SNU.
SONG In Gu: Since last year, I have worked at the center as a community service officer. My job is to help the physically disabled students get around campus.
KIM Sang Yeon ('05): My major is Agricultural Economics and Rural Development. I volunteer to help disabled students.
What Has Improved for the Disabled Students in the Last 10 Years?
Convener: A considerable amount of time has passed since disabled students were first granted admission to SNU. How have the facilities or programs for the disabled improved during those years?
JEONG: On the first floor of the Administration Building, there is a lounge for the exclusive use of disabled students. SNU has assigned four people to manage the facilities and programs for the disabled. Usually, in the case of other universities in the country, only one staff person handles all affairs related to supporting handicapped students. In contrast, SNU has a separate support center that is supported with an ample budget. Other universities consult with SNU about their facilities and programs for the disabled. Also, every three years, the Ministry of Education evaluates and ranks the disabled support system of universities in Korea. Three times in a row (in 2005, 2008, and 2011) SNU was selected as the top university. I guess this shows that SNU is doing a good job.
However, there are some difficulties in administration. When it comes to facilities, the center's main job is to conduct research on the present condition of the facilities and receive suggestions on how to improve these facilities. In order to make an actual difference, however, the center has to submit an official request to the relevant division that manages the facilities, such as the Division of Planning and Coordination, for any changes to be made. This is why the center focuses on conducting support programs and recruiting volunteers who help disabled students on a one-to-one basis. The center interacts with disabled students personally, and is aware of their needs. It would be better if there were a simpler route for the center to make improvements to the facilities.
HA: I am in a wheelchair so getting to and from the university is my biggest concern. Student volunteer programs are helpful, but most importantly I need easy access to the buildings in order to take classes. Luckily, most of my classes are located in Building 16, which is well-equipped with elevators and ramps. In the College of Humanities and the College of Music, there used to be old buildings that didn't have elevators or ramps, so it was difficult to take classes there. As time passed by, things got better and now it's definitely easier to move from one building to another and from one story to another, including in the College of Humanities and the College of Music.
On campus, we can also use a special shuttle bus with a lift. If it were not for this bus, it would take much more time to get around campus. Just before the start of every semester, I apply for this shuttle bus service, and this bus will drop me off at the nearest point from my destination as possible. In the old days, students could use the shuttle only at the start and the end of the day. Now, if students register for the service one or two days beforehand, they can get a ride when they need it.
KIM Geon: Nowadays, thanks to SNU students' concern and cooperation, it is fairly easy to get volunteers who take notes for the disabled students. In 2009, there weren't a lot of people willing to volunteer, so a student who wasn't from my department took notes for my major classes. This caused much inconvenience. Nowadays, we don't have a shortage of volunteers.
Also, many disabled students had voiced their request for a private lounge. In October of last year, a lounge was opened for disabled students in the Administration Building next to the post office. This lounge provides a venue where disabled students can rest, print copies, use the internet, meet each other, share stories, and get help emotionally. I think this lounge is the best facility that the disabled students can actually benefit from.
To be continued in Part 2 of this article, 'How SNU Can Provide Better Support for Disabled Students'.
Written by JANG Hyo Jeong, SNU English Editor,
fatalbonds@snu.ac.kr
Reviewed by Eli Park Sorensen, SNU Professor of Liberal Studies,
eps7257@snu.ac.kr
Proofread by Brett Johnson, SNU English Editor,
morningcalm2@gmail.com